#guestpost – Sad Summer in Biarritz by Jill Culiner @JArleneCuliner @CLPebooks
I'm very pleased to be sharing with you today a guest post from Jill Culiner, author of Sad Summer in Biarritz. First of all, here's what the book is about.
I have now started my new life with its positive dynamic; by recording all details, I'll see a pattern emerge. One day — perhaps in the very near future — I'll peruse these notes with pleasure. One day. When I'm secure in love, in my own home, in happiness.

The narrator, a Canadian woman, hopes to change her life by moving to Biarritz. Having escaped a devastating relationship with the mentally unstable Dominique, she is determined to make new friends and find the perfect mate. But in this summer resort frequented by couples and families, available singles are lonely people, too often embittered by romantic failure. And if the young artist Vinnie has promised entry into local society, he remains an illusive figure.
When Vinnie's body surfaces at the Pointe des Fous new rumours circulate. Had he really been a fortune hunter, a seducer and blackmailer, or just a gentle, over-sensitive man, a loser in love and friendship? The police have concluded his death was accidental, but doesn't everything point to murder? Or is the narrator over-reacting? Perhaps loneliness and isolation have made her suspicious, for love is as unattainable as ever, and threatening letters from Dominique are arriving with increasing frequency.
Sad Summer in Biarritz, is a mystery, a story of the desperately lonely search for love, and a satirical portrait of French nouveau riche society in the 1980s.
---
Thanks, Nicola, for giving me this chance to tell your readers about my new mystery release, Sad Summer in Biarritz. Yes, it is a mystery — who was the young artist Vinnie, and how did he die? The police claim his death was accidental; his former best friend believes he killed himself; the narrator is soon convinced he was murdered. However, this book is also a critical look at the consumer society, as well as a tale of the lonely search for love amongst the often embittered singles.
I chose Biarritz, a resort on the French coast, as the setting for this story, and it's a town with a fascinating history — I lived there some years ago. But I also I realized what a lonely place a holiday resort can be. The narrator of Sad Summer, a Canadian woman, has taken refuge in the town, hoping to escape her former abusive partner. But a woman on her own, especially a woman who is rather cynical and unconventional — she dislikes sunbathing, clubbing and all group activities — can only feel excluded.
There are two species of people here: those clotted into groups or family units, and those alone. Those in groups are much in evidence. They call, bellow to each other, demonstrate that they're on holiday and having a marvellous time. The people alone are silent. We're ignored by the bellowers. And we fade… become pale… paler… invisible.
As in my other mystery, Death by Slanderous Tongue (set in a small French village), I wanted to show the other side of life in France. Foreigners, tourists, and many non-French writers, want to see this country as a rather quaint, snuggly place where there are droll village characters, and much Gallic warmth. This is very far from the truth. The characters I portray are drawn from real life; they are as self-centred, greedy, desperate and unhappy as people without real goals or ethics can be anywhere in the world.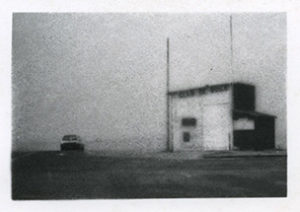 I did have great fun writing Sad Summer in Biarritz, and although what I've described so far doesn't sound very cheery, there is quite a bit of humour in the observations and chance meetings. And I think it's a story that will touch everyone, for we've all felt lonely or out of place; we've all craved love or have been forced to avoid ex-lovers; we've all been on the receiving end of lies. And all of us have also had the most absurd conversations with the most unlikely people.
 We proceeded down the road, headed towards the boardwalk. Once there, we leaned over the railing, and he began examining all: the teeming boardwalk crowd, the battlefield of strewn sunbathers soaking up the last of the sun.
 "Not much of a place, this," he said dourly. "I heard so much about Biarritz, about how beautiful the women are. But I don't see even one reasonable female. I mean, look at all those breasts! Too small, too long, too flabby or the wrong shape altogether. Amazing."
 Well, this was pleasant conversation indeed. And good news for me, as a female. "You fancy yourself a connoisseur, do you?" I really tried not to sound too sarcastic. This was going to be a long evening. Might as well keep the tone light.
"I had a thirty-two-year-old girlfriend once. She'd already had three kids, but what a figure! Of course, that kind of thing is very rare."
"Perhaps not as rare as you think."
"Oh really? Well, I don't see even one woman on this beach I'd consider acceptable."
 Acceptable? And what about him? Would those women down there find him acceptable?
"I'll tell you what I think," I smiled blithely. "I think most men don't look so hot after they hit thirty either. Their stomachs start looking like goat cheese, and their testicles begin to drop like golf balls in an old sock."
This assessment of mine just about wrapped the situation up. Monsieur went pale, became overtly hostile. Said he was feeling very tired. "I'm going back to my hotel now."
So, we left the boardwalk together, trudged back to the traffic island in acrimonious silence.
"Well, have a pleasant evening," I said when we got there. I was trying not to show dismay at the aborted dinner, but I was starving. I'd been looking forward to sinking my teeth into some luxury this evening. I sat down on the bench, waited for him to leave.
 He hesitated. "Just… shit… It's so boring being back at the hotel. I'll probably end up going to sleep early again. It's pretty depressing, not that I'm a depressive person. Normally, I'm always on the go. I hate wasting time." He sat down beside me on the bench. Traffic roared by.
"So what do you normally do in the evenings? When you're not wasting time, that is."
"I watch television. Sometimes I watch all night long and don't see the time pass."
"Sounds like a waste of time to me. I mean, for someone who hates wasting time."
---
Thanks, Jill, for such an interesting piece. If you fancy reading Sad Summer in Biarritz then it's available now for Kindle and Kobo.

---

Born in New York, raised in Toronto, Jill Culiner has lived in several cars, one closet, a Hungarian mud house, a Bavarian castle, a Turkish cave dwelling, in a haunted house on the English moors, in the Sahara desert, on a Greek island, in several French villages and has worked as a go-go girl, belly dancer, fortune teller, translator, newspaper deliverer, radio broadcaster, contemporary artist, photographer, actress and writer. Sad Summer in Biarritz is her second mystery, following Death by Slanderous Tongue. Her other books are: Finding Home In the Footsteps of the Jewish Fusgeyers, winner of the Tannenbaum Award for Canadian Jewish History; Félix et moi: à la recherche du patrimoine; a photography book, Sans s'abolir pourtant; and, as J. Arlene Culiner, several romances.