#bookreview – 31 Days of Wonder by Tom Winter @CorsairBooks @wintrybits @millsreid11
Happy publication day to Tom Winter as 31 Days of Winter is published today. Here's what it's about:
'And in that instant, he knows in his heart that today is a momentous day; come what may, he and Alice will meet again, and life will never be the same.'

Alice is stuck in an internship she loathes and a body she is forever trying to change.

Ben, also in his early twenties, is still trying to find his place in the world.

By chance they meet one day in a London park.

Day 1
Ben spots Alice sitting on a bench and feels compelled to speak to her. To his surprise, their connection is instant. But before numbers are exchanged, Alice is whisked off by her demanding boss.

20 minutes later
Alone in her office toilets, Alice looks at herself in the mirror and desperately searches for the beauty Ben could see in her.

Meanwhile, having misunderstood a parting remark, Ben is already planning a trip to Glasgow where he believes Alice lives, not realising that they actually live barely ten miles apart.

Over the next 31 days, Alice and Ben will discover that even if they never manage to find each other again, they have sparked a change in each other that will last a lifetime. In 31 Days of Wonder, Tom Winter shows us the magic of chance encounters and how one brief moment on a Thursday afternoon can change the rest of your life.
---

31 Days of Wonder opens with Ben and Alice meeting briefly in the park. Ben is quite taken with Alice and the feeling is mutual. The misunderstanding that leads Ben to think that Alice lives in Glasgow is so clever and it is this that underpins the entire story.
Over the course of a calendar month we are treated to chapters for each day – 1-31. We follow Alice and Ben. Ben is searching for Alice in the wrong place but he undergoes a different journey, one of discovery, and Alice uses the possibility of Ben to learn how to stand up for herself. Alice's colleagues are so odd and treat her like a skivvy, her parents find her a bit perplexing and her flatmate is practically a dictator!
From around page 2 I was sniggering away. Ben is so funny as he doesn't really have a filter and just says exactly what he's thinking. He would be a harsh person to come across in real life I think, but in this book I loved him. I also liked Alice very much and felt really sorry for her with everybody making rude comments about her weight all the time.
The supporting characters are so well drawn too. Alice's parents, Ben's grandparents, their respective flat/house mates and even the woman that Alice works with at the food bank. They're all a little eccentric. The situations that the characters find themselves in all the way through this book are brilliantly thought out – I had my hand clapped over my mouth at one point at something quite shocking and out of character for Alice.
31 Days of Wonder is deliciously quirky, witty and original. It's not a love story but a story of how two people, based on a moment's meeting, can learn to believe in themselves. Based on the delights of this book I'm thinking Tom Winter might be an author whose humour is right up my street.
With thanks to the publishers and Amazon Vine for the review copy. 31 Days of Wonder is published today in ebook and hardback by Corsair.
---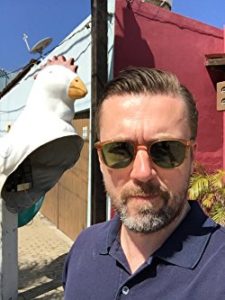 Tom Winter's debut novel, Lost & Found, was published in five languages. In August 2013 it was chosen as the Book of the Month by the Mail on Sunday's You Magazine book club. That summer, the Kindle edition was also a No. 1 bestseller on Amazon UK. In Germany, Apple iBooks called it one of the ten books that everyone should read over the holidays.
Tom's second book, Arms Wide Open, was published in 2014. Hello! magazine called it 'a bittersweet joy of a book', while Saga magazine said it is 'utterly compelling… Winter has a lethal eye for family tensions.'
His third novel, 31 Days of Wonder, will be released in August 2017.
Author bio and photo taken from the author's Amazon page.