#blogtour – The House With Old Furniture by Helen Lewis @hedlew @BrookCottageBks #guestpost #giveaway
I'm so pleased to be on the blog tour for The House With Old Furniture by Helen Lewis today. I have a fabulous guest post for you and details of a great giveaway but first this is what the book is about:

Genre: Contemporary Fiction

Release Date: 20 July 2017

Publisher: Honno Press

 

The ghosts of a century's worth of secrets and betrayals are coming home to Pengarrow…

Evie has lost her eldest son, Jesse, to gang violence. Leaving the house he grew up in is pulling apart the few strings left holding her heart together. Only the desire to be there for her younger boy, Finn, impels Evie to West Wales and the ancient house her husband is sure will heal their wounds.

Days later, Andrew is gone – rushing back to his 'important' job in government, abandoning his grieving wife and son. Finn finds solace in the horse his father buys by way of apology. As does his evasive and fearful new friend, Nye, the one who reminds him and Evie of Jesse… Evie loses herself in a dusty 19th century journal and glasses of homemade wine left by the mysterious housekeeper.

As Evie's grasp on reality slides, Andrew's parents ride to the rescue. It is clear that this is a house they know. They seem to think they own it, and begin making changes nobody wants, least of all Alys and her son, Nye, the terrified youth who looks so like Jesse.
---

A peep behind the doors of The House With Old Furniture
'The House With Old Furniture' hasn't exactly rushed into existence. It's wandered around a few children and finally found its way home after five years in the wilderness. I literally stumbled upon the inspiration for this story shortly after my family moved to Pembrokeshire twelve years ago. Whilst on a walk with our two boys in the woods that surround our home, we discovered the remains of a cottage. If we'd been in a hurry, and I hadn't got my boot stuck in the stream, we would have completely missed it. Only parts of three walls remained, ferns, moss and ivy rendered most of it invisible and at some point a huge tree had fallen straight through the middle of it finishing off most of what was left. It took a bit of imagination to picture a cottage amongst the undergrowth, almost like staring at one of those coloured dot pictures trying to find the hidden image. Whilst the boys waited for me to free my boot, they scrambled over the ruins of the little house unearthing all kinds of everyday treasures: the rusty end of a bedstead, a rotten milk churn, and old bottles to name but a few.
You couldn't help but feel that you were trespassing in someone's home, although the building was barely recognisable as such the sense of what it must have been like to live there was so strong in my mind. I felt I could hear the last inhabitants crunching through the dead leaves towards us. It was as if some fragment of their being had evaporated into the air around us and become a part of the place, ingrained, like the scent of wild garlic, in the very trees around us.
As we all walked back home through the woods I knew there was a story to be told about that little cottage. So in some down time – broadband down time – telephone wire down time, you know what it can be like living in rural Welsh Wales! I began stitching together this tale, creating the characters that live in it, Jesse, Finn, Andrew and Evie. I wanted my characters to unpick the mystery within The House With Old Furniture for the reader, and decided to introduce an old journal that would slowly unlock the secrets. Bizarrely the idea for the journal came from a very old and decrepit cookery book that once belonged to my Nan – 'The Dairy Book of Home Cookery'.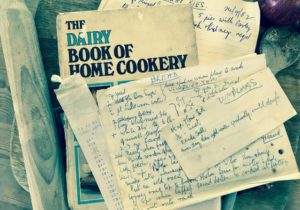 When Nan died, Grandpa, determined to remain independent and 'carry on', treated it a bit like a bible. And somehow I have now inherited it. It's full of his notes, scribbled all over the printed recipes, on how things should really be cooked and it's packed with his own concoctions jotted down on the backs of old yellowing receipts and envelopes. I love it. It's a real treasure of mine even though the spine has fallen and most of the photos have turned blue and green. And I'm thrilled that some of Grandpa has made it into the novel, I used his actual hand-written recipes for bread and dumplings as backgrounds on the chapter divider pages. I can hear him chuckling about that!
As my favourite writer, Joanne Harris wrote in her novel Blackberry Wine: "The process of writing is a little like madness, a kind of possession not altogether benign." It was quite a relief to finally finish The House With Old Furniture to get all those complicated, intense characters out of my head and on to paper safely trapped between the my Grandpa's recipes!
---
Thank you so much, Helen. The book sounds absolutely fascinating and I love the story of your nan's cookery book.
If you like the sound of it too then here are the buy links:
---

You could win one of three ebooks (open internationally) or three paperbacks.
a Rafflecopter giveaway

---

Helen was born in 1967 in the New Forest. She spent her childhood dreaming of becoming a ballerina and doodling in the margin. She graduated from Southampton Faculty of Art and Design (so long ago now, that the place doesn't even exist!) and worked as a professional Doodler of Margins (Graphic Designer) for twenty years. In 2006 She moved to Pembrokeshire with her family and lives in the middle of nowhere where she reads, writes, and runs.