Seven Day Spotlight – w/e 25/11/18
Welcome to this week's Seven Day Spotlight. Is anyone else alarmed at how fast we are hurtling towards Christmas? I'm looking forward to it though.
I was delighted this week to receive the latest (and very much revamped) issue of NB magazine in which my interview with Stuart Turton, author of The Seven Deaths of Evelyn Hardcastle, is the lead feature. I also spotted a few of my reviews in there too. But aside from my contributions there are many fabulous features and reviews. A subscription is well worth it and would make a great Christmas present (for yourself or for others). I'm not touting for sales here – I don't get paid for my contributions and was a reader of the magazine long before I was a contributor.
Here's what I've posted on my blog this week: –
On Monday, I posted my review of Supernova Hangover by Emma Jones, a book about those heady days of the late 90s.
Tuesday's post was my review of The Doll Collector by Joanna Stephen-Ward. I loved this book about a serial killer with a difference.
On Wednesday, I posted my review of Small Town Nightmare by Anna Willett, a book which really captures the claustrophobia of a small town.
Thursday was a two post day with a guest post by Karen Aldous, author of Five Ladies Go Skiing. The post was about her lovely friends, the inspiration for her book. There's still chance to win a copy of the book on that post. Also, I shared an extract from The Truth Waits by Susanna Beard.
Friday's post was an extract from The Killer Shadow Thieves by J.F. Burgess.
And Saturday's post was my review of Good Samaritans by Will Carver, a book which is dark, naughty, different, surprising and edgy.
---
And now to those all-important additions to my reading pile:
Critical Incidents by Lucie Whitehouse
Detective Inspector Robin Lyons is going home.

Dismissed for misconduct from the Met's Homicide Command after refusing to follow orders, unable to pay her bills (or hold down a relationship), she has no choice but to take her teenage daughter Lennie and move back in with her parents in the city she thought she'd escaped forever at 18.

In Birmingham, sharing a bunkbed with Lennie and navigating the stormy relationship with her mother, Robin works as a benefit-fraud investigator – to the delight of those wanting to see her cut down to size.

Only Corinna, her best friend of 20 years seems happy to have Robin back. But when Corinna's family is engulfed by violence and her missing husband becomes a murder suspect, Robin can't bear to stand idly by as the police investigate. Can she trust them to find the truth of what happened? And why does it bother her so much that the officer in charge is her ex-boyfriend – the love of her teenage life?

As Robin launches her own unofficial investigation and realises there may be a link to the disappearance of a young woman, she starts to wonder how well we can really know the people we love – and how far any of us will go to protect our own.
The Blue Bench by Paul Marriner
Margate 1920. The Great War is over but Britain mourns and its spirit is not yet mended.

Edward and William have returned from the front as changed men. Together they have survived grotesque horrors and remain haunted by memories of comrades who did not come home. The summer season in Margate is a chance for them to rebuild their lives and reconcile the past.

Evelyn and Catherine are young women ready to live life to the full. Their independence has been hard won and, with little knowledge of the cost of their freedom, they are ready to face new challenges side by side.

Can they define their own future and open their hearts to the prospect of finding love? Will the summer of 1920 be a turning point for these new friends? As the body of the Unknown Warrior is returned, can the nation find a way forward?
The Trailing Spouse by Jo Furniss
Amanda Bonham moved halfway around the world to be with the man she loves. Although expat life in Singapore can be difficult, Edward Bonham is a dream husband and a doting father to his teenage daughter, Josie.

But when their maid dies in an apparent suicide—and Amanda discovers the woman was pregnant and hiding a stash of drugs prescribed to Edward—she can't help but wonder if her perfect husband has a fatal flaw. And if he can't resist temptation under their own roof, what does he get up to when he travels?

Camille Kemble also has questions for Edward. Recently returned to Singapore, Camille is determined to resolve a family mystery. Amid a jumble of faded childhood memories, she keeps seeing Edward's handsome face. And she wants to know why.

For one woman, the search for answers threatens everything she has. For another, it's the key to all she lost. Both will follow his trail of secrets into the darkness to find the truth.
The Angelotti family reels when the lost son, given up for adoption in the war, traces his birth family and returns to the fold, with devastating consequences.

As poverty-stricken newlyweds, Laura and Giovanni Angelotti were forced to put their first child – a boy – up for adoption. They have had other children since, and their first little Italian cafe has become a restaurant empire, but Laura is still haunted by thoughts of the baby she lost.

Tom is a successful businessman enjoying the fast-paced City lifestyle – until his best friend and business partner is killed in the 9/11 attacks and his world turns upside down. Searching for meaning in his life, he decides to track down his birth family: the Angelottis.

But Laura has been keeping an explosive secret about Tom's parentage that means his reappearance in her life is bittersweet. She may have found her son, but will it be at the cost of everything it has taken her fifty years to build?
The Forgotten Daughter by Mary Wood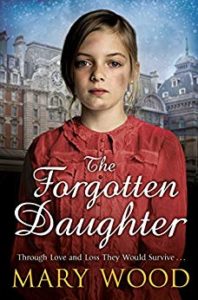 The Forgotten Daughter by Mary Wood is the gripping first book in The Girls Who Went To War series.

From a tender age, Flora felt unloved and unwanted by her parents, but she finds safety in the arms of caring nanny Pru. But when Pru is cast out of the family home, under a shadow of secrets, and with a young baby boy of her own to care for, it shatters little Flora.

But over the years, Flora and Pru meet in secret – unbeknown to Flora's parents. Pru becomes the mother to flora she never had, and Flora grows into a fine young woman. When Flora signs up to become a nurse with the St John's ambulance, she begins to shape her life. But the drum of war beats loudly and Flora's world is turned upside down when she receives a letter asking her to join the Red Cross in Belgium.

With the fate of the country in the balance, it's a time for bravery. Flora's determined to be the strong woman she was destined to be. But with horror, loss and heartache on her horizon – there's a lot for young Flora to learn . . .
Puzzle Girl by Rachael Featherstone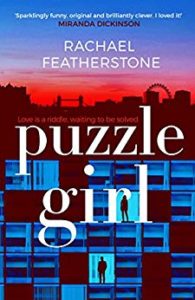 Love is a riddle, waiting to be solved…

Clued-up career girl Cassy Brookes has life under control until one disastrous morning changes everything. When she finds herself stuck in a doctor's surgery, a cryptic message left in a crossword magazine sends her on a search to find the mysterious puzzle-man behind it.

Cassy is soon torn between tracking down her elusive dream guy, and outwitting her nightmare workmate, the devious Martin. Facing a puzzling love-life, will she ever be able to fit the pieces together and discover the truth behind this enigmatic man?