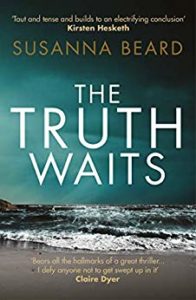 ShortBookandScribes #BlogTour #Extract from The Truth Waits by Susanna Beard @SusannaBeard25 @Legend_Press
Welcome to my stop on the blog tour for The Truth Waits by Susanna Beard. This is a book I would have liked to have read but, very disappointingly, I just couldn't fit it in 🙁 What I do have today is an extract from right at the beginning of the book for you. My thanks to Lucy Chamberlain from Legend Press for the place on the tour.
Anna has everything worked out – a successful company, all the comforts she needs and no ties. But when she stumbles across the body of a young girl on a deserted beach in Lithuania, everything changes.

Anna is compelled to uncover the story behind the tragedy, despite concern from her partner, Will. Everything points towards sex trafficking, but as she searches, her own deepest secrets start to surface.

When Will disappears without a trace, Anna is pulled further into the murky world of organised crime. Time is running out for them all, and there's a killer out there who will stop at nothing.

Beard enthralls the reader in this fast-paced psychological crime thriller. Anna serves as the perfect power-house protagonist, her daring escapades leaving the reader questioning: how far should one go to solve a murder?
---

PROLOGUE

On a strip of sand by a northern sea, salt water caresses pale skin. Bare legs are washed clean, buffed by gentle waves and a million grains of sand. A single shoe, its skinny heel pointing to the sky, lies lonely. Fabric swirls in the backwash, its pattern of leaves and flowers fading in the brine; yellow hair curls and curves like soft seaweed. The eyes, blue as the sky, stare out at the world, which has turned away.
CHAPTER ONE

The Baltic Sea, at last. She's never been as far as this, never seen this vast stretch of white sand, this huge horizon beyond which lies Scandinavia.

The hotel is flanked by sand dunes, each room overlooking the sea. It's off-season, the winter dragging on, but even in summer people come to escape everyday life. No children here, no tours, no live entertainment. Just views of the huge grey sea and the lowering sky, a long spit of sand that seems to go on for ever, birds screaming. No need to talk to anyone.

She feels the cold blast of sea wind on her cheek as if for the first time, relishes its beating and buffeting as she walks, takes deep gulps of oxygen until her head aches with the freshness of it. She breathes in the icy air. Gradually her mind empties of chatter, her body starts to recalibrate.

Until a small, energetic volcano far away interrupts the gentle flow of the hours.

*

"Good morning, madam," the man on reception says. "Have you contacted your airline yet?" His English is immaculate. A small brass badge indicates his name.

Anna's break is close to an end. "No," she says. "A couple more days."

"Haven't you heard?" His eyes widen with concern. "There's been a volcanic eruption. Flights all over Europe have been affected. Would you like me to check for you?"

"Lithuania has a volcano?" As far as she knows, there are no mountains at all here.

"No, madam, not here… in Iceland. There's a big cloud of ash. A lot of flights to the UK are delayed or cancelled."

"I hadn't heard. When was this?"

"Yesterday, madam. It was on the news last night."

She'd gone upstairs early, read for an hour or so, and then slept. She's been avoiding the news, consciously cutting herself off.

"Yes, I would like you to check my flight for me, please. How long are the delays?"

"Nobody knows. Which airline are you booked with?"

She gives him the name and waits while he stares at the screen in front of him.

A couple approaches; the man waves at the receptionist, who ignores him, engrossed.

"This is ridiculous," the man says, glancing briefly at Anna. His neck is thick; an angry flush creeps up towards his cheeks. He taps impatiently on the wooden top. "Apparently planes were getting through fine at first, then someone panicked and now they've cancelled everything, without even knowing what the risks are. Idiotic."

The woman holds melodramatic fingers to her forehead, bracelets jangling. "Christ, we could be here for days, or even weeks."

She's right, Anna realises with a sinking feeling. If the ash cloud is too dangerous for flying, they won't be taking any chances.

"Do you need to be back urgently?" Anna says to the woman.

"Well, I certainly don't want to stay much longer in this dump," the woman replies, her voice rising in complaint. "I knew we should have left yesterday, but he wouldn't listen." The man looks away, an expression of disgust on his face.

Anna realises this is the first time she's spoken to any of her fellow guests. Strange how a crisis brings people together.

*
If you enjoyed that then you can read the whole of chapter one by clicking here.
---

---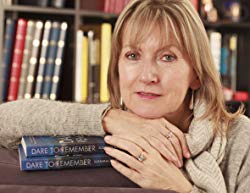 Susanna has always been a writer, but only recently took the plunge into writing novels, inspired by a course at the Faber Academy in London. Susanna has a vivid imagination and loves deep dark stories, from Victorian Gothic to contemporary Nordic noir tales, though she reads widely in many different genres. She has swum with whale sharks, fallen down a crevasse and walked through the sewers in Brighton – not in that order. She aims to write at least ten more novels – each better than the one before – and not to get old.
Her debut novel, Dare to Remember, was published in February 2017 through Legend Press. It's a psychological thriller/drama about a woman, Lisa, whose best friend is killed, leaving her terrified, guilty and confused by her loss of memory of the incident.
Author photo and bio taken from Amazon