Seven Day Spotlight – w/e 25/02/18
Welcome to another of my Seven Day Spotlight posts. This week on my blog:
On Monday, I featured a guest post about flower farms by Phillipa Ashley, as part of the blog tour for Spring on the Little Cornish Isles.
I also shared an extract from Our Little Secret by Claudia Carroll.
On Tuesday, I reviewed the funny and well-written novella, The Darlington Substitution by Melvyn Small.
On Wednesday, I shared a short extract from Wrapped in the Stars by Elena Mikalsen.
And I also revealed the cover of Daniela Sacerdoti's next book, I Will Find You.
Thursday brought a guest post in the form of a letter to his former self by Matthew Williams, as part of the blog tour for Something Changed.
And my Throwback Thursday post was my review from September 2011 of The Generation Game by Sophie Duffy.
On Friday, I shared my review of Prosecco and Promises by A.L. Michael.
And Saturday saw me sharing my review of Perfect Death by Helen Fields.
Gosh, 9 posts this week!
---
So what have I added to my TBR pile this week?
The Bad Mother by Amanda Brooke
That's what he wants you to think…

A good mother doesn't forget things.

A good mother isn't a danger to herself.

A good mother isn't a danger to her baby.

You want to be the good mother you dreamed you could be.

But you're not. You're the bad mother you were destined to become.

At least, that what he wants you to believe…
A Falling Friend by Sue Featherstone and Susan Pape
There are two sides to every friendship.

After spending her twenties sailing the globe, making love on fine white sand, and thinking only of today, Teri Meyer returns to Yorkshire – and back into the life of childhood friend Lee. Plus, there's the new job, new man – or three – and the guaranteed lump sum of a bursary for her academic research piece on the way. Life is first-rate.

What could possibly go wrong?

Going out on a limb to get best friend Teri a job at the same university seemed like a great idea. But it doesn't take long for Lee Harper to notice a pattern. Teri seems to attract trouble, or maybe she creates it, and Lee can see exactly where things are spiralling – downwards. But Teri's not the sort to heed a warning, so Lee has no choice but to stand by and watch.

And besides, she has her own life to straighten out.

For fans of BRIDGET JONES, this 'witty' chick lit has been described as a 'rollicking good read' and is the first in the FRIENDS trilogy following the lives of two thirty-something women, who, despite their close friendship, don't always see eye-to-eye.
A Forsaken Friend by Sue Featherstone and Susan Pape
No-one said friendship was easy.

Things can't get much worse for Teri Meyer. If losing her job at the university and the regular allowance from her dad's factory isn't bad enough, now her ex-best friend has gone and stolen her ex-husband! Well, to hell with them all. A few weeks in the countryside at her brother's smallholding should do the trick – and the gorgeous and god-like neighbour might help.

But then there's Declan, not to mention Duck's Arse back in Yorkshire…

It's not as if Lee Harper set out to fall in love with her best friend's ex-husband. But, for once, her love life is looking up – except for all the elephants in the room, not to mention Mammy's opinion on her dating a twice-divorced man. Perhaps things aren't as rosy as she first thought. And now with one family crisis after another, Lee's juggling more roles – and emotions – than she ever imagined.

Maybe sharing her life with a man wasn't such a grand idea.

The FRIENDS trilogy continues in this heart-warming and hilarious hoot as two best friends navigate men, careers, family and rock bottom in this brilliant sequel to A FALLING FRIEND.
A Life in the Day by Hunter Davies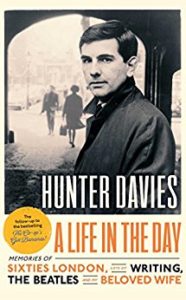 Hunter Davies' childhood lived amongst the post-war dirt and grime of Carlisle was immediately hailed as a classic memoir from one of Britain's foremost columnists of the past half century. The Co-op's Got Bananas! left our protagonist at the cusp of working for one of the world's greatest newspapers – The Sunday Times.

In this much-anticipated sequel, Hunter now looks back across five decades of successful writing to reflect on his colourful memories of the living in London during the height of the Swinging Sixties, becoming editor of Britain's first colour weekend supplement The Sunday Times magazine; where he befriended the Beatles; and reporting on (and partying with) some of the biggest names in television, film and theatre of the day. As time moved on into the 1970s, '80s and '90s, Hunter encountered the likes of Sir Michael Caine, George Best, Melvyn Bragg, Joan Bakewell, Sir Sean Connery, Cilla Black, Paul Gascoigne, and Wayne Rooney to name a few.

Hunter brings the story full circle to reflect on his years spent with the love of his life – the bestselling writer Margaret Forster, who sadly passed away in February 2016. This will not only be a colourful and enjoyable memoir of what it was like to be at the epicentre of Britain's artistic heart, but also an emotional, heart-felt tribute to family, friends and colleagues. For those captivated by The Co-op's Got Bananas!,this sequel is a must read.
Something in the Water by Catherine Steadman
How far would you go be truly happy? 

Erin is a documentary filmmaker on the brink of a professional breakthrough; Mark a handsome investment banker with a bright future. They seem to have it all, until Mark loses his job and cracks start to appear in their perfect life.

But they're determined to make it work. They  book their dream honeymoon and trust that things will work out – after all, they have each other.

Could the life of your dreams turn out to be a nightmare? 

On the tropical island of Bora Bora Mark takes Erin scuba diving. Mark is with her – she knows he'll keep her safe. Everything will be fine. Until they find something in the water.

Have you ever wondered how long it takes to dig a grave? 

Erin and Mark decide to keep their discovery a secret — after all, if no one else knows, who would be hurt? Their decision will trigger a devastating chain of events…  which will endanger everything they hold dear.
Ivy and Abe by Elizabeth Enfield
Two people.

One love story.

A million possibilities.

———————————–

They're soulmates.

Ivy and Abe were inseparable as children until an accident tore them apart. Several decades later, when both are in their seventies, a chance encounter reunites them. But time is not on their side.

What if they'd met in a different time and place? 

In another life, Ivy and Abe meet in their forties, when both are married already. Unable to resist the attraction between them, they embark on a passionate affair.
Now You See Her by Heidi Perks
Charlotte is looking after her best friend's daughter the day she disappears. She thought the little girl was playing with her own children. She swears she only took her eyes off them for a second.

Now, Charlotte must do the unthinkable, tell her best friend Harriet that her only child is missing. The child she was meant to be watching.

Devastated, Harriet can no longer bear to see Charlotte. No one could expect her to trust her friend again.

Only now she needs to. Because two weeks later Harriet and Charlotte are both being questioned separately by the police. And secrets are about to surface.

HOW FAR WOULD YOU GO TO PUT THINGS RIGHT?
She's Not There by Tamsin Grey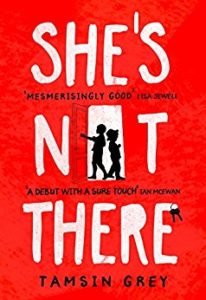 When Jonah and Raff wake up on Monday, their mother Lucy isn't there.

Although Jonah is only nine, he is the big brother, and knows enough about the world to keep her absence a secret. If anyone found out she'd left them alone, it could be disastrous for him and Raff; and she'll be back, he's nearly sure.

With growing unease, he puzzles over the clues she's left behind. Who sent her the flowers? Why are all her shoes still in the house? Why is her phone buried in a plant pot?

And who, in their diverse south London community, might know more about her than he does?
For fans of My Name is Leon and The Trouble with Goats and Sheep, Tamsin Grey's outstanding debut is tender, funny and unsettling.
Letters to Iris by Elizabeth Noble
Gigi and Tess aren't the most obvious of friends. Gigi is a grandmother, Tess is pregnant for the first time. But when they meet, each one is coping with their own secret sadness. Tess is writing letters to her unborn baby with no one else to turn to, and Gigi has reached breaking point in her marriage. Little do they know how much they will come to mean to one another as both of their lives are turned upside-down.

Their story is about love in all its forms: the love between a mother and her unborn child, between a grandmother and her granddaughter, between spouses and between friends. Tess and Gigi will find what they need most in the place they least expect, and learn to understand the future by unlocking the past . . .
The Language of Secrets by Ausma Zehanat Khan
AN UNDERCOVER INFORMANT HAS BEEN MURDERED… BUT WHOSE SIDE WAS HE ON?

TORONTO: A local terrorist cell is planning an attack on New Year's Day. For months, Mohsin Dar has been undercover, feeding information back to Canada's national security team. Now he's dead.

Detective Esa Khattak, compromised by his friendship with the murdered agent, sends his partner Rachel Getty into the unsuspecting cell. As Rachel delves deeper into the unfamiliar world of Islam and the group's circle of trust, she discovers Mohsin's murder may not be politically motivated after all. Now she's the only one who can stop the most devastating attack the country has ever faced.

The Unquiet Dead author Ausma Zehanat Khan once again dazzles with a brilliant mystery woven into a profound and intimate story of humanity.
Do you like the sound of any of these? Or have you already read one or two of them? I'd love to hear from you.