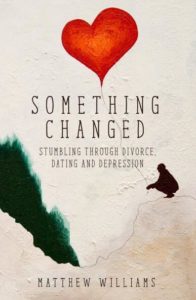 #blogtour – Something Changed by Matthew Williams @3DMathW @NeverlandBT #GuestPost #Giveaway
Welcome to my stop on the blog tour for Something Changed by Matthew Williams. Thank you to Jenny from Neverland Blog Tours for the place on the tour. I have a lovely guest post from the author and a giveaway for you today, but that's after the all-important information from the back of the book.

Life can change forever in a moment…

In the aftermath of marriage breakdown how do we pick ourselves up and start again?

In August 2014 Matthew Williams was forced to do just that. In Something Changed he navigates us through his journey with wit and wisdom, taking in divorce, dating and self-discovery while facing the dark spectre of depression.

Hopes and fears, laughter and tears – all are encountered along the way to learning some important lessons about love, loss and life.

'Have you ever noticed how life's biggest lessons are also the most painful? Maybe that's just life's way of making sure we don't forget them…'
---

by Matthew Williams
August 2013
Dear Matthew,
Welcome back. You did it! I know how hard this last few months have been. I know that you didn't think you'd make it, but you did. I know that I don't need to tell you this – after all, you've been here before after recovering from your first mental breakdown – but make the most of this feeling. Breathe the air, feel the glorious sunshine on your skin, soak up the joy of your children's laughter. You are alive, you are healthy, and you know – more than ever – what a precious gift that is.
Life has given you another chance. Life has shown you that you are here for a reason, that no matter how dark it gets, you can survive and you can thrive.
Why am I telling you this? Because this feeling that you have, this sense of rebirth and opportunity, it won't last. Your deepest fears shall come to pass. Those fears that your broken mind has taunted you with so relentlessly for the last 4 months, those fears that you think you are finally free from… they are just around the corner. They are waiting for you.
In a year's time everything will change. Everything. You will experience loss like you have never known. Your marriage will end. Half of your days will be spent without your children. You will have no home. You will be faced with an uncertain future for which you have no roadmap, no plan. You will hurt in ways that you have never hurt before. And there is nothing that you can do about it.
But, I want to tell you this: don't worry. You will get through it, just like you have gotten through this. In fact, you won't just get through the difficult years ahead – you will use the experience to become stronger and happier than you have ever been. You will achieve things that you could never have imagined that you could achieve. You will meet beautiful, wonderful, inspirational people. Some will help you, some will hurt you, some will do both, and all will help you along the way to becoming who you are meant to be.
And please, don't worry, you will not fall back into the black hole again.
I tell you this so that you never again lose hope, that you never again lose faith in yourself. Through the difficult days and years ahead remember: you have already come this far. Nothing can be worse than what you have already overcome. These days are but short chapters in a life that has so much more to come.
So buckle up son, it's going to be a bumpy ride! But you'll get here. And when you do you'll see just what a beautiful view it is that awaits you.
All the very best,
Matthew
January 2018
Thank you, Matthew. What a moving letter to your former self.
---

---

Matthew Williams is an author, blogger, speaker and coach. He lives in the North East of England with his two young children. Matthew is passionate about positive change and turning life's challenges into lessons for creating a better future. He hopes that by writing about his own experiences he will be able to inspire others to make positive changes in their lives.
Something Changed is Matthew's first book. More of his writing can be found at his blog, Love, Laughter & Truth.