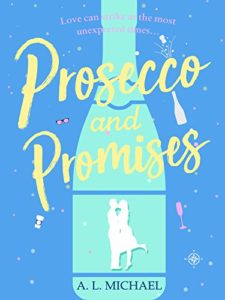 #bookreview – Prosecco and Promises by A.L. Michael @AlMichael_ @canelo_co #blogtour
I'm delighted to be reviewing Prosecco and Promises by A.L. Michael today as part of the blog tour. Thank you to Ellie Pilcher for asking me to take part, for providing the review copy and for sending me a compass (the meaning of which now makes sense!) and some Prosecco lip gloss.
---

Meet Mia: an unforgettable heroine learning the meaning of life and love on a beautiful Italian island. Perfect for fans of Mhairi McFarlane, Lindsey Kelk and Lucy Vine.

Mia's dad has always been her idol. Now, she faces losing him and he is insisting that she leave England to visit her mother's family on the Italian island of Ischia.

Arriving on the island, Mia is embraced by the warm, crazy relatives she hardly knows. Despite her doubts about the trip, it is in Italy that Mia discovers connections to a part of her life that's been missing, and during the sun-soaked days and steamy nights Mia falls for handsome local Salvatore. But as the day of her departure draws nearer can she risk having her heart broken twice in one summer?

If you love Prosecco and Promises, why not read more about Mia's best friend Savvy in Cocktails and Dreams? Out now!
Links to Book:
---
I loved Cocktails and Dreams, so when I heard that A.L. Michael was bringing out a second book in the Martini Club series I couldn't wait to read it.
Whilst the first book was about Savvy, Prosecco and Promises is about her best friend, Mia. I love series like this which feature some of the same characters but focus mainly on a different protagonist. Mia is ordered by her father to go to her mother's family home on the Italian island of Ischia. His reasons for sending her away are torturous for Mia, but she respects and loves her father enough to go along with it.
I must admit that I spent some of the book feeling quite annoyed with Mia. She's so angry and bolshy. I understood why she was like that (or rather, why she was being more angry and bolshy than normal) but it still didn't help to endear her to me. But I started to like her more as the book went on and I loved her growing relationship with the delicious Salvatore, who could take as good as he got but actually, like Mia, was soft underneath his hard exterior. Their rapport and banter came across really well and I was rooting for them to get together and work everything out.
I particularly enjoyed Mia's time on Ischia, her explorations, her time at Salvatore's uncle's shop and with her mother's family, who she hardly knew. I love all things Italian so the setting and the whole cultural thing was hugely appealing to me. Another character that stood out was Marjorie, Mia's stepmother. I really liked her but unsurprisingly, Mia wasn't that fond of her. She was a character that grew on me as the book progressed.
Prosecco and Promises had a hard job, following on from Cocktails and Dreams which I adored, but I did love it. It's a moving story of love, grief and learning how to deal with your emotions. I wonder if there will be any more Martini Club books. I do hope so.
---

---

A.L. Michael is hurtling towards the end of her twenties a little too quickly. She is the author of 10 novels. Her most recent collection of books, The Martini Club Series, started with Cocktails and Dreams, to be followed by Prosecco and Promises, and Martinis and Memories. She likes to write about difficult women. Well, they say to write what you know. Andi works as a Content Writer, as well as a therapeutic facilitator. She has a bunch of degrees in stuff to do with writing, and wrote her MSc dissertation on the power of creative writing in eating disorder recovery. She truly believes stories can change your life.