#blogtour – Spring on the Little Cornish Isles: The Flower Farm by Phillipa Ashley @PhillipaAshley @AvonBooksUK #GuestPost
I'm so pleased to be taking part today in the blog tour for Spring on the Little Cornish Isles: The Flower Farm by Phillipa Ashley. Thank you to Sabah Khan for the spot on the tour.
Spring on the Little Cornish Isles is published today – happy publication day, Phillipa!
I have a lovely guest post from Phillipa to share with you but first, shall we see what this book is about?

Jess has lived at the idyllic flower farm on the Isles of Scilly her whole life, but when her boyfriend Adam leaves without explanation, Jess discovers that even her little slice of Cornish heaven can be lonely.

For the first time in Will's life, he's met someone he can't stop thinking about. But nothing is simple when the woman of your dreams is working for you.

Gaby is running away from painful memories, and where could be more perfect than a remote island off the Cornish coast? But to put the past behind her, she must keep moving … however much she might want to stay.
You can buy the ebook for just £1.99 and the paperback will be published on 19th April.
---

The Flower Farm by Phillipa Ashley
I'm no gardener. It's the most I can do keep our patch from turning into a jungle to rival Jurassic Park. Actually, my husband, assisted by his dad, do most of the heavy stuff; pruning shrubs, mowing lawns and power washing patios. I have been known to do a bit of light weeding if things start to get too rampant but the one thing I do love is planting – especially spring bulbs and summer patio plants.
After visiting the flower farms on the Isles of Scilly last September as research for my new book, Spring on the Little Cornish Isles: The Flower Farm, I decided to add to my pathetic display of spring bulbs. Scilly bulbs prefer the mild climate of the islands so I bought some hardy varieties from home when I returned. I planted around a hundred bulbs and eventually found places for them in the garden, unfortunately digging up old ones quite often.
Can there be a cheerier sight than spring bulbs appearing after a gloomy January? I'm delighted to say that some of them are shooting through now but I could never hope to rival the friends who planted over 1000 bulbs in their garden. Nor the flower farms I visited on St Martin's and St Mary's, who grow and send out literally millions of scented narcissi every year to supermarkets, wholesalers and individuals.
I'd already been to Scilly twice before, falling instantly in love with the stunning seascapes and exquisite beauty of the islands 30 miles off the west of Cornwall. The idea of writing a spring novel about a flower farm was irresistible so I booked another trip. Knowing nothing about flower farming, I knew I'd have to do a lot of research.
Luckily for me, Jess Vian of Seaways Flower farm and Zoe Julian of Scilly Flowers were happy to answer my questions.
The Isles of Scilly have an incredibly mild winter climate.  When I visited in September, the green shoots were already starting to appear in the fields. The bulbs start to grow with the first rains of autumn and they flower naturally between October and March.
The farmers have various natural techniques for encouraging the narcissi to bloom early or for holding them back at the end of the season. The flowers are shipped to the main harbour in St Mary's and then flown out of the islands by plane. However, bad weather over the winter can often mean no flying, so the farmers have to use all their skills and knowledge – and giant fridges – to keep the flowers fresh until they can be sent on to customers.
It's an incredibly complicated and delicate balancing act that they manage every year, to ensure everyone receives flowers at the peak of perfection.
My job was to weave all this information into the fictional story of Jess and Adam and Will and Gaby. I hope I've done it justice and you enjoy reading it as much as I loved writing it.
Thank you, Phillipa. It sounds like you really enjoyed your research for this novel.
---

---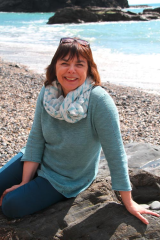 Phillipa Ashley writes warm, funny romantic fiction for a variety of international publishers. The first two books in her best-selling Cornish Café series made the Amazon Top 20 and Top 10 chart in 2016.
Phillipa lives in a Staffordshire village with her husband and has a grown-up daughter.