#bookreview – Perfect Death by Helen Fields @Helen_Fields @AvonBooksUK #blogtour #extract #crimefiction
I'm thrilled to be reviewing Perfect Death by Helen Fields today as part of the blog tour, and also sharing an extract with you. Thank you to Sabah Khan from Avon Books for the place on the tour and the review copy, along with the bottle of Luc's favourite tipple. I drank it whilst reading the book and can say that I understand why it's his favourite tipple as it's got an extremely delightful taste…..hic.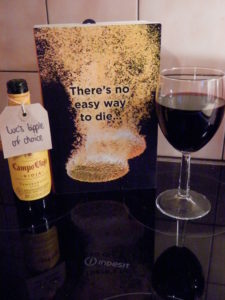 ---

There's no easy way to die…

Unknown to DI Luc Callanach and the newly promoted DCI Ava Turner, a serial killer has Edinburgh firmly in his grip. The killer is taking his victims in the coldest, most calculating way possible – engineering slow and painful deaths by poison, with his victims entirely unaware of the drugs flooding their bloodstream until it's too late.

But how do you catch a killer who hides in the shadows? A killer whose pleasure comes from watching pain from afar? Faced with their most difficult case yet, Callanach and Turner soon realise they face a seemingly impossible task…
Perfect Death is out now in ebook and paperback.
---

Extract Sixteen: Chapter 63, pp.400-401
The door to the apartment opened. Ava saw a pale-faced man with his hands in the air, his eyes darting between her and an unseen figure who must have been standing behind the door.
'Walk forwards,' a voice commanded. Ava did as she was told. 'Now get on your knees,' he said. She knelt down. The door slammed behind her and was locked. She attempted a reassuring smile at the man still stood with his hands in the air, noting the tears in his eyes. 'Take your clothes off.'
'Jason, my name's DCI Ava Turner. With respect . . .' Ava started.
'You don't respect me,' Christian said. 'Let's get one thing clear. I'm not Jason. I shed that skin a very long time ago. People move on, DCI Turner. They evolve. Please don't expect to come in here brandishing details of my past, that will suddenly make me break down and open my heart to you. This isn't some crappy B movie. It's real. The things I need are real. Right now, I need to check what's under your clothes, so strip down to your underwear. You can put everything straight back on as soon as I know there's nothing hidden.'
'Okay, that's fair,' Ava said. 'In your situation I'd make the same request. Could I just take a look at Sean first, to make sure he's breathing?'
'Clothes off, then you look.'
Ava stripped off her shirt and trousers, turning around slowly, getting a look at the man pointing a gun steadily at her head. He appeared remarkably calm. There was no shake to his hands, no looking away when she met his eyes. His brow was dry. Ava chose her tack as she got dressed.
'Is that Sean on the sofa?' she asked. 'Can I check him now?'
'Go ahead,' Christian said. 'You'll find his pulse is weak. I think the word is thready. Don't expect any response from him at this stage. He's too deeply unconscious.'
'You're something of an expert,' Ava said, laying her fingers across the inside of Sean's wrist. 'His pulse is extremely feeble. How much time do you think he has left?'
---
Oh my, I do love this series of books. Perfect Death was a welcome return to Edinburgh and Police Scotland for me. This time, Helen Fields has shown that she doesn't only write about gory deaths, as the deaths in Perfect Death are slow, torturous, drug-related ones. Don't get me wrong, they're still pretty horrible, but not quite worthy of a slasher movie this time!
We're back with newly promoted DCI Ava Turner and DI Luc Callanach and their team. They actually have two cases to work. One is the killer poisoning his victims slowly, but the other is one of crime lords and corruption. This dual approach works well as Turner takes one case and Callanach takes another. DS Lively is still on the squad, a dyed in the wool officer who just loves ribbing Callanach for his pretty face. But I saw a different side to him in this book which was nice.
Also nice to see return from Perfect Prey, the previous book in the series, was Lance Proudfoot, the journalist. The whole range of characters in these books are perfectly drawn, they work well together and are hugely likeable. This being the third book they have featured in, I'm really starting to care about them and want them to succeed. And I must admit to having a real soft spot for Luc.
The book started with me reading slowly, taking it all in, working out what was going on. Then it completely took off and I just could not put it down. It's absolutely thrilling, so exciting and so deliciously twisted.
You can read each of the books by Helen Fields as a standalone read but I really do recommend that you read all of the books in order, to appreciate the back story of each character, but also because they are so damn good. I'm over the moon to see that this is not, as I feared, a trilogy, and there are apparently another three books to come at least.
Perfect Death is a superbly put together crime thriller. I can't get enough of the characters and I'm already eagerly awaiting the next instalment. The stories that Fields creates are so clever, so unique. She's easily my favourite crime writer around at the moment.
---

---

Helen Fields studied law at the University of East Anglia, then went on to the Inns of Court School of Law in London. After completing her pupillage, she joined chambers in Middle Temple where she practised criminal and family law for thirteen years. After her second child was born, Helen left the Bar.
Together with her husband David, she runs a film production company, acting as script writer and producer. Perfect Remains is set in Scotland, where Helen feels most at one with the world. Helen and her husband now live in Los Angeles with their three children and two dogs.