Seven Day Spotlight – w/e 23/09/18
Welcome to this week's Seven Day Spotlight post. Here's what I posted this week on my blog:
Monday was a two post day with an extract from Ravens Gathering by Graeme Cumming and my review of the wonderful One Day in December by Josie Silver.
Tuesday's post was a guest post from Lisa Hobman, author of What Becomes of the Broken Hearted. She talked about Silver Screens and Vivid Imaginations.
On Wednesday, I posted my review of the fabulous Perfect Silence by Helen Fields. It's always a pleasure to return to DI Luc Callanach.
Thursday's post was my review of The After Wife by Cass Hunter, a book I found absolutely fascinating.
On Friday, I shared a guest post from Allie Cresswell about her new book, Mrs Bates of Highbury, and why she chose to write about an existing character in a well-known story.
And finally, yesterday's post was my review of The Promise by Katerina Diamond, which I found really gripping.
---
There have been only a few additions to my TBR pile. Perhaps as well!
From the bestselling author of Holding comes a masterly tale of secrets and ill-fated loves set on the coast of Ireland.

Dear Lonely Leinster Lady, 
I'm not really sure how to begin . . .

The truth drifts out to sea, riding the waves out of sight. And then the tide turns.

Elizabeth Keane returns to Ireland after her mother's death, intent only on wrapping up that dismal part of her life. There is nothing here for her; she wonders if there ever was. The house of her childhood is stuffed full of useless things, her mother's presence already fading. And perhaps, had she not found the small stash of letters, the truth would never have come to light.

40 years earlier, a young woman stumbles from a remote stone house, the night quiet but for the tireless wind that circles her as she hurries further into the darkness away from the cliffs and the sea. She has no sense of where she is going, only that she must keep on.

This compelling new novel confirms Graham Norton's status as a fresh, literary voice, bringing his clear-eyed understanding of human nature and its darkest flaws.
Force of Nature by Jane Harper
FIVE WENT OUT. FOUR CAME BACK…

Is Alice here? Did she make it? Is she safe? In the chaos, in the night, it was impossible to say which of the four had asked after Alice's welfare. Later, when everything got worse, each would insist it had been them.

Five women reluctantly pick up their backpacks and start walking along the muddy track. Only four come out the other side.

The hike through the rugged landscape is meant to take the office colleagues out of their air-conditioned comfort zone and teach resilience and team building. At least that is what the corporate retreat website advertises.

Federal Police Agent Aaron Falk has a particularly keen interest in the whereabouts of the missing bushwalker. Alice Russell is the whistleblower in his latest case – and Alice knew secrets. About the company she worked for and the people she worked with.

Far from the hike encouraging teamwork, the women tell Falk a tale of suspicion, violence and disintegrating trust. And as he delves into the disappearance, it seems some dangers may run far deeper than anyone knew.
The Dream Wife by Louisa de Lange
Annie is the dream wife.

Mother to two-year-old Johnny and wife to David, she is everything her husband expects her to be – supportive, respectful and mild – but what he expects isn't who she truly is.

Annie is a prisoner in her home.

Her finances, her routine, her social life are all controlled by him. It's the love for her boy that she lives for, and at night she dreams of a world where she is free.

But Annie is going to fight back.

And you won't believe how she is going to do it . . .
And I was over the moon to receive some fabulous book post this week too:
A Winter Beneath the Stars by Jo Thomas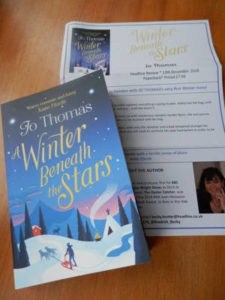 Halley has been running from her problems for years.

On a courier trip to Tallfors, deep in Swedish Lapland, everything is going to plan. Halley has her bag, with two precious wedding rings inside for delivery… until she doesn't.

The only way to save the wedding is to team up with mysterious reindeer herder Bjorn, the one person who can lead her across the snowy tundra to be reunited with her bag.

On a journey of a lifetime beneath the stars, with only the reindeer and a bad-tempered stranger for company beside the fire, Halley realises that she will need to confront her past heartaches in order to let the warmth of love in once more…
Nine Perfect Strangers by Liane Moriarty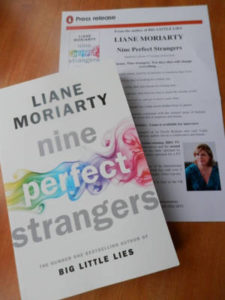 The retreat at health-and-wellness resort Tranquillum House promises total transformation.

Nine stressed city dwellers are keen to drop their literal and mental baggage, and absorb the meditative ambience while enjoying their hot stone massages.

Miles from anywhere, without cars or phones, they have no way to reach the outside world. Just time to think about themselves, and get to know each other.

Watching over them is the resort's director, a woman on a mission. But quite a different one from any the guests might have imagined.

For behind the retreat's glamorous facade lies a dark agenda.

These nine perfect strangers have no idea what's about to hit them . . .