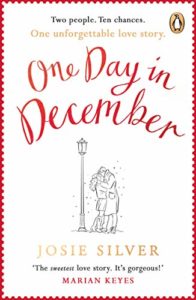 ShortBookandScribes #BookReview – One Day in December by Josie Silver @JosieSilver_ @penguinUKbooks #BlogTour #ODID
I'm thrilled to be taking part in the blog tour for One Day in December by Josie Silver today and will be sharing my review with you. My thanks to Georgia Taylor from Penguin for the review copy and the place on the tour. This book is an absolute cracker!
Prepare to be swept away by the love story that everyone's talking about this Autumn…

Laurie is pretty sure love at first sight doesn't exist. After all, life isn't a scene from the movies, is it? But then, through a misted-up bus window one snowy December day, she sees a man she knows instantly is the one. Their eyes meet, there's a moment of pure magic…and then her bus drives away.

Laurie thinks she'll never see the boy from the bus again. But at their Christmas party a year later, her best friend Sarah introduces her to the new love of her life. Who is, of course, the boy from the bus.

Determined to let him go, Laurie gets on with her life. But what if fate has other plans?

Following Laurie, Sarah and Jack through ten years of love, heartbreak and friendship, ONE DAY IN DECEMBER is an uplifting, heart-warming and immensely moving love story that you'll want to escape into forever, for fans of Jojo Moyes, Lucy Diamond and Nicholas Sparks.
---

I loved the premise of this book as soon as I read the blurb. Laurie and Jack meet each other's eyes – she's on the top deck of the bus and he's in the bus shelter reading his book. Each of them feels that thunderbolt, that sense of something momentous having happened. But fate isn't going to let them be together. Oh no, fate has many other things in store for Laurie and Jack.
Not least of which is that when Sarah, Laurie's best friend and flatmate, comes home with her new fella, well…..can you guess who it is? Yes, it's Jack. I so felt for Laurie at that point because she's an utterly lovely character. She's kind, a brilliant friend to Sarah and she's not going to do anything to jeopardise that friendship, even if Jack could be 'the one'.
So we follow the three of them over the course of almost ten years from that first meeting of eyes in 2008. There are the usual ups and downs that happen in everyone's lives, other relationships, earth-shattering moments that turn everything upside down. But still, the constant is the three of them around which everything else revolves.
At the beginning of the book I wondered if I was going to really gel with the early twenty-something characters that I had nothing in common with. But they're such lovely characters and this is such a gorgeous story that I couldn't help but become totally invested in their lives and the outcome of Laurie and Jack's story. It's so much more than a fluffy rom-com, it has a real depth to it and real emotion. As the end approached I did shed a tear and I closed the book feeling really happy and really satisfied.
This book has been called the novelistic equivalent to Love Actually which is quite an endorsement as I love that film. It is like that, with a sprinkling of Cold Feet where the relationship between the friends comes into play. It would certainly transfer well to the screen if that were to happen. I'd definitely watch the film!
One Day in December is full of warmth, feeling and love, but loss and loneliness is also in there. It's perfectly put-together to pull on the heartstrings but isn't too sentimental or cloying. I absolutely adored it. I'm really looking forward to more from Josie Silver.
---

---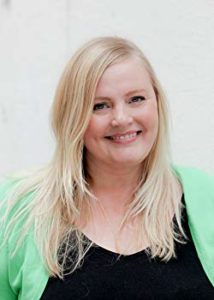 Josie Silver is an unashamed romantic who met her husband when she stepped on his foot on his 21st birthday. She lives with him, her two young children and their cat in a little town in the Midlands.