ShortBookandScribes #BlogTour #GuestPost by Lisa Hobman, Author of What Becomes of the Broken Hearted @LisaJHobmanAuth @aria_fiction
I'm so pleased to be posting today as part of the blog tour for What Becomes of the Broken Hearted by Lisa Hobman. I'm sharing a guest post by Lisa entitled Silver Screens and Vivid Imaginations. My thanks to Vicky Joss from Aria for the place on the tour.
---

Cassie Montgomery can remember a time where her life seemed pretty perfect. By day she was setting up her own little business in her sleek penthouse apartment, and by night sleeping on gazillion-count Egyptian cotton sheets next to her fiancée, once reputed to be Glasgow's most eligible bachelor.

And yet one ordinary, fateful day, Cassie uncovers a secret that shatters her heart into tiny pieces, and changes her life forever….

Escaping to a rural and idyllic coastal village, Cassie finds a cottage that, from the moment she steps through the rose-surrounded door, feels instantly like home.

And then there's Mac, the cool surf teacher, who makes her question what really makes her happy – and makes her wonder if maybe, she might already have found the answer….
Buy links
---

Silver Screens and Vivid Imaginations by Lisa Hobman
I think every author has dreamed, at some point, of having their book made into a movie. To see their words come to life on the silver screen and to maybe walk the red carpet at a premiere. I have to admit to having this dream too. Although there is often the argument that books are always better than movies, I still don't feel deterred! If a big movie company asked to option one of my books I would probably snatch their hand off!
Personally I tend to have a cast list in mind as I write, simply because it helps me to formulate my ideas better if I can imagine who is speaking and how they would deliver particular lines. For example, when I originally wrote Bridge Over the Atlantic in 2013/2014 (later re-edited and published recently as A Seaside Escape by Aria Fiction) my leading man was always Gerard Butler. He has the ruggedly handsome looks and the perfect twinkle in his eye that immediately makes me melt. Add to this his sexy, Scottish accent and bingo! Greg comes to life!
When I was writing What Becomes of the Broken Hearted this process happened all over again! This time I envisioned my main male protagonist, Mac, as the wonderfully talented Sam Heughan; only instead of the fiery red locks of Jamie Fraser from Outlander he would have the shaggy, mousy brown hair of the surfer he would be portraying. Having seen several shows starring Sam it's easy to now imagine him saying the sarcastic lines that Mac delivers in the story. And I'm sure we can all agree he plays the romantic so very well.
For Cassie I would cast Alexandra Dowling from BBC1's The Musketeers. She has such delicate features and fits the image in my mind of Cassie. But she can also be quite feisty just like the character herself. I think side by side the pair would really work well together as Mac and Cassie.
The setting would absolutely have to be Coldingham, the little cove on the east coast of Scotland where the book is set. With its pretty beach huts and rock pools it really is the perfect place to relax and watch the world go by. The location is the only non-fictional element of the book. Whilst the businesses I mention differ to the real setting, I hope that the overall beauty of the stunning seaside cove comes across. It's one of my absolute favourite places in the world and now, when we sit on the beach having a family picnic, I have a tendency to drift off and day dream, imagining my characters coming to life and appearing before my eyes.
I suppose and author can dream!
Thank you, Lisa. I hope your dream comes true one day!
---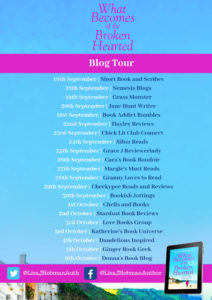 ---

Lisa Hobman is a British author, living in Scotland with her family and two dogs. Her debut novel was shortlisted in the 2014 RoNA awards. When she's not writing, Lisa can be found singing in a local band or out enjoying the beautiful Scottish countryside.
Follow Aria