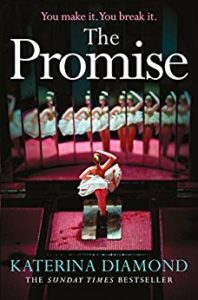 ShortBookandScribes #BookReview – The Promise by Katerina Diamond @TheVenomousPen @AvonBooksUK #BlogTour
I'm delighted to be finally reviewing a Katerina Diamond book on my blog today. My thanks to Sabah Khan from Avon Books for the review copy and the place on the tour.
No one can protect you from your past…

When a young woman is found strangled in her own bedroom, DS Imogen Grey and DS Adrian Miles are plunged into an investigation to find a twisted serial killer who likes to date his victims before he kills them.

Determined to stop the horrific deaths, Imogen is forced to act as bait – but will she get caught in her own trap? As the search for the killer ramps up, attention falls on the strange new boy in town. Why does he watch his neighbours through the windows? And could the truth be closer to home than any of them realise?
---

Although this is the fourth book in the series featuring DS Imogen Grey and DS Adrian Miles, and I might happen to have two of the previous three waiting to be read, I knew that if I didn't pop my Katerina Diamond cherry soon I never would. So I took the risk that comes with starting part way through a series and decided I wanted to read The Promise. Not only does it work very well as a standalone (past events are referred to but explained in enough detail), but I also had myself a cracking good read. Of course, I'm now kicking myself for not getting on and reading The Teacher, The Secret and The Angel before now but never mind.
In this book, Grey and Miles are investigating a man who is going on a date with a woman and then strangling them to death. Surely no date can be that bad! Obviously there's more to it and as it turns into a hunt for a serial killer Grey puts herself at risk to try and find him.
A story running alongside it is that of Connor, a 16 year old American boy who has just moved to England with his father. Things are not as they should be and their relationship is difficult to say the least.
There's also a less prominent story, told in a kind of journal by an unnamed woman. She tells of her abuse at the hands of a man and for much of the story it's unclear where this storyline fits in. Towards the end it all slotted into place and I got a dawning realisation of how the three strands fitted together. I think it was extremely clever plotting by the author to leave it open enough that it wasn't obvious straightaway. And those last few chapters! Looking at the few pages that were left I couldn't imagine how she was going to tie it all up, but then wham bam it was suddenly and very effectively wound up in a thrilling way.
I found The Promise to be a fast-paced and exciting book. I was completely engrossed from the moment I picked it up and didn't want to put it down. The dynamic between Grey and Miles is fascinating and I really must go back and read the other books to see how their partnership has come about and been built up.
Every character is well drawn, the plot is gripping and lively and the writing is excellent. I absolutely loved it.
---

---

Katerina Diamond was born in Weston in the seventies. She moved to Thessaloniki in Greece and attended Greek school where she learnt Greek in just 6 months. After her parents' divorce, they relocated to Devon. After school, and working in her uncle's fish and chip shop, she went (briefly) to university at Derby, where she met her husband and had two children. Katerina now lives on the East Kent Coast with her husband and children. She is a Sunday Times and Kindle bestseller.