ShortBookandScribes #BookReview – The After Wife by Cass Hunter @C_HunterAuthor @TrapezeBooks #BlogTour
I'm delighted to be sharing my review of The After Wife by Cass Hunter today. My thanks to the publishers via Amazon Vine for the review copy and to Tracy Fenton and Alainna Hadjigeorgiou from Orion for the place on the tour.
---

A surprising and emotional story starring an unforgettable heroine, for fans of Together, The Summer of Impossible Things and The Time Traveler's Wife

When Rachel and Aidan fell in love, they thought it was forever.

She was a brilliant, high-flying scientist. He was her loving and supportive husband.

Now she's gone, and Aidan must carry on and raise their daughter alone.

But Rachel has left behind her life's work, a gift of love to see them through the dark days after her death.

A gift called iRachel.
---
Well, this has to be one of the most fascinating books I have read for a while. It's a story of love, loss, grief and of the healing a robot can bring (yes, you read that right!).
Rachel Prosper is a scientist, an amazing and clever one. Her husband, Aidan, loves her very much but has to live a little bit in Rachel's shadow. They have a teenage daughter, Chloe, also clever but whom Rachel doesn't believe is living up to her potential. Despite this, they are a very happy, close family. Until one day, Rachel is not there any more after a combination of tragedies.
What neither Aidan nor Chloe know is that Rachel was in the throes of creating something phenomenal in her lab, with her work partner, Luke. Enter iRachel, a humanoid robot who looks just like Rachel and was programmed by Rachel to enter Aidan and Chloe's lives should anything happen to her.
Do you know, when I first heard about this book I wasn't at all sure it would be for me. I wasn't sure whether the robot stuff would work for me and I did wonder if the story would be a little saccharine for my tastes. Wrong and wrong! The robot aspect worked so well for me. I found it so interesting, so compelling, and as I said before, fascinating. And the story is beautifully written, a study of a family dealing with the loss of the one who probably burned the brightest. It's never overly sentimental and deals with feelings incredibly well.
I particularly loved iRachel. You might think a robot would be cold and matter of fact, and there's no doubt she is both of these things at times, but as she spends more time with Aidan and Chloe, and also Aidan's mother, Sinead, she comes to realise what she might be missing out on by not having human emotions. She's a complex creation and the most amazing invention.
The After Wife is a really beautiful read. The way that iRachel helps the family overcome their grief is moving and emotional. I had been warned that it would make me cry and a little tear did make its way out of my eye right at the end. I was so impressed with the writing, the story, the characters and the detail. This is a plot that could have descended into silliness in the wrong hands but Cass Hunter made it all so very plausible and convincing. I thought it was fabulous and I found it hard to put down.
---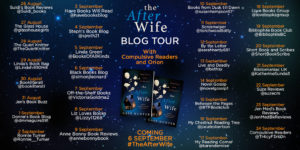 ---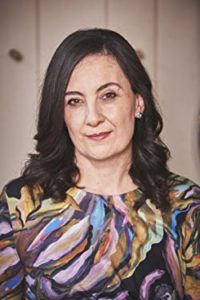 Cass Hunter was born in South Africa and moved to the UK in 2000. She lives in North London with her husband and two sons. She is an avid lifelong learner, and works at a London university. Cass Hunter is the pen name of Rosie Fiore, whose novels include After Isabella, What She Left, Babies in Waiting and Wonder Women.
Author bio and photo from Amazon