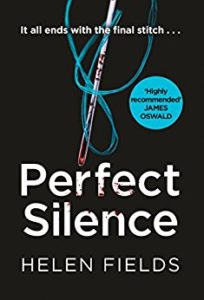 ShortBookandScribes #BookReview – Perfect Silence by Helen Fields @Helen_Fields @AvonBooksUK #Extract #Blogtour
I'm so pleased to be reviewing Perfect Silence by Helen Fields today and I also have a short extract to share with you. My thanks to Sabah Khan from Avon Books for the review copy and the place on the tour, also for the Guatemalan Worry People to tell my worries to.
---
When silence falls, who will hear their cries?

The body of a young girl is found dumped on the roadside on the outskirts of Edinburgh. When pathologists examine the remains, they make a gruesome discovery: the silhouette of a doll carved in the victim's skin.

DCI Ava Turner and DI Luc Callanach are struggling to find leads in the case, until a doll made of skin is found nestled beside an abandoned baby.

After another young woman is found butchered, Luc and Ava realise the babydoll killer is playing a horrifying game. And it's only a matter of time before he strikes again. Can they stop another victim from being silenced forever – or is it already too late?
---

A new Helen Fields book is always a cause for excitement for me. I just love this series. Whilst each book can be read as a standalone, I do think reading them as a series would work much better so that the stories of the police officers can be followed. Also, why on earth would you want to miss out on any of these amazing books?
Perfect Silence reunites the reader with DI Luc Callanach (be still my beating heart, as this is one dishy French man!) and DCI Ava Turner. It also reunites us with Helen Fields' ability to write about a twisted serial killer. I'm not sure where her ideas come from but they are undoubtedly macabre. This time there's somebody going round taking young women from the street, cutting the shape of a doll from their skin and then leaving the women to die. Not only that, but the doll shapes are being made into actual dolls and used as a way of showing who the next victim will be.
Shocking, eh? But this is where this author excels. She plots her books perfectly, brings in a sick killer, and has Turner and Callanach save the day along with their fabulous colleagues.
Callanach is definitely a major part of this story but whereas he has taken centre stage in previous books, this time it's Ava's turn to step forward. Newly promoted and struggling against her superior, Detective Superintendent Overbeck (aka the evil overlord!), she's at her feisty best in trying to get to the bottom of not only the babydoll killer case but also a series of attacks on homeless people in Edinburgh. I do love Ava (almost as much as Luc) so it was nice to have the focus on her this time. There's also some great supporting characters in the police force – Christie Salter, Max Tripp, the fabulous DS Lively and the inimitable Overbeck. They all play their part in trying to solve the terrible crimes that the Major Investigations Team have to deal with and the story wouldn't be the same without them.
Perfect Silence is a fast paced, exciting, dark, disturbing and gripping story. I was thoroughly engrossed in it from start to finish.
I'm very excited to see book five is coming next year. Long may this series continue. I don't seem to be very good at keeping up with series but this is one that I always make sure I read.
---

The Major Investigation Team's incident room was empty. Detective Constable Christie Salter stood in the doorway, coffee cup in one hand, box of doughnuts in the other. One step forward would take her back into a world she'd left months earlier, when a hostage situation had gone terribly wrong and

she'd been stabbed in the abdomen with a shard of broken pottery. Salter had lost her baby. Her sanity, too, for a short time, if she was completely honest. Coming back to work hadn't been a choice. If she'd spent one more minute at home, staring at the wallpaper and fl icking through the TV channels, the damage to her mental health might have slid up the scale from temporary to irreparable.

'I hope they're all for me. I'm not sharing my trans fats with the rest of the greedy bastards when they get back,' DS Lively said behind her.

Salter smiled at the blank room she'd been facing, then made the effort to straighten her face before turning around.

'Sarge, you're such a lardy bugger anyway, I'm sure eating another twenty chocolate-iced custard-filled cakes won't make a dent. Knock yourself out.' She offered the box in his direction.
---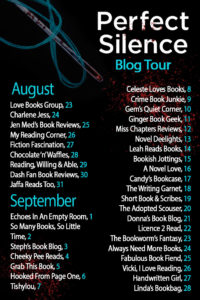 ---

Helen Fields studied law at the University of East Anglia, then went on to the Inns of Court School of Law in London. After completing her pupillage, she joined chambers in Middle Temple where she practised criminal and family law for thirteen years. After her second child was born, Helen left the Bar.
Together with her husband David, she runs a film production company, acting as script writer and producer. Perfect Silence is set in Scotland, where Helen feels most at one with the world. Helen and her husband now live in Hampshire with their three children and two dogs.