ShortBookandScribes #BlogTour #Extract from Ravens Gathering by Graeme Cumming @GraemeCumming63 #LoveBooksGroupTours
Welcome to my stop on the blog tour for Ravens Gathering by Graeme Cumming. I have an extract to share with you today. My thanks to Kelly Lacey from Love Books Group Tours for the place on the tour.
As she let her gaze drift around her, she saw that there were more birds.  Perhaps a dozen or so, perched among the trees that stood on the edge of the clearing.  And yet more were arriving, swooping down through the gap overhead and landing on branches that overlooked them.  The birds weren't threatening, yet the sight of them all coming together in this dark and isolated spot was unnerving.  Tanya reached a hand out towards Martin, and was relieved to feel him take it.  She felt him move in behind her.  After the uncertainty she'd experienced with him in a similar position only a few moments ago, she recognised the irony of her reaction.  His closeness offered security. 

"You know what they are, don't you?" 

A stranger's arrival in a small village coincides with a tragic accident.  For the Gates family in particular it's more than a coincidence, but unease increases following a brutal attack.  As tensions rise, a dark past returns to haunt them and others, while newcomers to the village are drawn into a mystery with terrifying consequences.

And only a select few know why the ravens are gathering.
---

Bare skin flashed in the firelight. A part of him wanted to turn and run. A part of him wanted to discover what was happening. And the biggest part of him knew that he had no say in the matter. He'd slowed down now, but still he walked forward, heading inexorably towards the fire.

Overhead, he heard the rustle of wings, and looked up in time to see a large dark bird settle on to a branch in a nearby tree. Its eyes were looking in the direction of the fire. Sitting on the same branch were two more birds. He looked into other trees, and saw the outlines of birds in each and every one of them. Their presence was more unsettling than the idea of a crocodile under his bed.

He was close enough now to recognise where he was. At last he stopped moving. The clearing was only three trees away from him. Near enough for him to be able to see everything happening in it, but far enough back to still be concealed by shadows. No one in the clearing would be able to see him.

On the far side of the fire, he could see his dad. Standing beside him was a tall man he didn't recognise.  Long black hair, and a long pale face that seemed to reflect the firelight.  As he watched, he saw the long-haired man smile and nod at his dad.  His dad's tormented face should have been sufficient warning for him to turn and run.  Perhaps he would have done if he hadn't suddenly spotted his mum lying on the ground to his left.  He recognised the figure kneeling down in front of her.  Not understanding what he was seeing, he glanced back towards his dad.

Dark eyes stared back at him from a pale face.
---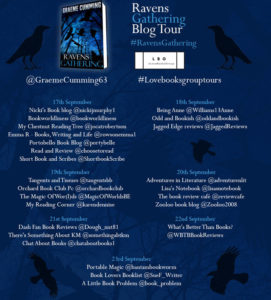 ---

Graeme Cumming lives in Robin Hood country.  He has wide and varied tastes when it comes to fiction so he's conscious that his thrillers can cross into territories including horror, fantasy and science fiction as well as more traditional arenas.
When not writing, Graeme is an enthusiastic sailor (and, by default, swimmer), and enjoys off-road cycling and walking.  He is currently Education Director at Sheffield Speakers Club.  Oh yes, and he reads (a lot) and loves the cinema.