Seven Day Spotlight – w/e 18/11/18
Welcome to this week's Seven Day Spotlight post. Here's what I posted this week on my blog:
On Monday, I shared an extract from Thalidomide Kid by Kate Rigby.
Tuesday's post was my review of Coco Pinchard's Must-Have Toy Story by Robert Bryndza, a genuinely laugh out loud novella.
On Wednesday, I reviewed the phenomenal Daughters of War by Lizzie Page. I absolutely adored this book.
On Thursday, I shared an extract from The Swooping Magpie by Liza Perrat.
Friday's post was my review of Skin Deep by Liz Nugent. I loved this clever, inspired and deliciously dark tale.
And on Saturday, I posted my review of Secrets Between Us by Valerie Keogh, a real page turner of a domestic noir.
---
Would you like to know what I've added to my TBR pile this week?
Under the Wig by William Clegg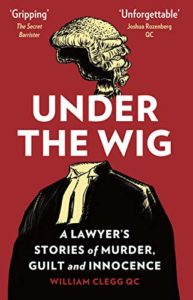 How can you speak up for someone accused of a savage murder? Or sway a jury? Or get a judge to drop a case?

William Clegg QC is a celebrated criminal lawyer. In this vivid memoir, he revisits his most notorious and intriguing trials, from the acquittal of Colin Stagg to the murder of Jill Dando, to the man given life because of an earprint and the first Nazi war crimes prosecution in the UK.

All the while he lays bare the secrets of his profession, from the rivalry among barristers to the nervous moments before a verdict comes back — and how our right to a fair trial is now at risk.

Under the Wig is for anyone who wants to know the reality of a murder trial. Switch off the TV dramas and plunge into the criminal law in action.
The Seven Husbands of Evelyn Hugo by Taylor Jenkins Reid
In this entrancing novel "that speaks to the Marilyn Monroe and Elizabeth Taylor in us all" (Kirkus Reviews), a legendary film actress reflects on her relentless rise to the top and the risks she took, the loves she lost, and the long-held secrets the public could never imagine.

Aging and reclusive Hollywood movie icon Evelyn Hugo is finally ready to tell the truth about her glamorous and scandalous life. But when she chooses unknown magazine reporter Monique Grant for the job, no one is more astounded than Monique herself. Why her? Why now?

Monique is not exactly on top of the world. Her husband has left her, and her professional life is going nowhere. Regardless of why Evelyn has selected her to write her biography, Monique is determined to use this opportunity to jumpstart her career.

Summoned to Evelyn's luxurious apartment, Monique listens in fascination as the actress tells her story. From making her way to Los Angeles in the 1950s to her decision to leave show business in the '80s, and, of course, the seven husbands along the way, Evelyn unspools a tale of ruthless ambition, unexpected friendship, and a great forbidden love. Monique begins to feel a very real connection to the legendary star, but as Evelyn's story near its conclusion, it becomes clear that her life intersects with Monique's own in tragic and irreversible ways.
Queenie Malone's Paradise Hotel by Ruth Hogan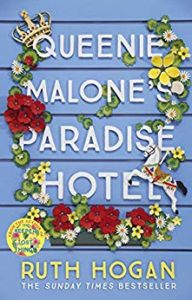 Tilly was a bright, outgoing little girl who liked playing with ghosts and matches. She loved fizzy drinks, swear words, fish fingers and Catholic churches, but most of all she loved living in Brighton in Queenie Malone's magnificent Paradise Hotel with its endearing and loving family of misfits – staff and guests alike. But Tilly's childhood was shattered when her mother sent her away from the only home she'd ever loved to boarding school with little explanation and no warning.

Now, Tilda has grown into an independent woman still damaged by her mother's unaccountable cruelty. Wary of people, her only friend is her dog, Eli. But when her mother dies, Tilda goes back to Brighton and with the help of her beloved Queenie sets about unravelling the mystery of her exile from The Paradise Hotel, only to discover that her mother was not the woman she thought she knew at all …

Mothers and daughters … their story can be complicated … but it can also turn out to have a happy ending.
Apple of My Eye by Claire Allan
Just how far is a mother willing to go?

When a mysterious note arrives for seven months pregnant nurse Eliana Hughes, she begins to doubt every aspect of her life – from her mixed feelings about motherhood to her marriage to Martin, who has become distant in recent months.

As the person behind the note escalates their campaign to out Eli's husband as a cheat, she finds herself unable to trust even her own instincts, and as pressure builds, she makes a mistake that jeopardises her entire future.

Elsewhere, someone is watching. Someone who desperately wants a baby to call their own and will go to any lengths to become a mother – and stay a mother…
The Foyles Bookshop Girls at War by Elaine Roberts
Swapping books for the bomb factory takes courage – and could be dangerous.

Working at the Foyles bookshop was Molly Cooper's dream job. But with the country at war she's determined to do her bit. So Molly gathers her courage, and sets off for the East End and her first day working at Silvertown munitions factory…

It's hard manual labour, and Molly must face the trials and tribulations of being the 'new girl' at the munitions factory, as well as the relentless physical work.

The happy-ever-afters Molly read about in the pages of her beloved books have been lost to the war. And yet the munitions girls unite through their sense of duty and friendships that blossom in the most unlikely of settings…
In a time of suspicion and accusation, to be a woman is the greatest risk of all . . .

Fleetwood Shuttleworth is 17 years old, married, and pregnant for the fourth time. But as the mistress at Gawthorpe Hall, she still has no living child, and her husband Richard is anxious for an heir. When Fleetwood finds a letter she isn't supposed to read from the doctor who delivered her third stillbirth, she is dealt the crushing blow that she will not survive another pregnancy.

Then she crosses paths by chance with Alice Gray, a young midwife. Alice promises to help her give birth to a healthy baby, and to prove the physician wrong.

As Alice is drawn into the witchcraft accusations that are sweeping the North-West, Fleetwood risks everything by trying to help her. But is there more to Alice than meets the eye?

Soon the two women's lives will become inextricably bound together as the legendary trial at Lancaster approaches, and Fleetwood's stomach continues to grow. Time is running out, and both their lives are at stake.

Only they know the truth. Only they can save each other.
Once upon a time they were best friends.

They were all friends.

So when Jenny moved to Australia to focus on her swimming career, she not only lost Kath, but her soulmate Tom. It was for the best. Or so they said.

Now, eight years later, Jenny seeks out her childhood friend and heads to rural France where Kath has settled. At first the women fall back into a close relationship, but before long strange and malicious behaviour leads Jenny to suspect the truth: that Kath has played a clever game all along to manipulate and control those around her. And Jenny is her biggest victim. Set against the glorious backdrop of the Languedoc lavender fields, The Good Friend is a beautifully written psychological drama about love, lies and a dangerous obsession.

Because once the truth is revealed, there's no going back…
The Last Village by Audla English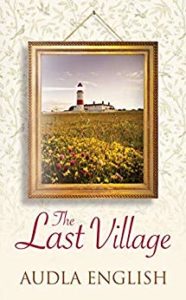 The majestic Souter Lighthouse stands proudly at the edge of the cliff top surrounded by open grassy empty fields and overlooking a vast blue wilderness. Anna Charles knows nothing of the life that her grandmother once had here.
It wasn't until an unexpected engagement, that Anna discovered the past of her Gran and the truth behind an enduring love.

Seventy years earlier, Lillian Smith, had been part of the close-knit community that once thrived in the village that existed next to the lighthouse. A chance meeting with a sailor one day, would change the course of her life forever.

Set in the North East of England, The Last Village, is a moving love story which spans and binds the generations.
Christmas at Liberty's by Fiona Ford
September, 1941: Mary arrives in war-torn London nursing a broken heart and a painful secret.

When she is offered her dream post as an assistant in the fabric department at Liberty store, she knows this is the fresh start she needs. Amid the store's vibrant prints and sumptuous interiors, Mary finds a new family who can help her to heal.

But not everyone will give Mary such a warm welcome, and the trauma of her past will soon catch up with her.

As Mary and the Liberty Girls endure the heartache and uncertainty of war, it will take a steady heart to keep the magic of Christmas alive.
Violet's Children by Maureen Lee
In times of trouble, family is all you need…

Liverpool, 1950. They say you can choose your friends, but you can't choose your family. Yet when Violet Duffy is asked to give a home to the orphaned children of a distant relative, it is precisely the choice she must face.

Abby and Will have had young lives full of tragedy. Life with Violet offers love and safety. But as they grow up, their past won't let them be. Will they choose Violet, or the lure of bigger cities and new horizons?

Private passions, tough choices, lost loves and second chances pull them in different directions, but wherever life takes them, Violet's door is always open – after all, it's love that makes a house a home.