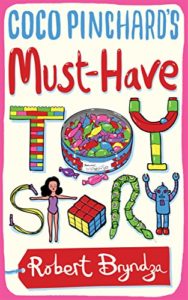 ShortBookandScribes #BookReview – Coco Pinchard's Must-Have Toy Story by Robert Bryndza @RobertBryndza @BOTBSPublicity #BlogTour #Christmas #giveaway
Coco Pinchard's Must-Have Toy Story by Robert Bryndza was a book that I had waiting for me on my Kindle so when Sarah Hardy from Book on the Bright Side Publicity and Promo got in touch about a blog tour I jumped at the chance to take part. It's a tour for all five of the Coco Pinchard books, of which the one I read is book 5, but it worked fine as a standalone.
---

Here are the blurbs for all five books.
'Coco Pinchard has to be one of my favorite female characters. If you love the Bridget Jones series, then you need to check this out!' Kerensa, Amazon Reader

For the first time, all 5 books in Robert Bryndza's bestselling Coco Pinchard romantic comedy series are available in one! And this box set includes a new introduction by the author.

Book 1: The Not So Secret Emails of Coco Pinchard

If you enjoyed flipping through Bridget Jones's diary, you'll love perusing Coco Pinchard's emails! Coco confides in her quirky, supportive friends as she deals with her life falling apart. Read the emails that tell the heart warming and often hilarious tale of Coco picking up the pieces, in this fun, feel-good Romantic Comedy.

Book 2: Coco Pinchard's Big Fat Tipsy Wedding

Coco thinks she's on the road to happily ever after with Adam, until he inexplicably breaks up with her. Will one mistake cost them their whole future? Coco sets out to discover what has really happened, and uncovers a shocking secret Adam has been hiding from her… Full of hilarious twists and turns, Coco Pinchard's Big Fat Tipsy Wedding is a witty, heart-warming, romantic comedy – the stand-alone sequel to no.1 bestselling, The Not So Secret Emails of Coco Pinchard.

Book 3: Coco Pinchard, the Consequences of Love and Sex

Coco Pinchard has a great life, a bestselling memoir, and a handsome second husband. Things are going exactly as planned — until her adult son runs into disaster, her ex's mother butts back into her life, and she finds out she's pregnant! Maybe life is more fun if you throw your plans out the window… The third book in Robert Bryndza's bestselling Coco Pinchard series (which can also be enjoyed as a stand-alone story) is a hilarious diary with Coco's trademark wit and honesty, tracing the raging hormones and extraordinary twists that take her to motherhood for the second time.

Book 4: A Very Coco Christmas

It's 1985, and eighteen-year-old Coco Pinchard is home for Christmas after her first term at University. She's fallen hopelessly in love with Daniel Pinchard, but Coco's mother wants her to be with Kenneth, the son of posh friends Adrian and Yvonne Rosebury, who will be joining them for Christmas.

As snow falls softly over the city, and Coco tries to juggle a series of hilarious events, the stage is set for a Christmas lunch like no other. A Very Coco Christmas is a delicious, stand-alone prequel short story to Robert Bryndza's smash-hit Coco Pinchard series.

Book 5: Coco Pinchard's Must-Have Toy Story

A sparkling feel-good comedy, which asks the question – how far would you go to get your child the must-have Christmas toy?

It's December 1992, and children are going crazy for the Tracy Island toy – almost as crazy as the parents! Christmas day is fast approaching and Coco Pinchard is desperately trying to track one down for her four-year-old son Rosencrantz.

From dodgy dealings in a motorway lay-by, to extreme shopping in Hamley's with a Sylvanian Families fanatic, to having a go at the Blue Peter make-your-own Tracy Island, Coco tries everything in the hope that four-year-old Rosencrantz will open his must-have toy on Christmas morning.
The box set of all five books is available right now for a bargain price.
Amazon UK 99p
Amazon USA $1.99
Amazon AU $0.99
Amazon EU stores €0.99
And if that's not enough, there's also a chance further down this post to win signed copies of all the books.
---
This is the perfect short read for this time of year, especially if you remember the clamour in the 90s for the toy of the moment. This is the year of Tracy Island from The Thunderbirds and Coco Pinchard is desperately trying to get one for her son, Rosencrantz.
I thought this novella was great fun. I especially liked Coco's mother in law, Ethel, who is a real character and who really made me smile. The whole cast of characters are funny, bizarre and eccentric and poor old Coco is blighted by them as she goes on her Tracy Island quest. She can, of course, have a go at making one just like Anthea Turner on Blue Peter, but it's not the same, is it?
I got the giggles when Coco and her husband visited Hamleys. I found that scene so comical. The things you do for your kids! Coco lurches from crisis to disaster, via a dodgy 'off the back of a lorry' transaction in a motorway layby. Even making her own island doesn't go to plan. Will Rosencrantz get his dream Christmas gift? You'll have to read this novella to find out.
This is book 5 in the Coco Pinchard books but it's actually a prequel to the others and it works absolutely fine as a standalone anyway (I haven't read any of the others yet). If you're after a tongue in cheek, genuinely laugh out loud funny book to read this Christmas then this is the one for you. I enjoyed it so much.
---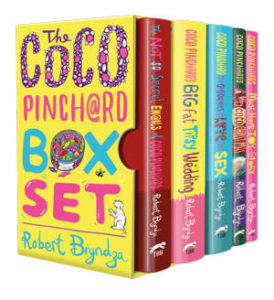 ---

---

Robert Bryndza is the author of the international #1 bestseller The Girl in the Ice, which is the first in his Detective Erika Foster series. It has sold over one million copies.
The Night Stalker, Dark Water, Last Breath and Cold Blood are the second, third, fourth and fifth books in the series. The sixth book, Deadly Secrets, has just been published.
Robert's books have sold over 2.5 million copies and have been translated into 28 languages.
In addition to writing crime fiction, Robert has published a bestselling series of romantic comedy novels. He is British and lives in Slovakia.
Sign up to Robert Bryndza's New Release Mailing List here.
Links: