ShortBookandScribes #BookReview – Skin Deep by Liz Nugent @lizzienugent @PenguinUKBooks #BlogTour
I'm so pleased to be reviewing the fabulous Skin Deep by Liz Nugent today. My thanks to Georgia Taylor from Penguin for asking me to be a part of the tour and for sending a copy of the book for review.

'I could probably have been an actress.
It is not difficult to pretend to be somebody else.
Isn't that what I've been doing for most of my life?'

Cordelia Russell has been living on the French Riviera for twenty-five years, passing herself off as an English socialite. But her luck, and the kindness of strangers, have run out.

The arrival of a visitor from her distant past shocks Cordelia. She reacts violently to the intrusion and flees her flat to spend a drunken night at a glittering party. As dawn breaks she stumbles home through the back streets. Even before she opens her door she can hear the flies buzzing. She did not expect the corpse inside to start decomposing quite so quickly . . .
---
Is beauty only skin deep? In this case, yes!
This book is completely not what I expected and I mean that in the best possible way. It totally surprised me. The blurb doesn't even skim the surface of what this book is about. Where I was expecting some sort of psychological thriller, this is actually the story of the life of a woman who may or may not have been bad from birth, or maybe she was just a product of her upbringing. Either way, Delia O'Flaherty is one unpleasant, but utterly compelling, protagonist.
The book opens in the South of France where Cordelia, as she is now known, has a dead person in her flat. From there we go back to a childhood on a small Irish island where her father adored her at the expense of all others. She then tells her story to us in a most matter of fact way, despite some of the cruel and twisted things that she does.
I admit that when I started reading Skin Deep I wasn't at all sure it was going to be a book for me. The oddness of Delia's childhood, combined with the interspersion of folk tales, didn't seem like quite my thing and, as I said previously, not what I expected. But then this young girl's story drew me in, reeling me in bit by bit until I was utterly captivated by it. I couldn't help but be gripped by the way she lurched from life to life, wreaking havoc and reinventing herself along the way.
Delia has to be one of the most destructive, most uncaring, most inherently devious and twisted characters in a book that I have read. And yet, part of me still felt sorry for her at times, wanted her to have a better life, wanted to witness her redemption. This is testament to Nugent's writing that she was able to leave me with such divided feelings about this character.
I read Skin Deep with a kind of horrified awe. Delia is one of the most fascinating characters I have ever come across and this is certainly a character driven book. But the storyline is also inspired, clever, twisted and deliciously dark. It would make an amazing TV adaptation as I think it was very visual and the settings evocative, from the wilds of the barely inhabited island to the opulence of the French Riviera.
In short, read this book. It will delight and thrill you, sicken and shock you. It's fabulous!
---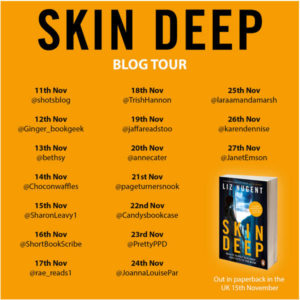 ---

Before becoming a full-time writer, Liz Nugent worked in Irish film, theatre and television. In 2014 her first novel, Unravelling Oliver, was a Number One bestseller and won the Crime Fiction Prize in the 2014 Irish Book Awards. Her second novel, Lying in Wait, went straight to Number One in the Irish bestseller charts, remained there for nearly two months and won her a second IBA. She lives in Dublin with her husband.