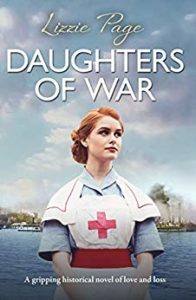 ShortBookandScribes #BookReview – Daughters of War by Lizzie Page @LizziePagewrite @bookouture
I'm delighted to be reviewing Daughters of War by Lizzie Page today. My thanks to Bookouture for the review copy via Netgalley.

An emotional tale of wartime love and sacrifice, inspired by an incredible true story…

As a teenager in Chicago, May always dreamed of travelling the world. So when she meets handsome George Turner, she jumps at the chance to return to London as his wife. Ten years later, May is wondering if she's made a terrible mistake.

It's 1914 and war has been declared in Europe. All around, brave young men are being called up to serve. George, banned from conscription himself, has taken to the bottle, and May suspects he's seeing other women too. She longs for a way to escape.

The chance comes when May meets veteran nurse Elsie, who persuades May to join the war effort. May knows nothing of nursing – it will be difficult, dangerous work, but her heart is telling her it's the right thing to do.

But then George does the unthinkable and May's future is put at risk. Will she have to make the impossible choice between duty to her family and her promise to the soldiers on the front line? And can she live with the consequences if her husband goes through with what he's threatening to do?
---
I really enjoyed Lizzie Page's first book, The War Nurses, but I have to say that I simply adored Daughters of War.
The protagonist and narrator is May Turner, an American living in London with her husband, George. She married young and regrets it bitterly but at the turn of the 20th century a woman just has to put up with it. The outbreak of war represents freedom for May as she travels to France to work in a field hospital, but it means leaving behind her precious daughters, Joy and Leona. They are at boarding school so it's not as bad as it sounds – she's not abandoning them, but making her own life more fulfilling. George is not a pleasant or easy man and being away from him is good for May.
Page uses Mary Borden, real life war nurse, poet and novelist, as her inspiration but, as she admits herself, she has embellished or changed the facts to suit the story. Whatever she has done, what she has produced is, in my opinion, something special. I read a fair amount of books, many of which I love, but every once in a while a book comes along that just burrows its way into the heart of me, that stirs my soul. This is one such book.
May tells her story in a quite matter of fact way and yet the emotion and the heartbreak she feels is put across so well. Her experiences as a war nurse are so moving, so intense. Her feelings about what happens with her daughters and being parted from them are hard to read and then there's her love for another man, which is so beautifully written. I spent quite a bit of this book trying to swallow the lump in my throat or wiping my eyes.
At the end of the book, Page says that she believes May to be a Marmite character – you either love her or hate her. Well, I loved her. I found her self-deprecating, gutsy, funny, strong and quite hard on herself. I wish I knew a woman like May. I also loved Louis, the handsome man she meets in France, and all the other staff at the hospital, each of whom had their own place in my heart.
God, I could gush and gush about Daughters of War but I'll spare you that. What I will say is that I found it compelling from start to finish and incredibly moving, especially reading it around the time of the commemoration of 100 years since the end of the war that was supposed to end all wars. I can't help wondering what May would have thought of the fact that we did it all again within her lifetime (or Mary Borden's lifetime).
This is book two in Lizzie Page's trilogy (don't worry, they're standalone, although I was so pleased to see the return of a certain character from The War Nurses) and I can't wait to see what she comes up with next. Her writing is sublime, her plotting is perfection and her characters are fantastic. This is one special book.
---

I love reading ALL the books, and I've always loved reading the adventures of women in the past so it seemed natural to me to write historical fiction.
The War Nurses is the first in a trilogy inspired by Elsie Knocker and Mairi Chisholm who served on the Western Front during World War One. There is romance, there is love, but mostly this is a story about a fierce friendship and how differently we respond to major events beyond our control.
Daughters of War is the second book in the trilogy – but don't be put off, it is a standalone book (although some old friends may well pop up here!) The story was inspired by the American writer, poet, political 'influencer', Mary Borden. It fictionalizes her time working in a hospital in the Somme and being apart from her children. If I had to sum it up in five words, I would say its about the search for belonging.
And book three? Well, I'm working on this right now and I've hopefully got some great ideas to explore…:)
I hope the series helps shine a light on the achievements, love and relationships of women in war, and that you find the books both entertaining and moving.
Author bio and photo taken from Amazon