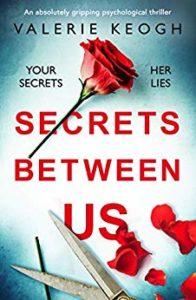 ShortBookandScribes #BookReview – Secrets Between Us by Valerie Keogh @ValerieKeogh1 @bookouture #BlogTour
Welcome to my stop on the blog tour for Secrets Between Us by Valerie Keogh. I thought this was an excellent read and I'm reviewing it today. My thanks to Noelle Holten from Bookouture for the place on the tour and the review copy via Netgalley.
One letter a week for fifteen years. 780 identical white envelopes brimming with my sister's darkest secrets. All the intimate details of a life as different to mine as could possibly be.

I read each letter slowly to make sure I understand it perfectly, one day very soon it will be a matter of life and death…

At the end of each letter, after signing her name, there is always one final sentence:

Don't forget to burn this letter.

I'll let you decide if I do…

A jaw-dropping psychological thriller that you will read in one sitting. If you loved dark, twisty thrillers like The Girl on The Train, The Couple Next Door and Friend Request, this unputdownable novel will have your heart racing long after you've finished reading.
Buy Links:
---

Ooh, that blurb really drew me in and made me want to read this book. I was so intrigued by the letters, what was in them and why they needed to be burned after reading. But I have to say that the story itself is about so much more than the letters and the real importance of them only becomes clear as the story progresses.
Ellie and Will are living happily together. They're hoping to have a baby although that's proving harder than high-flyer Ellie anticipated. She has a twin sister, Tia, who is 'differently abled' and after many years apart, the sisters find themselves thrown together again. Ellie finds this hard – being identical twins, she feels like she is losing her own identity all over again.
Now, I don't want to go into any more of the story as it's very clever and I don't want to spoil it for new readers. What I will say is that I kept putting my hand over my mouth as I was reading, as a dawning sense of horror at what was happening came over me.
The fact that I saw the major plot twists coming a mile off didn't make any difference to me. I wanted, no needed, to know what was going to happen to the three of them and was what I thought right. Was that really what was happening here? That's what I needed to find out.
I found Secrets Between Us to be a real page turner. I felt a growing sense of unease along with at least one of the characters and was gripped by the story. I felt like an onlooker, peeping through the curtains into this domestic noir, thrilled by the three characters and the dynamic between them. A great read from start to finish.
---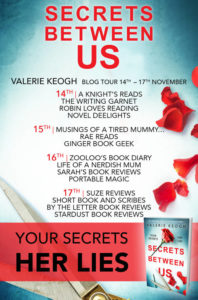 ---

Valerie Keogh grew up reading Agatha Christie so when she started writing it seemed natural to write crime novels. She writes two different series, one based in Ireland featuring Garda Sergeant Mike West and a grittier one based in the UK featuring Nicola Connolly, a serial killer.
The Garda West series: THAT ONE MAY SMILE, CLOSE RANKS, MURDER ON CLARE ISLAND and DEATH IN FOXROCK.
The Hudson and Connolly series: DEADLY SLEEP, TWISTED POWER, BITTER BUSINESS, and WICKED SECRET.
Valerie has also written a stand-alone psychological thriller, Exit Five from Charing Cross
In March 2018, Valerie signed a two-book contract with the publisher, Bookouture. The first of these, Secrets Between Us, is out now.