Seven Day Spotlight – w/e 16/12/18
Welcome to this week's Seven Day Spotlight post. Only just over a week until the big day. Hope you're all feeling very festive 🙂
Here's what I posted on my blog this week:
Monday's post was my review of Murder Undeniable by Anita Waller. I thought it was a cracking setting, made even better because I recognised so many of the settings.
Tuesday was a two post day with me sharing an extract from Start by Graham Morgan and a guest post about setting by Jennifer Wells, author of The Secret.
On Wednesday I reviewed Winter Beneath the Stars by Jo Thomas. I absolutely adored this gorgeous book set in Lapland.
Thursday's post was an extract from Murder in the Dark by Betsy Reavley.
On Friday, I reviewed The Woman Who Kept Everything by Jane Gilley, which I thought was funny, moving and insightful.
And finally, Saturday's post was my review of The Taken Girls by G D Sanders, a solid crime debut with an intriguing hook.
---
Here's what I added to my reading pile this week:
Murder in the Snow by Gladys Mitchell
Mrs Bradley, sharp-eyed detective and celebrated psychiatrist, has decided to spend Christmas with her nephew at his beautiful house in the Cotswolds.

It isn't long before a mystery unfolds. There are strange events occurring in the nearby wood and local villagers are receiving anonymous threatening letters. Then the snow begins to fall – and a body is discovered.

Mrs Bradley is on the case, but she'll have to hatch an ingenious plan to reveal the truth and find the culprit…
You have a successful career, a loving husband and a baby on the way . . . no-one can replace you, can they?

Carrie is a successful TV producer with the perfect husband and the perfect life. But when she falls pregnant, everything threatens to fall apart.

Emma, the temp, is everything she could wish for as her cover: smart, willing and helpful.

But as she charms her way into Carrie's life, winning over her husband and her colleagues one by one, Carrie suspects Emma is after more than just her job . . .
INFORMATION WANTED ON THE LIFE AND WORK OF DOLLMAKER EWA CHAPLIN AND/OR FRIENDSHIP, CORRESPONDENCE. PLEASE REPLY TO: BRAMBER WINTERS.

Stitch by perfect stitch, Andrew Garvie makes exquisite dolls in the finest antique style. Like him, they are diminutive, but graceful, unique and with surprising depths. Perhaps that's why he answers the enigmatic personal ad in his collector's magazine.

Letter by letter, Bramber Winters reveals more of her strange, sheltered life in an institution on Bodmin Moor, and the terrible events that put her there as a child. Andrew knows what it is to be trapped; and as they knit closer together, he weaves a curious plan to rescue her.

On his journey through the old towns of England he reads the fairytales of Ewa Chaplin – potent, eldritch stories which, like her lifelike dolls, pluck at the edges of reality and thread their way into his mind. When Andrew and Bramber meet at last, they will have a choice – to remain alone with their painful pasts or break free and, unlike their dolls, come to life.

A love story of two very real, unusual people, The Dollmaker is also a novel rich with wonders: Andrew's quest and Bramber's letters unspool around the dark fables that give our familiar world an uncanny edge. It is this touch of magic that, like the blink of a doll's eyes, tricks our own . . .
Murder at the Book Club by Betsy Reavley
Imagine nine women meeting. Tea and cake are on the coffee table. They've come together to share their love of books. They are friends. They trust each other. It's a happy gathering. What could be more harmless?

Then scratch the surface and look closer.

One is lonely. One is desperate and one of them is a killer.

When the body of a woman is discovered on a Cambridge common, DCI Barrett and DI Palmer are called in to investigate. But the motive behind the crime isn't clear… And it all leads back to a book club.

As the lies, volatile friendships and tension among the group rise to the surface, DCI Barrett and DI Palmer must work out the motive and track down a cold-blooded killer. But just when they think they are on the right track, a twist in the case throws them off course…
Murder in the Dark by Betsy Reavley
Without a motive, how do you identify the killer?

Imagine a quaint little bookshop. Outside the snow is falling. Inside the shelves are stacked with books by authors waiting to be discovered. What could be better?

When Tilly Edgely lands a position working at Ashton's bookshop in Cambridge she thinks she's found her perfect job. But one winter's morning, when she arrives to open up, she discovers the body of her boss suspended from the ceiling, hanging by a rope around his neck.

DCI Barrett and DI Palmer are called to the scene and quickly find themselves searching for a twisted killer whose identity and motive are nearly impossible to trace.

But just when they think they have the murderer in their sights, another body shows up throwing the case wide open…

Who is behind the killings and why?

The police have their work cut out and the key to unlocking the gruesome mystery might be found right under their nose.

But one thing is for certain, this killer will leave you hanging…
We Own the Sky by Luke Allnutt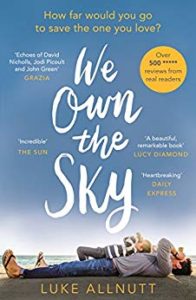 How far would you go to save the one you love?

Anna and Rob were the perfect couple with their whole lives in front of them. When beautiful baby boy Jack came along, their world seemed complete.

But when tragedy strikes they are faced with an impossible choice. They have one chance to save their child, but at what cost?
Christmas on Coronation Street by Maggie Sullivan
A wonderful Christmas read full of nostalgia and charm, perfect for fans of Coronation Street and readers who love Fiction set in Wartime.

Elsie Grimshaw lives in one of the worst streets in Weatherfield and is desperate to escape from life at home with a brutal father and the drudgery of working at the local mill. Grabbing at the slim chances that come her way, Elsie emerges from the heartbreak of first love and her marriage to bad boy, Arnold Tanner at only sixteen years old, if not much older, then certainly wiser.

Going under her married name of Elsie Tanner, she and Arnold move in to No.11 Coronation Street in 1939 as war breaks out. Her cheeky self-confidence immediately puts her at loggerheads with local busy-body Ena Sharples and Annie Walker, landlady of the Rovers Return.

As Christmas approaches, the residents of Coronation Street must put their petty squabbles aside if they are to survive the worst that Hitler's Luftwaffe can throw at them. And as the Manchester Blitz grips their home town of Weatherfield, the residents must pull together to make this a Christmas to remember – for all of the right reasons…
The Woman Inside by E.G. Scott
A page-turning thriller about secrets and revenge, told from the perspectives of a husband and wife who are the most perfect, and the most dangerous, match for each other.

******

Rebecca didn't know love was possible until she met Paul, a man with a past as dark as her own. Their demons drew them together, but twenty years later, the damage and secrets that ignited their love begin to consume their marriage.

When Paul catches the attention of the police after two women go missing, Rebecca discovers his elaborate plot to build a new life without her. And though Rebecca is quickly spiralling out of control, it doesn't stop her from coming up with her own devastating plan for revenge… they made a promise to each other, afterall.

Til death do they part.
The House on Half Moon Street by Alex Reeve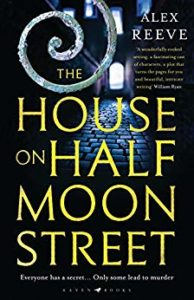 Everyone has a secret… Only some lead to murder. Introducing Leo Stanhope: a Victorian transgender coroner's assistant who must uncover a killer without risking his own future

When the body of a young woman is wheeled into the hospital where Leo Stanhope works, his life is thrown into chaos. Maria, the woman he loves, has been murdered and it is not long before the finger of suspicion is turned on him, threatening to expose his lifelong secret.

For Leo Stanhope was born Charlotte, the daughter of a respectable reverend. Knowing he was meant to be a man – despite the evidence of his body – and unable to cope with living a lie any longer, he fled his family home at just fifteen and has been living as Leo ever since: his secret known to only a few trusted people.

Desperate to find Maria's killer and thrown into gaol, he stands to lose not just his freedom, but ultimately his life.
The Manor on the Moors by Liz Taylorson
Alice has landed her dream job, searching the Misterley Manor archives for tales of the elusive Gilbert Fox-Travers – life should be perfect, if only she could untangle her complicated love life…

Caroline is desperately trying to keep Misterley from falling down around her ears, and it's a tough enough job without throwing a stroppy teenager, a difficult ex-husband and a cantankerous father into the mix.

When disaster strikes, Caroline and her family must pull together to save her beloved family home…Can Alice uncover the mystery of Gilbert Fox-Travers in time to save the Manor?