ShortBookandScribes #BlogTour #GuestPost by Jennifer Wells, Author of The Secret @jenwellswriter @aria_fiction
Welcome to my stop on the blog tour for The Secret by Jennifer Wells. Sometimes as a blogger and a reader I get very frustrated by all the wonderful sounding books that I just can't fit in. Jennifer Wells' books are a case in point and I really hope to get to read them very soon as I feel sure they will be right up my street. In the meantime, I'm pleased to be able to share a guest post by Jennifer today and would like to thank Vicky Joss from Aria Fiction for the place on the tour.
---

A tightly woven story full of secrets and lies with a breathtaking finale.

London 1920 – Troubled young dancer, Lily, is invited to remote Elmridge House, home of the wealthy theatre benefactor Dr Cuthbertson to escape her troubled past. An isolated guest room and a surprise pregnancy leave her longing to return to the stage and her London life. She soon discovers that Elmridge House is not all that it seems – the house holds secrets which make it difficult for her to leave.

Missensham 1942 – Young nurse Ivy Watts is called out to a patient at Elmridge House, home of the aloof Mrs Cuthbertson and reclusive Dr Cuthbertson. Ivy is entranced by the opulence of the house and its glamorous past, but when she tells her mother about Mrs Cuthbertson, her mother becomes fearful and forbids her from returning to the house.

What secrets does Elmridge House hold? And why does Lily's mother live in fear of the mysterious Mrs Cuthbertson?

Perfect for the fans of Lesley Pearce and Susan Lewis.
Buy links
---

Missensham – a Place of Secrets by Jennifer Wells
When I go abroad, I tell the people I meet that I am from London. When I travel in the UK, I tell people that I am from Hertfordshire. It is only when I am within 50 miles of where I grew up that I am comfortable to admit that I am from Rickmansworth.
I try to avoid talking about Rickmansworth because I don't know how to. I don't even know if it is a village or town, suburban sprawl or rural idyll. It has a tube station and is inside the M25 but remains outside any London borough. It has the ambiguity of Betjeman's Metroland and a passing mention in the Hitchhikers Guide to the Galaxy highlights its ordinariness. It is a place that is difficult to capture and that is part of its allure. It is a place of high privet hedges, where people speak in hushed voices and know each other only by name. It is a place where nothing appears to happen because when it does it is hidden behind closed doors and drawn curtains.
Rickmansworth and the towns that surround it are my inspiration for Missensham where my novels are set. I moved to Devon fifteen years ago but I do not want to write about windswept moors, beautiful coastlines or chocolate box villages. Nor do I want to write about the vast Australian outback that I toured in my youth, nor the bustle of London where I worked in my twenties. So why do I want to write about Missensham – a place that, on first impression, appears so ordinary?
The answer is that I am drawn to mysteries. Missensham has the unease of a place that is neither one thing nor another, it is a place where the inhabitants' scandals are covered by a thin veneer of respectability – and a mystery, by its, nature is something that is puzzling and concealed. In my first two novels, I wrote about domestic mysteries – a mother who believes her dead daughter has returned to her, and a woman striving to find out what drove her mother to murder – My new novel, THE SECRET, is also a domestic mystery, its cover like a drawn curtain waiting to be opened.
In the opening chapter of THE SECRET, a suburban woman invites another into her house for tea, there is a smile on her face but she holds her arm behind her back, a sharp knife in her clenched fist. The reader knows little more than if they were peering through a crack in the curtains or hearing voices over a privet hedge. This is how secrets are kept in the suburbs, so what better place for a mystery?
Thank you so much, Jennifer. That last paragraph has really piqued my interest!
---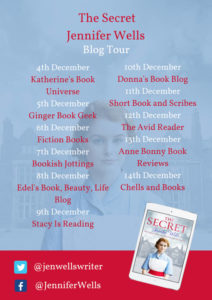 ---

Jennifer works in Market Research when not writing. She lives in Devon with her young family and cat. The Secret is her third novel in the series set in fictional Missenham in the Home Counties. 
Follow Jennifer:
Follow Aria