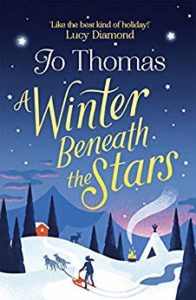 ShortBookandScribes #BookReview – Winter Beneath the Stars by Jo Thomas @jo_thomas01 @headlinepg #BlogTour #RandomThingsTours
I'm absolutely thrilled to be reviewing Winter Beneath the Stars by Jo Thomas today as part of the blog tour. My thanks to Anne Cater from Random Things Tours for the place on the tour and Becky Hunter from Headline for the review copy. I'm a massive fan of Jo's books!
---
Halley has been running from her problems for years.

On a courier trip to Tallfors, deep in Swedish Lapland, everything is going to plan. Halley has her bag, with two precious wedding rings inside for delivery… until she doesn't.

The only way to save the wedding is to team up with mysterious reindeer herder Bjorn, the one person who can lead her across the snowy tundra to be reunited with her bag.

On a journey of a lifetime beneath the stars, with only the reindeer and a bad-tempered stranger for company beside the fire, Halley realises that she will need to confront her past heartaches in order to let the warmth of love in once more…
---

I am a huge fan of Jo Thomas, mahoosive in fact. I absolutely adore her books which take me on a journey without leaving the comfort of my settee, whether it be to the cherry orchards in Spain in Sunset Over the Cherry Orchard or a honey farm in Crete in The Honey Farm on the Hill. Through her work I am able to travel vicariously.
Her latest book, Winter Beneath the Stars is no exception, but there's a difference – this is the author's first winter book. It's the perfect read for this time of year as we travel to Lapland in Sweden with Halley Hopkins. She's a courier, delivering important items overseas. Having travelled for two years, diligently completing her travel log along the way, she is hoping that completing this assignment will mean that she gets to do long-haul deliveries next. But she's running from something that she doesn't want to confront – this isn't all happy travelling.
After a mix up means she has lost the wedding rings that she is supposed to be delivering, she has to try to retrieve them by travelling through the snow with a pack of huskies and a herd of reindeer, along with a somewhat grumpy herder named Bjorn. And here her adventure really begins.
And what an adventure! My goodness, Jo Thomas makes me want to do things that I would never normally consider in a million years. Her writing is so all-encompassing, so breathtaking that I can put myself there, on the back of the sled, on that snowy tundra.
As  have come to expect from this author's writing, whilst there is a lot of fun, there's also some heartache, some sadness, and I found myself very moved whilst reading this book. But it's also so uplifting, so full of warmth that I smiled a lot too. I loved Halley so much. She's such a lovely, kind person with so much life to live if she would only let herself. And Bjorn is everything you want in a leading man.
Thomas' writing is breathtaking in every way. She dreams up the most wonderful scenarios, slots in beautiful scenery and descriptions, and away we go on the adventure of a lifetime. It doesn't matter a jot that I'm having that adventure sat in my living room. This is travel fiction at its very best. I'm already eagerly anticipating the next book and wondering where it will take me. You might have guessed that I absolutely adored Winter Beneath the Stars. It's like a nice warm hug on a cold and snowy day.
---

---

Jo Thomas worked for many years as a reporter and producer, first for BBC Radio 5,  before moving on to Radio 2's The Steve Wright Show. In 2013 Jo won the RNA Katie Fforde Bursary. Her debut novel, The Oyster Catcher, was a runaway bestseller in ebook and was awarded the 2014 RNA Joan Hessayon Award and the 2014 Festival of Romance Best Ebook Award. Jo lives in the Vale of Glamorgan with her husband and three children.