ShortBookandScribes #BookReview – The Taken Girls by G D Sanders @GDSandersAuthor @AvonBooksUK #BlogTour
Welcome to my stop on the blog tour for The Taken Girls by G D Sanders. You can read my review a bit further down this post. My thanks to Sabah Khan from Avon Books for the place on the tour and the review copy via Netgalley.
Someone is watching them…

When a missing teenage girl reappears unharmed but pregnant, the case falls to DI Edina Ogborne, the newest recruit of Canterbury Police. But Ed's already got her hands full with a team who don't want her, an ex who won't quit, and terrible guilt over a secret from her past.

As Ed investigates the case, she discovers Canterbury has seen this crime not once, but several times before. And when Ed and her detectives encounter missing historic police files, falsified school records, and Ed's new lover as a prime suspect, it becomes clear that the system has been corrupted.

Can Ed find the kidnapper behind these depraved crimes before he strikes again? Or has time already run out?
---

There's a refreshing difference to the crimes in The Taken Girls. A teenage girl has been taken but isn't being harmed in any way, except she's pregnant and doesn't know how it can have happened (yes, really!). It turns out that this is not the first time that this has happened and DI Edina Ogborne is the one tasked to lead a team in the search for the perpetrator.
Ed, as she likes to be known, is newly promoted to the DI job and new to the force in Canterbury, after being forced to leave the Met due to some rather dodgy liaisons. I wish I could say that she learned her lesson but I think she's one of those impetuous people who jump in first and consider later. I did find her an intriguing character though and can imagine the author bringing her back in further stories.
The rest of her team were a bit hit and miss for me. They didn't seem to have a great deal to recommend them in many ways although they did all start to work well together as the case progressed.
I'll be honest, this book took me a little bit of getting into but by the half way point I was much more engrossed in the investigation and I particularly enjoyed the details and methodology of how the team got their information.
As I say, I can see this being book one in a series, as all the characters' stories were left sort of open-ended in that something happened in each of their lives that could easily be taken further. I think it would be good to see what happens to them next.
This is a solid crime debut, it's not a thriller in that it's not gory and there's no violence, but it's got an intriguing hook to the story and a promising protagonist in Ed.
---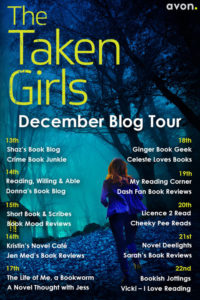 ---

On leaving his academic post, Geoff Sanders switched from writing evidence-based research articles to imagination-based contemporary crime fiction.
He grew up in Kent and studied at three London colleges to complete bachelor degrees in science and a PhD. He would wind down by playing drums in jazz and blues bands. After a few years in Italy, he embarked on a full-time academic career in London. His submission for a popular science book was shortlisted for the Wellcome Trust Prize.
Now, writing as G.D. Sanders, he is the author of dark-hearted contemporary crime novels featuring a bright, but impetuous, female detective, DI Ed (Edina) Ogborne and her CID team in Canterbury Kent. His debut, The Taken Girls, is the first in a planned series featuring Ed Ogborne. The Chosen Ones, the second novel in this series, will be published on 27 June 2019.
Geoff Sanders lives in southwest London.
Author bio and photo taken from Amazon