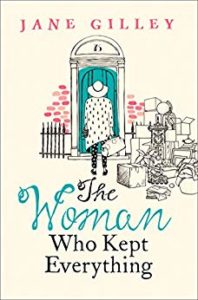 ShortBookandScribes #BookReview – The Woman Who Kept Everything by Jane Gilley @JaneGilley2 @AvonBooksUK #BlogTour
I'm so pleased to be sharing my review of The Woman Who Kept Everything by Jane Gilley today. My thanks to Sabah Khan from Avon Books for the place on the tour and the review copy via Netgalley.
The Lady in the Van meets The Unlikely Pilgrimage of Harold Fry in this uplifting, funny and moving debut novel about a 79-year-old hoarder who is convinced the world is against her.

79-year-old Gloria Frensham is a hoarder. She lives amongst piles of magazines, cardboard boxes and endless knick-knacks that are stacked into every room of her home, and teeter in piles along the landing and up the stairs.

She hasn't left the house in years, but when a sudden smell of burning signifies real danger, she is forced to make a sudden departure and leave behind her beloved possessions.

Determined she's not ready for a care home, Gloria sets out to discover what life still has to offer her. It's time to navigate the outside world on her own, one step at a time, with just one very small suitcase in tow…

Heart-warming and poignant in equal measure, this is a story about the loneliness of life, the struggles of growing old, the power of kindness, and the bravery it takes to leave our comfort zones.
---

When a book is described as a cross between The Lady in the Van and The Unlikely Pilgrimage of Harold Fry it's a bit of a no-brainer for me. I really wanted to read The Woman Who Kept Everything by Jane Gilley and I have to say that it really did remind me throughout of Harold Fry.
It tells the story of Gloria Frensham, on the cusp of her 80th birthday and a chronic hoarder. She's one of those people you read about who can't actually move around their house for clutter. She's still got her son's tricycle and he must be well into his 50s. I did empathise with Gloria as I know how hard it is to throw things away that have a sentimental value or bring back precious memories. But when her electric blows whilst she's cooking her potato soap on the hob action is taken and all of a sudden she finds herself out of her house for the first time in a long time.
And this is where Gloria's adventure begins. It's like she's got a new lease of life and boy, is she going to enjoy what's left of it! It was great fun to follow her as she caught up with old friends, travelled to the east and south coasts, and generally took back control of her life.
It's light-hearted fare but with a serious side to it. It addresses getting old and losing sight of who you are. It's also a feel-good story and it made me smile a lot. Gloria is quite a character and so is her best pal for many years, Tilsbury. In fact, throughout it all, Tilsbury has been probably the one constant – even her son let her down.
There's a lot of local slang in this book, me ducks, and whilst I could maybe have done with a little less of it, it certainly gave me a strong sense of what it would be like to hang around with Gloria and her friends – a very warm and friendly feeling.
The Woman Who Kept Everything is funny, moving and insightful and I loved seeing Gloria get a second chance at life.
---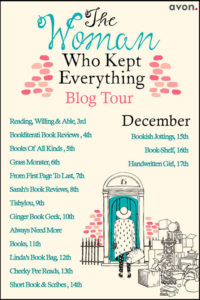 ---

Jane Gilley was born in Nottingham and now lives on the beautiful island of Jersey, with her husband, a rabbit and a Senegal parrot.
Following a career in Interior Design and after writing 6 children's books, Jane now writes adult books full time.
Author bio and photo taken from Amazon