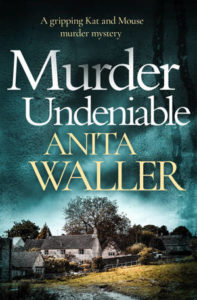 ShortBookandScribes #BookReview – Murder Undeniable by Anita Waller @anitamayw @Bloodhoundbook #BlogTour
I'm so pleased to be posting my review of Murder Undeniable by Anita Waller today as part of the blog tour. As Anita is a Sheffield author, setting many of her books in Sheffield or Derbyshire, I thought it was about time I read her work. My thanks to Emma Welton from Bloodhound Books for the place on the tour and for providing a copy of the book for review.
Katerina Rowe, a Deacon at the church in the sleepy village of Eyam, has a fulfilled life. She is happily married to Leon and her work is rewarding.

But everything changes when she discovers the body of a man and a badly beaten woman, Beth, in the alleyway behind her husband's pharmacy.

Drawn to the young woman she saved, Kat finds herself embroiled in a baffling mystery.

When Beth's house is set on fire, Kat offers the young woman sanctuary in her home and soon the pair begin investigating the murder, with some help from Beth's feisty grandmother, Doris. But neither the police, nor Leon, nor the criminals want Kat and Beth looking into their affairs and the sleuths quickly find themselves out of their depth…

Can Kat and Beth solve the mystery and walk away unscathed?
---

Anita Waller is a Sheffield writer and, as a Sheffielder myself, I was ashamed to say I hadn't read any of her books before. I knew I had to rectify that when Murder Undeniable was published. In fact, this book is primarily set in the Derbyshire plague village of Eyam, but Sheffield still features quite strongly.
Reverend Katerina Rowe, known as Kat, is a deacon at Eyam parish church. Married to pharmacist, Leon, all seems good in her life. Until they discover a dead man and an almost dead woman down the alleyway at the side of one of Leon's shops. Kat turns into a sort of guardian angel for the woman, Beth, and her grandmother, Doris. They all turn into unlikely sleuths but in doing so, Kat makes discoveries that completely rock her world.
I must admit that this book wasn't quite what I was expecting. I thought it was going to be quite gritty and I realise now that, although it has some quite shocking events contained within it, it's actually much more of a cosy mystery. Not my usual genre but I did enjoy this story a lot. I liked the main female characters. Kat is strong and dedicated, Beth is clever and determined and Doris, well Doris is like no grandmother I've ever come across. As a crime-fighting trio they work incredibly well together
I loved the settings. I had a bit of a thrill when one of the characters mentioned somebody getting the same bus as I often catch and getting off somewhere that is really familiar to me. There's something a little bit special about that. And Eyam is somewhere I have visited and which is a well known, picturesque country village so that was great too.
I had to suspend belief a little bit at times. No vicar I know would have the spare time to run around solving murders, but that's the whole point of fiction isn't it? Waller certainly writes a good mystery with characters that you can't help but like (and some you can't help but dislike too).
Murder Undeniable is a cracking story and marks the first of the Kat and Mouse trilogy (Beth's nickname is Mouse). I wonder what these female warriors will get up to next.
---

---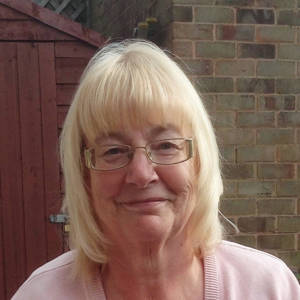 Anita Waller was born in Sheffield, South Yorkshire in 1946. She married Dave in 1967 and they have three adult children.
She began writing when she was around 8 years of age, writing 'compositions' at junior school that became books with chapters.
In 1995 she sent Beautiful to a publisher and as they reached the contract stage the publisher went into liquidation. As a result, the book was consigned to the attic in dejected disgust but in 2013 it was dragged out again for an enforced complete re-type. The original was written on an Amstrad 8256 and the only thing that remained was one hard copy.
Anita is not a typist and it was painfully reworked over two years, submitted to Bloodhound Books who, within three days of reading it, offered her a contract. 31 August 2015 saw its release into the wide world.
Following the outstanding success of Beautiful, she began a sequel on 27 December 2015, finishing it on 19 March 2016. The new novel, Angel, was launched on 7 May 2016.
34 Days followed, with its launch in October 2016. This was a huge success, particularly in the United States. While this, her third book in the psychological thriller genre, was flying out in all directions, she began work on her fourth book.
Winterscroft was a change in genre. It is a supernatural tale, set in Castleton, Derbyshire, and its release date was February 2017.
While she was writing Winterscroft, it became very clear from reading reviews that a sequel to 34 days was needed, and she began work on that. Bloodhound Books launched Strategy, on 10 August 2017.
Her next book, launched February 2018 and entitled Captor, is a psychological thriller, set exclusively in Sheffield. It was an instant success, both in the UK and the US.
Then along came Game Players… once more set in Sheffield, the story involves a group of six children who have each other's backs to a remarkable extent. The darker, criminal side of Sheffield is explored, with the book launching 18 May 2018.
Malignant arrived in the world on 10 October 2018, her eighth book in three years.
And now Anita is working on her first series, the Kat and Mouse trilogy, set in the beautiful Derbyshire village of Eyam. The first in the series, Murder Undeniable, launches 10 December 2018.
In her life away from the computer in the corner of her kitchen, she is a Sheffield Wednesday supporter with blue blood in her veins! The club was particularly helpful during the writing of 34 Days, as a couple of matches feature in the novel, along with Ross Wallace. Information was needed, and they provided it.
Her genre is murder – necessary murder.
Anita's Social Media Links & Books to Date:
Books:
Beautiful, 2015
Angel, 2016
34 Days, 2016
Winterscroft, 2017
Strategy, 2017
Captor, 2018
Game Players, May 2018
Malignant, October 2018
Murder Undeniable, December 2018
Current WIP, Murder Unexpected, launches February 2018