Seven Day Spotlight – w/e 15/07/18
Welcome to this week's Seven Day Spotlight. I'm pleased to say that it's been a tiny bit cooler this week and we've had some much needed rain. There's still been a fair bit of this going on though:
On Monday, I kicked off the week with an extract from The Mum Who'd Had Enough by Fiona Gibson.
And on Tuesday, I shared an extract from Confessions of a First Time Mum by Poppy Dolan.
Wednesday's post was my review of Sticks and Stones by Jo Jakeman.
On Thursday, I shared an extract from Murmuration by Robert Lock.
Friday's post was my review of The Lost Letters of William Woolf by Helen Cullen.
On Saturday, I reviewed Remember by Shervin Jamali.
And today, I shared my review of The French Girl by Lexie Elliott.
---
It's been a fairly restrained week for additions to my TBR pile.
Telegrams and Teacakes by Amy Miller
'There was no denying it, being cheerful was a challenge. You just had to be grateful for small mercies: a sunny day, a night without an air raid, an extra rasher of bacon from the butcher.'

England, 1942: 23-year-old Betty runs away from Bristol to make a new life for herself. Betrayed by her husband, Betty flees to the seaside town of Bournemouth, where she has fond memories of childhood holidays. There, she finds a small family bakery, in desperate need of a new shop girl…

At the Barton Bakery, Betty finds a sanctuary with shopkeeper Audrey Barton, but Audrey is fighting battles of her own. Her husband is at war and in grave danger, she is heavily pregnant, and her customers are horrified by the demands imposed by rationing.

Audrey's stepsister Lily receives a letter from a man she once loved very much, a man she thought was lost to her forever. He offers her a new future with him, but one that will mean sacrificing so many of her hopes and dreams…

As Winston Churchill tells the country to 'never give in', the women of the Barton Bakery struggle on to keep their families, homes and loved ones safe in a time of turmoil.
And So It Begins by Rachel Abbott
WHO WILL BELIEVE YOUR STORY IF THE ONLY WITNESS IS DEAD?

Cleo knows she should be happy for her brother Mark. He's managed to find someone new after the sudden death of his first wife – but something about Evie just doesn't feel right…

When Evie starts having accidents at home, her friends grow concerned. Could Mark be causing her injuries? Called out to their cliff-top house one night, Sergeant Stephanie King finds two bodies entangled on blood-drenched sheets.

Where does murder begin? When the knife is raised to strike, or before, at the first thought of violence? As the accused stands trial, the jury is forced to consider – is there ever a proper defence for murder?
The Promise by Katerina Diamond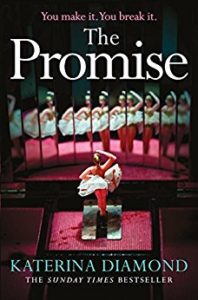 When troubled teenager Connor moves to Exeter from the US to escape his past, he finds himself embroiled in a world of popular kids and easy girls. Everyone wants to be his friend, but they don't know about what he did…and they don't know about his father.

As Connor's life in England begins to unravel, DS Adrian Miles and his partner Imogen Grey are working up against the clock to catch a serial killer who dates his victims before he kills them. Determined to uncover the truth, Imogen is forced to act as bait – but will she take it too far and risk her own life?

Katerina Diamond is back with a bang in this dark, twisted novel, perfect for fans of M.J. Arlidge and Karin Slaughter.
Shadows in Heaven by Nadine Dorries (my win from What Cathy Read Next)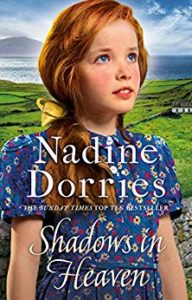 In post-war Tarabeg, two women are waiting for ambitious Michael Malone to return home. Rosie is the local schoolteacher and most people think she is promised to him. Just a few have guessed that he has secretly begun to woo Sarah, whose brutal fisherman father would kill her if he knew.

Both Rosie and Sarah love Michael, both hope to become his wife and their lives will interweave in a tale of tangled secrets, old promises and new feuds. Michael Malone's choice will have fateful consequences for everyone – especially, in due course, for his young daughter.

This is the first in a new sequence of novels with a brilliant cast of characters and a story that will lead to Liverpool in Mary Kate and back to Ireland in The Seven Acres.
When Rachel wakes up in a strange room, the morning after a neighbour's party, she has no memory of what happened the night before. Why did her husband leave her alone at the party? Did they row? Why are Rachel's arms so bruised? And why are her neighbours and friends so vague about what really happened?

Little by little, Rachel pieces together the devastating events that took place in a friend's house, at a party where she should have been safe. Everyone remembers what happened that night differently, and everyone has something to hide. But someone knows the truth about what happened to Rachel. And she's determined to find them.
Transcription by Kate Atkinson (pre-order)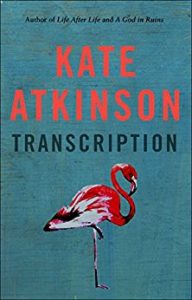 'Think of it as an adventure, Perry had said right at the beginning of all this.And it had seemed like one. A bit of a lark, she had thought. A Girls' Own adventure.'
In 1940, eighteen-year old Juliet Armstrong is reluctantly recruited into the world of espionage. Sent to an obscure department of MI5 tasked with monitoring the comings and goings of British Fascist sympathizers, she discovers the work to be by turns both tedious and terrifying. But after the war has ended, she presumes the events of those years have been relegated to the past for ever.

Ten years later, now a producer at the BBC, Juliet is unexpectedly confronted by figures from her past. A different war is being fought now, on a different battleground, but Juliet finds herself once more under threat. A bill of reckoning is due, and she finally begins to realize that there is no action without consequence.

Transcription is a work of rare depth and texture, a bravura modern novel of extraordinary power, wit and empathy. It is a triumphant work of fiction from one of this country's most exceptional writers.