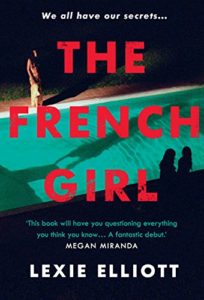 ShortBookandScribes #BookReview – The French Girl by Lexie Elliott
The French Girl is another book that I read and enjoyed in instalments via The Pigeonhole. My thanks to them and the publishers for the opportunity.

She appears, lithe and tanned, by the swimming pool one afternoon. Severine – the girl next door. It was supposed to be a final celebration for six British graduates, the perfect French getaway, until she arrived. Severine's beauty captivates each of them in turn. Under the heat of a summer sky, simmering tensions begin to boil over – years of jealousy and longing rising dangerously to the surface.

And then Severine disappears.

A decade later, Severine's body is found at the farmhouse. For Kate Channing, the discovery brings up more than just unwelcome memories. As police suspicion mounts against the friends, Kate becomes desperate to resolve her own shifting understanding of that time. But as the layers of deception reveal themselves, Kate must ask herself – does she really want to know what happened to the French girl?
---
The French Girl of the title is Severine. She went missing when a group of students were spending a holiday in France and she lived next door. Although the students were questioned about her disappearance her body was never found. Until now, that is. Ten years on her bones have finally been discovered.
It brings it all back for Kate. She was one of the students and she keeps seeing Severine everywhere. She is haunting her. Not as a ghost but as a figment of her unconscious mind perhaps.
I loved The French Girl. It's another book that I read in instalments on a daily basis, and I looked forward to each section. I wanted to know what had happened to Severine all those years ago. Was one of Kate's friends a murderer? Was Kate more involved than she was letting on? For much of the story these questions were swirling round in my head until the final half-expected conclusion.
The story is set completely in the current day. I did wonder if we would be thrown back into the past at some point as is often the way, but I was really hoping that that wouldn't happen. I wanted to stay with the way events were unfolding in the current day so I was really pleased with the action staying with the investigation into Severine's death.
I liked Kate very much. She's easily the main character and tells the story. She's just set up her own business as a legal headhunter and I really enjoyed reading the sections about her work. Obviously, the investigation into Severine's death has an impact not only on Kate's private life but on her work life too.
I also really liked Tom and Lara, Kate's two closest friends from that fateful French holiday and beyond. I was hoping and praying that neither of them turned out to be responsible for Severine's death. I'll leave you to read this excellent book to see whether they were or not.
The French Girl is an engrossing thriller about the past coming back to haunt you. I enjoyed the dynamics within the group, the way that none of them seem to quite trust each other and I thought the characterisations were spot on. It's an excellent debut novel, full of suspense and intrigue. I thought it was great.
---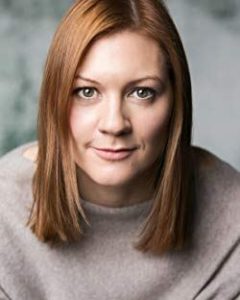 Lexie Elliott has been writing for as long as she can remember, but she began to focus on it more seriously after she lost her banking job in 2009 due to the Global Financial Crisis. After some success in short story competitions, she began planning a novel. With two kids and a (new) job, it took some time for that novel to move from her head to the page, but the result was The French Girl, which will be published by Berkley in February 2018 – available to pre-order on Amazon now!
When she's not writing, Lexie can be found running, swimming or cycling whilst thinking about writing. In 2007 she swam the English Channel solo. She won't be doing that again. In 2015 she ran 100km, raising money for Alzheimer Scotland. She won't be doing that again either. But the odd triathlon or marathon isn't out of the question.