ShortBookandScribes #BlogTour #Extract from Confessions of a First Time Mum by Poppy Dolan @poppydwriter @Canelo_Co
Welcome to my stop on the blog tour for Confessions of a First Time Mum by Poppy Dolan. I'm sharing a fab extract from the book with you today. I'd like to thank Ellie Pilcher from Canelo for the place on the tour.
Stevie's life has changed beyond recognition since having her first baby.

Stevie loves being a mum, but between the isolation and being vomited on five times a day, she really wishes she had someone to talk to.

With husband Ted working hard to keep the family afloat, Stevie really doesn't want to burden him with her feelings. Turning to the internet, Stevie starts the anonymous First-Time Mum blog and blasts the rose-tinted glasses of parenthood right off her readers.

In the real world, Stevie meets the formidable Nelle and gorgeous Will, along with their own little treasures, and starts to realise that being a 'perfect mum' isn't everything. But when the secret blog goes viral, Stevie must make some tough choices about who she wants to be, and whether she's ready for the world to know the truth…

A perfect laugh-out-loud read for fans of The Unmumsy Mum, Gill Sims and Emma Robinson.
---

Chapter 6

I suppose one benefit to Ted being so far away for so very long is that I have the whole place alone to fret, make my hair greasy with pulling on it and no one is here to see me have a large glass of wine with my beans on toast for lunch. Even Ted, with his head-in-his-work iPhone, would have to clock something a bit off with all that.

I keep having to log in and check my blog stats. 8,000 unique views. I don't know if I should count that on top of the Facebook views through the other blogger's page – now at 19,000 – or if these are people who came to my site because they read it first through her and are coming to check me out.

Blimey.

Fuck.

I look at Gin and Sippy Cups' Facebook again. Not just all those views, but around 3,000 comments, too. I start to read some. Loads of fist bump and crying-face emojis, but also longer comments from parents admitting they are in charge/on their own at the moment and absolutely bricking it. One simply says, 'Welcome to my world #singleparent #everygoddamnday' and I realise my post must have seemed ungrateful to people on their own for much longer than a week. Before I know it, I'm replying to their post, about to say thanks for the reality check, when I remember that it would appear under my real name and then the whole sodding game would be over.

I can't have people know it's me. I can't have Ted see all these steaming-mad things I've written about him. Sure, he's not an innocent party right now but I do love him, at the end of the day. He is Cherry's dad and I can't ever stop loving him for giving me this butterball to love. And how would it look to his super-corporate clients that he has a wife so unhappy she vents the details of their family life on the web? Not to mention the divorce papers he'd be emailing over. Can't really see the selling point in being married to someone dull, scared and also secretly bitchy, myself. My mum would have a field day and insist I move to the States to let her take control of my rotten life. Perhaps worse of all, one day Cherry might read these things and think I didn't want her, that I don't love her madly. Which I absolutely do. I just miss being in love with Stevie Cameron. She was fun. She always smelt nice. And I desperately need to try and find her again.

So I pull back from trawling through the comments. Nothing good can come of it. Instead, I scroll back up Gin and Sippy Cups' profile, to see what other kinds of things she posts about, and what kind of reaction she usually gets. Is this big? Is it normal?

Just as I'm absorbing that she's in Cambridge and is a part-time family lawyer, a new post pops up in her timeline, one of those that automatically feeds through from Instagram. It's a picture of a pair of denim-clad legs, drenched in something like foamy coffee by the look of it. And just on the edge of the shot, on the very right-hand side, is a small hand holding a plastic dinosaur, also sploshed with liquid. She's put up a caption underneath:

'So today I'm standing with First-Time Mum. I'm #Notfineactually. Managed to get us out to a chi-chi coffee place, set Littlest Mr up with toys and colouring, savouring the smell of my cappuccino. When Dino Dan fancies a bit of rough-housing. So, just before I pack us up and drag two squealing misters into Primark to get me something, anything to wear, I thought I'd share the evidence that actually not every day is a "fine" one… If you're having a very un-fine day, you're not alone, loves xxx

#mumlife #parenting #mumsofinstagram #toddlers #motherofboys #coffee #reallife.'

A feeling of warmth, a deep tingle, spreads across my collarbone and I can't help it but I hoot one giant, great laugh out loud, alone in my kitchen. Cherry gives a happy squawk from the floor, as if in solidarity.

I scoop her up into my arms and jiggle her on my lap.

'It's not just me, Cherry Baby!' I say through a ridiculous grin, and she gives me one of her long, unbroken stares where I could swear she understands everything that comes out of my mouth. It's strange to feel such a connection with someone who can't talk back, but this gorgeous pudding is somehow completely on my wavelength. And so, it seems, are loads of other mums out there, online.

It's not just me who feels these things sometimes. Not just me who gets vomit on their head and mistaken for a cleaner.

I'm rereading, guiltily, vainly, when another post pops up: 'PS First-Time Mum, where are you?! Can't find you on any social media, no contact option on your blog. Come say hello. I think we'll get on, yeah? xxx'
---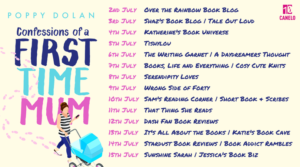 ---

Poppy Dolan is in her mid thirties and lives in Berkshire with her husband. She's a near-obsessive baker and a keen crafter, so on a typical weekend can be found moving between the haberdashery and kitchenware floors of a department store, adding to her birthday wish list. She has written three novels: The Bad Boyfriends Bootcamp, There's More to Life than Cupcakes and most recently The Bluebell Bunting Society. The Bad Boyfriends Bootcamp made it into the Amazon top 100 bestseller chart, so clearly someone other than her mum must have read it. She's currently working on her fourth novel – it's about friends, siblings and crafty things – and drinking far too much tea.
You can get in touch with Poppy on Twitter and on Facebook. She doesn't bite. Unless you are a dark chocolate digestive.