Seven Day Spotlight – w/e 14/10/18
Welcome to this week's Seven Day Spotlight post. Thankfully I managed not to get blown away but my goodness, there have been some strong winds in the last couple of days.
Sheffield's Off the Shelf Festival is under way and I've been to two events this week. I saw Lucy Mangan speak on Tuesday about her memoir of childhood reading, Bookworm, and on Saturday I went to see Wendy Mitchell talk about Somebody I Used to Know and her experience of having dementia. Both events were absolutely fantastic with such interesting speakers. I have Jodi Picoult to look forward to later in the month too.
So, what have I posted this week on my blog?
Well, on Monday I shared an extract from The Promise of Tomorrow by AnneMarie Brear.
Tuesday's post was my review of Keep You By My Side by Callie Langridge, which is an emotional and moving study of family life.
Wednesday was a two post day with my review of the intelligent and thoughtful A Keeper by Graham Norton and also a fabulous guest post from Anita Waller, author of Malignant, about planning and plotting the novel.
On Thursday, I reviewed The Christmas Cafe at Seashell Cove by Karen Clarke, which made me laugh lots.
Friday's post was my review of Perfect Liars by Rebecca Reid. I loved this twisty, gripping, hedonistic story.
And finally, on Saturday I shared an extract from Help the Witch by Tom Cox.
---
And here are my reading pile additions for the week:
The Murder of Harriet Monckton by Elizabeth Haynes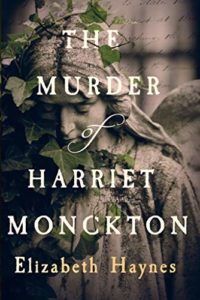 From the award-winning and bestselling author of Into the Darkest Corner comes a delicious Victorian crime novel based on a true story that shocked and fascinated the nation.

On 7th November 1843, Harriet Monckton, 23 years old and a woman of respectable parentage and religious habits, is found murdered in the privy behind the chapel she regularly attended in Bromley, Kent.

The community is appalled by her death, apparently as a result of swallowing a fatal dose of prussic acid, and even more so when the surgeon reports that Harriet was around six months pregnant.

Drawing on the coroner's reports and witness testimonies, Elizabeth Haynes builds a compelling picture of Harriet's final hours through the eyes of those closest to her and the last people to see her alive. Her fellow teacher and companion, her would-be fiancé, her seducer, her former lover—all are suspects; each has a reason to want her dead.

Brimming with lust, mistrust and guilt, The Murder of Harriet Monckton is a masterclass of suspense from one of our greatest crime writers.
The Widow Next Door by L.A. Detwiler
A beautiful house. A new beginning. The almost perfect neighbours…

When newlyweds Jane and Alex Clarke move into an idyllic house on the quaint Bristol Lane, they are excited for a new beginning in what will be their 'forever home'.

And when an elderly neighbour brings them a pie to welcome them, she soon becomes a friend. But she grows a little too interested in the couple next door as she sits watching them, day in, day out, from the rocking chair in her window.

Alex says it will be fine. After all, she's a lonely widow who just wants some company. But when she invites Jane into her home, who knows what she'll find there…
A House of Ghosts by W.C. Ryan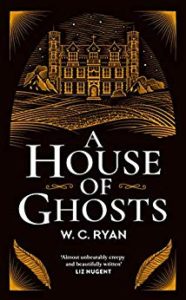 "A gripping mystery with a classic feel: And Then There Were None meets The Silent Companions.

Winter 1917. As the First World War enters its most brutal phase, back home in England, everyone is seeking answers to the darkness that has seeped into their lives.

At Blackwater Abbey, on an island off the Devon coast, Lord Highmount has arranged a spiritualist gathering to contact his two sons who were lost in the conflict. But as his guests begin to arrive, it gradually becomes clear that each has something they would rather keep hidden. Then, when a storm descends on the island, the guests will find themselves trapped. Soon one of their number will die.

For Blackwater Abbey is haunted in more ways than one . . .

An unrelentingly gripping mystery packed with twists and turns, A House of Ghosts is the perfect chilling read this winter.
The Trick to Time by Kit de Waal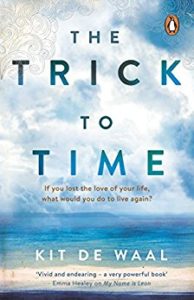 Mona is a young Irish girl in the big city, with the thrill of a new job and a room of her own in a busy boarding house. On her first night out in 1970s Birmingham, she meets William, a charming Irish boy with an easy smile and an open face. They embark upon a passionate affair, a whirlwind marriage – before a sudden tragedy tears them apart.

Decades later, Mona pieces together the memories of the years that separate them. But can she ever learn to love again?

The Trick to Time is an unforgettable tale of grief, longing, and a love that lasts a lifetime.
The Stepney Doorstep Society by Kate Thompson
The unsung and remarkable stories of the women who held London's East End together during not one, but two world wars.
_____________

Minksy, Gladys, Beatty, Joan, Girl Walker. While the men were at war, these women ruled the streets of the East End. Brought up with firm hand in the steaming slums and teeming tenements, they struggled against poverty to survive, and fought for their community in our country's darkest hours.

But there was also joy to be found. From Stepney to Bethnal Green, Whitechapel to Shoreditch, the streets were alive with peddlers and market stalls hawking their wares, children skipping across dusty hopscotch pitches, the hiss of a gas lamp or the smell of oxtail stew. You need only walk a few steps for a smile from a neighbour or a strong cup of tea.

From taking over the London Underground, standing up to the Kray twins and crawling out of bombsites, The Stepney Doorstep Society tells the vivid and moving stories of the matriarchs who remain the backbone of the East End to this day.
The Stranger Inside by Laura Benedict
There's a stranger in your house. And he knows your biggest secret.

When Kimber Hannon returns home from a work trip, she's ready to kick back and relax on the sofa. But on reaching the front door, she is shocked to discover that her key no longer works and there's a man in the bedroom window.

Kimber calls the police, but the intruder tells them he's renting the house. Her neighbour corroborates his story and it is Kimber who is forced to leave. But before she does, the stranger whispers 'I was there. I saw what you did.'

These words reveal a connection to Kimber's distant past, and dark secrets she'd long ago left buried. Her trespasser isn't after anything as simple as her money or her home. He wants to move into her carefully orchestrated life – and destroy it.
A Gift from Woolworths by Elaine Everest
Will the war be over by Christmas?

As the war moves into 1945 the lives of the women of Woolworths continue. When store manager, Betty Billington, announces she is expecting Douglas's baby her future life is about to change more than she expects.

Freda has fallen in love with the handsome Scottish engineer but will it end happily?

Maisie loves being a mother and also caring for her two nieces although she still has her own dreams. When her brother appears on the scene he brings unexpected danger to the family.

Meanwhile Sarah dreams of her husband's return and a cottage with roses around the door but Woolworths beckons.

Will our girls sail into times of peace, or will they experience more heartache and sorrow? With a wedding on the horizon, surely only happiness lies ahead – or does it?
The Secret by Katharine Johnson
Love, Lies, and Betrayal in Wartime Italy.

Two girls growing up in Mussolini's Italy share a secret that has devastating consequences.
Against a backdrop of fear, poverty and confusion during the Second World War, friendship is tested, and loyalties are divided until a chance encounter changes everything.

Their lives diverge when beautiful, daring Martina marries and moves into Villa Leonida, the most prestigious house in their Tuscan mountain village, while plain, studious Irena trains to be a teacher.

But neither marriage nor life at Villa Leonida are as Martina imagined. And as other people's lives take on a new purpose, Irena finds herself left behind.

Decades later, a tragedy at the villa coincides with the discovery of an abandoned baby, whose identity threatens to re-open old wounds among the next generation.
The Last Words of Madeleine Anderson by Helen Kitson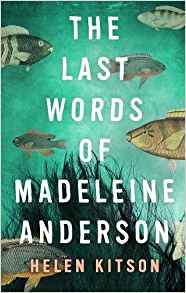 Once upon a time Gabrielle Price wrote and published an extraordinary novel.
But twenty years on her literary star has dimmed, her "work of genius" is all but forgotten, and no further novels have materialized. She now lives an unremarkable life: middle-aged, living alone in the sleepy village she grew up in, and working as a housekeeper for the local vicar. Her lonely existence is dominated by memories of her best friend Madeleine, who died young, in tragic and mysterious circumstances.

Gabrielle's quiet world is turned upside down when she meets and befriends Simon – young,
attractive, a would-be writer, and enthusiastic fan of the astonishing novel that Gabrielle published all those years ago. Charmed and flattered, she recklessly invites Simon into her home and her heart.

But Simon is mysterious and manipulative, and it's not long before he forces Gabrielle to confront the demons in her past. Gabrielle's obsession with Simon begins to destroy her carefully cultivated life, and she comes to feel increasingly threatened by his presence. Who is he? Why did he seek her out? And what does he really want?
The Doll Collector by Joanna Stephen-Ward (no Amazon link as yet)
Murders that look like accidents. An accident that looks like murder.

A couple and their young son burn to death in a house fire.

A girl dies from a nut allergy.

A woman falls under a train during the rush hour.

An accountant falls down the steps to his basement.

Their deaths appear to be accidents but Gloria knows they were murdered because she murdered them. And every time Gloria kills she buys a doll.

But how many dolls will she need to keep her satisfied?

When Gloria takes a room as a lodger her behaviour starts to spin out of control. Gloria wants love and happiness and friendship and she will do anything she can to get what she wants…