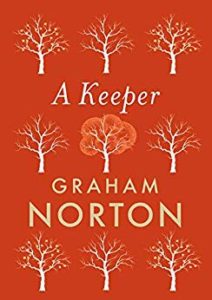 ShortBookandScribes – #BookReview – A Keeper by Graham Norton
I'm delighted to have had the opportunity to read and review A Keeper by Graham Norton and to share my review with you today. My thanks to the publishers, Coronet, for the review copy via Amazon Vine.

Dear Lonely Leinster Lady, 
I'm not really sure how to begin . . .

The truth drifts out to sea, riding the waves out of sight. And then the tide turns.

Elizabeth Keane returns to Ireland after her mother's death, intent only on wrapping up that dismal part of her life. There is nothing here for her; she wonders if there ever was. The house of her childhood is stuffed full of useless things, her mother's presence already fading. And perhaps, had she not found the small stash of letters, the truth would never have come to light.

40 years earlier, a young woman stumbles from a remote stone house, the night quiet but for the tireless wind that circles her as she hurries further into the darkness away from the cliffs and the sea. She has no sense of where she is going, only that she must keep on.

This compelling new novel confirms Graham Norton's status as a fresh, literary voice, bringing his clear-eyed understanding of human nature and its darkest flaws.
---
I'm not sure what I expected from this book, my first by Graham Norton, but it wasn't what I got. For the first few chapters I couldn't help but read it imagining Norton's slightly mocking tone of voice but once I put that aside I was thoroughly engrossed in this dual timeline novel.
This is a story of Now and Then. 'Now' is when Elizabeth Keane comes back to Ireland from New York to sort out her late mother's estate, including her house. Being back in her childhood home is far from easy for her – family vultures are descending on her and she feels out of kilter there. A surprise discovery leads her to Castle House, a remote place near the sea and from there she uncovers even more surprises from the past.
The 'Then' story is the story of Elizabeth's mother, Patricia, 40+ years earlier. Having spent her prime looking after her mother she wonders if it's too late to find love. I don't want to say anything more about Patricia's story as I think the reader must find out for themselves. However, what I will say is that it is Patricia's story that surprised me and wasn't at all what I was expecting. It's a little incredible but also very well done. It certainly has a dark side to it and looks at how tragic circumstances can affect the mind. This is a book that has some very mixed up people in it making it a bit disturbing in nature. Ultimately, though, they're mixed up due to terrible events and there's a real sense of despair and unhappiness running through it.
Elizabeth's tale is more investigatory. When she finds some letters hidden in her mother's wardrobe it leads her to question all that she believed about her past. I do tend to prefer the more modern side of dual timeline books for this reason and this book was no exception as Elizabeth travels through Ireland searching for answers.
I enjoy stories that jump around and allow the past and present to intermingle so A Keeper suited me very well. I think this is an intelligent and thoughtful book with a few one liners that smacked of the author's humour, but mainly a serious story of mothers and their children and all they will do to see them happy and settled. I'd definitely read another book by Graham Norton (I must get round to Holding) as he has a perceptive writing style, one which really appeals to me.
---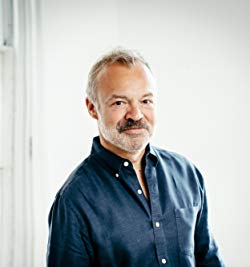 Graham Norton is one of the UK's best loved broadcasters. He presents The Graham Norton Show on BBC1, has a weekly show on BBC Radio 2, and writes a column for the Telegraph. He is the winner of eight BAFTA awards. Born in Dublin and raised in West Cork, Norton now lives in London.
His debut novel HOLDING was a commercial and critical success, winning Norton the Irish Independent Popular Fiction award at the Bord Gáis Irish Book Awards in 2016.
Author photo and bio taken from Amazon