ShortBookandScribes #BookReview – Perfect Liars by Rebecca Reid @RebeccaCNReid @TransworldBooks #BlogTour #RandomThingsTours
I'm so pleased to be reviewing Perfect Liars by Rebecca Reid today. My thanks to Anne Cater from Random Things Tours for the place on the tour and to the publishers for providing a review copy of the book.
Sixteen years ago, at an elite boarding school secluded in the English countryside, best friends Nancy, Georgia and Lila did something unspeakable.

Their secret forged an unbreakable bond between them, a bond of silence. But now, in their thirties, one of them wants to talk.

One word and everything could be ruined: their lives, their careers, their relationships. It's up to Georgia to call a crisis dinner. – she knows there's nothing that can't be resolved by three courses in her immaculate kitchen.

But the evening does not go as planned.

Three women walk in to the dinner, but only two will leave.

Murder isn't so difficult the second time around…

Gripping and unputdownable, Perfect Liars tells the story of a group of friends bound by their dark pasts and their desperate need to keep their secrets hidden from the world around them. How far would you go to protect the life you've built?
---

First of all, if you need to like at least some of the characters in the books you read then Perfect Liars is probably not going to be for you. I don't think I have read a book where all the major players are so loathsome and unpleasant. However, don't think for one minute that that means I didn't like it. I guess I don't need to like the characters as long as the story is strong as I absolutely loved this book.
The story centres around three women: Nancy, Lila and Georgia, and around two specific times in their lives: now and then. The current day storyline is all centred around the three of them getting together for a dinner party with their spouses/partners (who also have not much in the way of redeeming features, apart perhaps for one of them who was more likeable). This is a toxic friendship, one which is held together by the most flimsy of threads: the memory of something that happened at their boarding school.
The year at that school when they were 17 forms the other side of the story. Whereas Nancy and Lila have an air of entitlement about them, coming as they do from a privileged background, Georgia is a scholarship student and yet the three of them are the best of friends. We learn, bit by bit, what that something that happened at school was and why they're stuck with each other when they might otherwise have drifted apart over the years.
What Perfect Liars really showed was how you can be a product of your upbringing. Of the three woman, there was only Georgia who I thought was possibly a half-decent person (you see I'm not exactly enthusing about her here). The other two were the kind of people I would steer well clear from. But their story is utterly addictive and I raced through it to see what would happen at the end and who the woman is, who we know from the blurb won't walk away from the dinner.
Oh, and that dinner party! It's completely cringeworthy. The three woman spend it all skirting around each other and trying to get one over on each other, and the partners/husbands are not much better. I can't think of much worse than having to endure a few hours round a table with that lot!
This isn't a book with a big reveal (although there was something that made my jaw drop near the end), it's more about the girls/women and their interactions with each other and with other people. It's a study of human characteristics in all their glory.
As you can probably tell, this book brought out some strong emotions in me, largely ones of dislike, but it's so well written and such compulsive writing that I couldn't put it down. Perfect Liars is dark, disturbing, hedonistic, intense and gripping. I can't wait to see what Rebecca Reid writes next.
---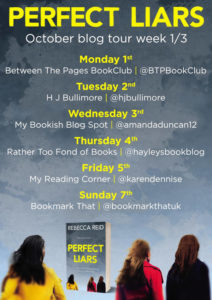 ---

Rebecca is a freelance journalist. She is a columnist for the Telegraph Women's section, works for Metro Online and has written for Marie Claire, the Guardian, the Saturday Telegraph, the Independent, Stylist, Glamour, the iPaper, the Guardian, Indy100, LOOK and the New Statesmen amongst others.
Rebecca is a regular contributor to Sky News and ITV's This Morning as well as appearing on Radio 4's Woman's Hour, LBC, BBC News 24 and the BBC World Service to discuss her
work.
She graduated from Royal Holloway's Creative Writing MA in 2015 and Perfect Liars is her
debut novel.
Rebecca lives in North London with her husband.