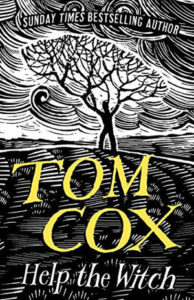 ShortBookandScribes #BlogTour #Extract from Help the Witch by Tom Cox @cox_tom @Unbound_Digital @unbounders #RandomThingsTours
I'm delighted to be taking part in the blog tour for Help the Witch by Tom Cox today and I have an extract to share with you from chapter one. My thanks to Anne Cater for the place on the tour.
---
Inspired by our native landscapes, saturated by the shadows beneath trees and behind doors, listening to the run of water and half-heard voices, Tom Cox's first collection of short stories is a series of evocative and unsettling trips into worlds previously visited by the likes of M. R. James and E. F. Benson. Railway tunnels, the lanes and hills of the Peak District, family homes, old stones, shreds fluttering on barbed wire, night drawing in, something that might be an animal shifting on the other side of a hedge: Tom has drawn on his life-long love of weird fiction, folklore and nature's unregarded corners to write a collection of stories that will delight fans old and new, and leave them very uneasy about turning the reading lamp off.
---

HELP THE WITCH

6 DECEMBER

I have arrived! It feels like more of an achievement than I ever imagined it could. The snow started a little south of Northampton and became heavier  all the way from  there.  A sensible person might have stopped long before that and checked into a hotel, but I am not a sensible person: I think, if there is one thing that this entire endeavour proves, it is that. I don't know how I got up to the top of the mountain (I have checked the altitude in feet, and it does technically qualify as a mountain). The two routes I'd used before were totally non-navigable in a normal  car but somehow the more gentle incline to the east worked out:  the snow  had not quite settled as thickly there. It still took forty minutes of violently revving in first gear and hanging on  to the steering wheel for dear life, though. In the end I had to reverse into the track, then let the car spin back round. If aliens gazed down from above at the patterns I left in

the snow, they might mistake it for a violent, impulsive form of art. But I am here. We are here. Nibbler, A Good Size Cat, and me. Just the three of us, an airbed, a sleeping bag, a kettle and a rucksack. The house feels bigger than  I remember, and cold. There's a lot of space in the top of the rooms, room for another room, really, in each. I find myself looking up into the space a lot. I'm exhausted, so I won't write more. I fear I might gibber if I do.

7 DECEMBER

My hands are covered in burns. I've been running on pure adrenaline for a fortnight, and because of that I never took the time to look at the state of them until this morning, when I was washing them. This might suggest that I had not washed them for several days. I had; I just hadn't noticed that I had hands. Before I left the cottage in Sussex I lit a giant bonfire, which burned  for  three  days. You can take a dramatic angle on this, but I don't see it that way. It is true that I did burn some old letters from Chloe, but I also burned far more old phone bills, chequebooks and receipts. I was drawing a line, I suppose, but the themes of the line were largely relocation and confidential waste.

The burns on my hands are not battle scars, they're namby-pamby, middle-class injuries. But Niall, one of the two removal men, who I sense is not middle class, did glance at the red blisters on my right wrist, and ask if I was OK. He and his colleague, Dan, performed a minor  act of heroism to even get the van halfway down the track today. With their time constraints I had to muck in and help with the carrying. My speed and capacity to take weight amazed me, made me re-appreciate those stories you hear about mothers who somehow find the strength to lift entire cars off their children. I'm six foot four but built like a bunch of long, sellotaped-together twigs, so adrenaline is the only explanation for what I've achieved  in physical terms over the last few days. I have an equal lack of doubt that at some point I'm going to crash, but  that point is yet to arrive. All the furniture and boxes are in now, although snow has drenched most of it.
If that has whetted your appetite then you can read the remainder of chapter one by clicking on this link.
---

---

Tom Cox lives in Devon with his cats. A one time music journalist he is the author of the Sunday Times bestselling The Good, The Bad and The Furry and the William Hill Sports Book longlisted Bring Me The Head of Sergio Garcia.