Seven Day Spotlight – w/e 13/05/18
Hello and welcome to this week's Seven Day Spotlight. It's been a quieter week on my blog this week and even my acquisitions are diminished (which is no bad thing). I expect normal service will be resumed next week though.
Here's what I posted on my my blog this week:
My review of erotic thriller, Tubing by K.A. McKeagney.
An extract from Before You Let The Sun In by Ian Robertson and Katerina Couroucli-Robertson.
My review of A Spoke in the Wheel by Kathleen Jowitt and a guest post from the author about genre.
My review of If He Wakes by Zoe Lea.
---
This week's additions to my reading pile:
Into the Water by Paula Hawkins
Just days before her sister plunged to her death, Jules ignored her call.

Now Nel is dead. They say she jumped. And Jules must return to her sister's house to care for her daughter, and to face the mystery of Nel's death.

But Jules is afraid. Of her long-buried memories, of the old Mill House, of this small town that is drowning in secrecy . . .

And of knowing that Nel would never have jumped.
Her Name Was Rose by Claire Allan
Her name was Rose. You watched her die. And her death has created a vacancy.

When Emily lets a stranger step out in front of her, she never imagines that split second will change her life. But after Emily watches a car plough into the young mother – killing her instantly – she finds herself unable to move on.

And then she makes a decision she can never take back.

Because Rose had everything Emily had ever dreamed of. A beautiful, loving family, a great job and a stunning home. And now Rose's husband misses his wife, and their son needs a mother. Why couldn't Emily fill that space?

But as Emily is about to discover, no one's life is perfect … and not everything is as it seems.
The Bakery at Seashell Cove by Karen Clarke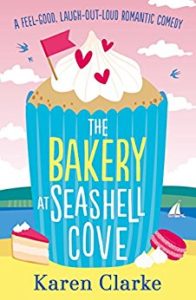 Meg Larson thought she had everything she wanted: she works in the local bakery, she's months away from marrying her high-school sweetheart, and home is beautiful, sunny Seashell Cove, where the sky is blue, the sea is turquoise and the sand is golden.

Except that the bakery is up for sale and her fiancé Sam's more interested in bikes than their relationship. When Meg receives shocking news about her family, he's on a cycling tour and ignoring her calls – and posting selfies on Facebook with a female cyclist he looks far too cosy with…

Luckily the bakery's estate agent, Nathan, is understanding and funny, and as the summer goes on an unexpected friendship blossoms. When the bakery is given a second lease of life under a mysterious new owner, Meg realises a change might be exactly what she needs too.

Will Meg find the happy-ever-after she dreams of in Seashell Cove?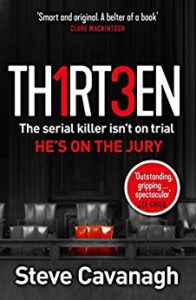 'To your knowledge, is there anything that would preclude you from serving on this jury?'

Murder wasn't the hard part. It was just the start of the game.

Joshua Kane has been preparing for this moment his whole life. He's done it before. But this is the big one.

This is the murder trial of the century. And Kane has killed to get the best seat in the house.

But there's someone on his tail. Someone who suspects that the killer isn't the man on trial.

Kane knows time is running out – he just needs to get to the conviction without being discovered.
Summer of Secrets by Nikola Scott
August 1939. At peaceful Summerhill, orphaned Maddy hides from the world and the rumours of war. Then her adored sister Georgina returns from a long trip with a new friend, the handsome Victor. Maddy fears that Victor is not all he seems, but she has no idea just what kind of danger has come into their lives…

Today. Chloe is newly pregnant. This should be a joyful time, but she is fearful for the future, despite her husband's devotion. When chance takes her to Summerhill, she's drawn into the mystery of what happened there decades before. And the past reaches out to touch her in ways that could change everything…
The Little Shop of Found Things by Paula Brackston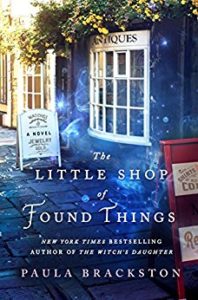 Xanthe and her mother Flora leave London behind for a fresh start, taking over an antique shop in the historic town of Marlborough. Xanthe has always had an affinity with some of the antiques she finds. When she touches them, she can sense something of the past they come from and the stories they hold. So when she has an intense connection to a beautiful silver chatelaine she has to know more.

It's while she's examining the chatelaine that she's transported back to the seventeenth century. And shortly after, she's confronted by a ghost who reveals that this is where the antique has its origins. The ghost tasks Xanthe with putting right the injustice in its story to save an innocent girl's life, or else it'll cost her Flora's.

While Xanthe fights to save her amid the turbulent days of 1605, she meets architect Samuel Appleby. He may be the person who can help her succeed. He may also be the reason she can't bring herself to leave.

With its rich historical detail, strong mother-daughter relationship, and picturesque English village, The Little Shop of Found Things is poised to be a strong start to this new series.