#shortbookscribe #bookreview – If He Wakes by Zoe Lea @zoeleawriter @Canelo_co #BlogTour
I'm so pleased to be reviewing If He Wakes by Zoe Lea today as part of the blog tour. I'd like to thank Canelo for the review copy and the place on the tour.

You can always trust your best friend… can't you?

When Rachel discovers a Twitter message arranging a romantic liaison she assumes her husband is having an affair, and follows him. What she witnesses is so much worse: a hit and run using his car.

Meanwhile, Rachel's friend and business partner Suzie is increasingly worried about her fiancé, who's not been in touch for days. When Suzie learns of huge debts racked up in her name she fears he has run out on her, but then the threatening calls start and she thinks something terrible has happened.

Rachel and Suzie are both about to learn shocking things about the men they love, worse than they could ever imagine… Can their friendship survive?
Buy Links:
---
If He Wakes is a rather twisty tale of two friends, Rachel and Suzie. They're working together in events management and they've just got a huge party to organise. And then their worlds are blown apart. Rachel witnesses something shocking regarding her husband and Suzie's fiancé seems to have disappeared taking her money with him.
Well, in fact, that is just the tip of the iceberg and, as the book progresses, we learn more and more about each woman, their past and the worrying turn their lives seem to be currently taking.
The book is told in alternate chapters from both Rachel and Suzie's point of view, Rachel's in the first person and Suzie's in the third person. I liked the way each woman's story unfolded gradually and how I, as the reader, was able to view the whole sorry tale and see how it fitted together.
As suspense thrillers go, this is certainly full of suspense and thrills. When it started I wasn't sure where it was going and how everything was linked and it did take a while for it all to start to come together, but once it did it kind of came from nowhere and I was really surprised about the turn it took. The author definitely has the ability to shock.
If He Wakes is a fast-paced and exciting story. It's full of nail-biting moments and builds up the tension perfectly until the shocking conclusion is revealed.
---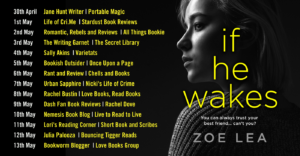 ---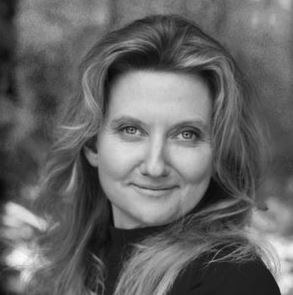 Zoe Lea lives in the Lake District with her husband, their two children, three dogs and peregrine falcons. She has previously worked as a teacher, photographer and freelance journalist and is a writer in the day and a reader by night. If He Wakes is her debut novel.