Seven Day Spotlight – w/e 10/03/19
Goodness me, these weeks are flying. Not much has happened since last Sunday's Seven Day Spotlight but here I am with another one. It's been a busy week on my blog and we're still Lego mad in our house.
Here's what I posted this week:
Monday's post was my review of Day of the Accident by Nuala Ellwood.
Tuesday's post was my review of The Taking of Annie Thorne by C.J. Tudor.
Wednesday was a two post day with me sharing my review of Call Me Star Girl by Louise Beech and an extract from The Mausoleum by David Mark.
Thursday's post was my review of Keep Her Close by M.J. Ford.
Another two day post on Friday with my review of Slow, Slow Sedrick by Katie Budge and an extract from The Age of Misadventure by Judy Leigh.
And yet another two post day on Saturday with my review of Anna and Evan Meet Charles Darwin and a guest post by Rachel Lynch, author of Bitter Edge.
And finally, this morning I shared an extract from Unlawful Things by Anna Sayburn Lane.
---
Here's what I added to my TBR pile this week.
The Woman Who Wanted More by Vicky Zimmerman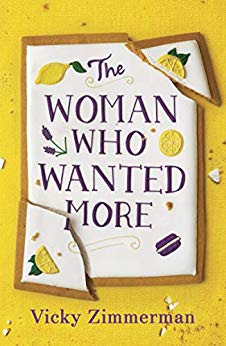 Two lonely women. An unlikely friendship. And one big life lesson: never be ashamed to ask for more . . . 

After a major life upheaval on the eve of her 40th birthday, a reluctant Kate Parker finds herself volunteering at Lauderdale House for Exceptional Ladies. There she meets 97-year-old Cecily Finn. Cecily's tongue is as sharp as her mind but she has lost her spark, simply resigning herself to the Imminent End.

Having no patience with Kate's plight, Cecily prescribes her a self-help book with a difference – it's a 1957 cookery manual, featuring menus for anything life can throw at 'the easily dismayed'.

Will Kate find a menu to help her recover from her broken heart? If Kate moves forward, might Cecily too?

The cookbook holds the secrets of Cecily's own remarkable past, and the story of the love of her life. It will certainly teach Kate a thing or two.

So begins an unlikely friendship between two lonely and stubborn souls – one at the end of her life, one stuck in the middle – who come to show each other that food is for feasting, life is for living and the way to a man's heart is . . . irrelevant!
Finding Dorothy by Elizabeth Letts
Behind the most famous movie ever made is a tale of love, magic and one incredible woman

Hollywood, 1938: As soon as she learns that M-G-M is adapting her late husband's masterpiece, The Wonderful Wizard of Oz, for the screen, Maud Gage Baum sets about trying to visit the set.
Nineteen years after Frank's passing, Maud is the only person who can help the producers stay true to the spirit of the book – because she's the only one left who knows its secrets…

But the moment she hears Judy Garland rehearsing the first notes of 'Over the Rainbow', Maud recognizes the yearning that defined her own life story, from her rebellious youth as a suffragette's daughter to her coming of age as one of the first women in the Ivy League, from her blossoming romance with Frank to the hardscrabble prairie years that inspired his famous work. With the young actress under pressure from the studio as well as her ambitious stage mother, Maud resolves to protect her – the way she tried so hard to protect the real Dorothy.

This richly imagined novel tells the story behind The Wonderful Wizard of Oz, the book that inspired the iconic film, through the eyes of author L. Frank Baum's intrepid wife, Maud.
Vox by Christina Dalcher – I was one of the 100 lucky bloggers to receive a copy of the paperback and a set of fridge magnets this week. Here's the gif that I created.
Silence can be deafening.

Jean McClellan spends her time in almost complete silence, limited to just one hundred words a day. Any more, and a thousand volts of electricity will course through her veins.

Now the new government is in power, everything has changed. But only if you're a woman.

Almost overnight, bank accounts are frozen, passports are taken away and seventy million women lose their jobs. Even more terrifyingly, young girls are no longer taught to read or write.

For herself, her daughter, and for every woman silenced, Jean will reclaim her voice. This is only the beginning…

[100 WORD LIMIT REACHED]
Fallen Angel by Christopher Brookmyre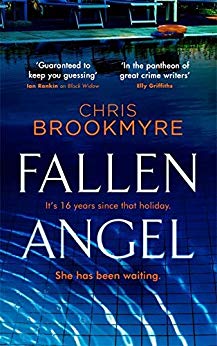 ONE FAMILY, TWO HOLIDAYS, ONE DEVASTATING SECRET

To new nanny Amanda, the Temple family seem to have it all: the former actress; the famous professor; their three successful grown-up children. But like any family, beneath the smiles and hugs there lurks far darker emotions.

Sixteen years earlier, little Niamh Temple died while they were on holiday in Portugal. Now, as Amanda joins the family for a reunion at their seaside villa, she begins to suspect one of them might be hiding something terrible…

And suspicion is a dangerous thing.
Stay Where You Are and Then Leave by John Boyne
The day the First World War broke out, Alfie Summerfield's father promised he wouldn't go away to fight – but he broke that promise the following day.

Four years later, Alfie doesn't know where his father might be, other than that he's away on a special, secret mission.

Then, while shining shoes at King's Cross Station, Alfie unexpectedly sees his father's name – on a sheaf of papers belonging to a military doctor. Bewildered and confused, Alfie realises his father is in a hospital close by – a hospital treating soldiers with an unusual condition.

Alfie is determined to rescue his father from this strange, unnerving place . . .
Daisy Jones and The Six by Taylor Jenkins Reid – I couldn't resist this gorgeous signed edition from Waterstones with black edges, a ribbon bookmark and very lovely endpapers.
For a while, Daisy Jones & The Six were everywhere. Their albums were on every turntable, they sold out arenas from coast to coast, their sound defined an era. And then, on 12 July 1979, they split.

Nobody ever knew why. Until now.

They were lovers and friends and brothers and rivals. They couldn't believe their luck, until it ran out. This is their story of the early days and the wild nights, but everyone remembers the truth differently.

The only thing they all know for sure is that from the moment Daisy Jones walked barefoot onstage at the Whisky, their lives were irrevocably changed.

Making music is never just about the music. And sometimes it can be hard to tell where the sound stops and the feelings begin.