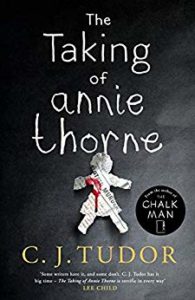 ShortBookandScribes #BookReview – The Taking of Annie Thorne by C.J. Tudor @cjtudor @MichaelJBooks #BlogTour
I'm so pleased to be reviewing The Taking of Annie Thorne by C.J. Tudor today as it's blinkin' awesome! My thanks to Jenny Platt from Penguin Random House for the place on the tour and for sending me a copy of the book for review purposes.
Before I go on, I must just address this passage in the book:
Can I just say that you absolutely can trust those people (ahem) whose bookshelves are lined with pristine books and those who, if they had the space, would perhaps consider putting, you know, just one or two books with their covers facing outwards. That person absolutely would be a reader. Definitely not a shower. Anyway, as long as we've got that clear we can proceed with finding out more about the book.
---
One night, Annie went missing.

Disappeared from her own bed. There were searches, appeals. Everyone thought the worst.

And then, after 48 hours, she came back.

But she couldn't, or wouldn't, say what had happened to her.

Something happened to my sister. I can't explain what.

I just know that when she came back, she wasn't the same.

She wasn't my Annie.

I didn't want to admit, even to myself, that sometimes I was scared to death of my own little sister.
Or support your high street with Hive.
---

This book is absolutely awesome! I just didn't want to put it down. I enjoyed The Chalk Man but I think The Taking of Annie Thorne is even better. There's a theme that appears in both books though and that is one of childhood innocence being destroyed by sinister happenings and cocky teenagers.
Joe Thorne is the primary reason I loved this book so much. He's a fantastic character. He's flippant and sarcastic, and I know they say sarcasm is the lowest form of wit but it amuses me. I had to smile many times at things that he said. He's returned to his childhood home town of Arnhill, a pit village in Nottinghamshire. I thought this was a great setting, giving a closed and claustrophobic feeling to it, not to mention the spectre of the closed pit hanging over everyone.
Back in 1992, Joe's 8 year old sister, Annie, disappeared for two days and then returned. Should be great, right, but things were never the same after that. Annie wasn't the same. The reasons are embedded deep into the story but suffice to say that it's all rather disturbing and eerie. More than once I found myself shuddering, particularly because I don't like caves and being underground at all. I'm glad I didn't read those bits just before going to sleep. Oh, and I have to say I won't lift the toilet lid without trepidation again!
Joe is a walking car crash, on a collision course heading for disasterville, living almost on his wits and his wisecracks. With problems of his own, he's also caught up with the prospect of what happened to Annie happening to other children. Trying to stop it means crossing paths with his old 'friend' Hurst and other members of his teenage gang. This never works out well in books and this story is no exception.
The whole thing is utterly compelling. It's creepy, the plotting is skilful and the characterisations are fantastic. The ending threw up some questions as well as some answers, but I loved that it had a spine-chilling ending that left me with shivers down my spine.
From start to finish The Taking of Annie Thorne is a masterpiece. Read it. Now!
---

---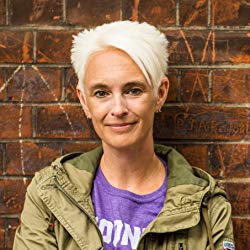 C. J. Tudor lives with her partner and young daughter. Her love of writing, especially the dark and macabre, started young. When her peers were reading Judy Blume, she was devouring Stephen King and James Herbert.
Over the years she has had a variety of jobs, including trainee reporter, radio scriptwriter, dog walker, voiceover artist, television presenter, copywriter and, now, author.
Her first novel, The Chalk Man, was a Sunday Times bestseller and sold in thirty-nine territories.
Author bio and photo taken from Amazon