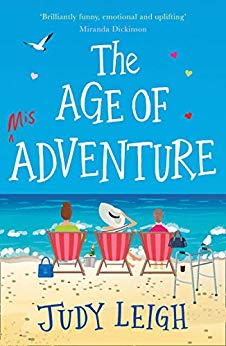 ShortBookandScribes #BlogTour #Extract from The Age of Misadventure by Judy Leigh @JudyLeighWriter @AvonBooksUK
Welcome to my stop on the blog tour for The Age of Misadventure by Judy Leigh. I have an extract from the book to share with you today. My thanks to Sabah Khan from Avon for the place on the tour and for sending me a copy of the book.
---
You're never too old to live dangerously…

The gloriously funny new novel from the author of A Grand Old Time.

All Georgie Turner wants is to keep her family together. But with her daughter growing up fast, her sister married to a man Georgie hates, and their aging aunt getting more and more outrageous, nothing's simple.

So when her brother-in-law makes his biggest mistake yet, Georgie sees the chance to reunite the ladies in her life. And after a little persuasion, three generations of Turner women head off on a very unusual road trip. Georgie's confident that some sun, sea and a bottle or two of prosecco will make this an adventure they'll never forget.

What could possibly go wrong?

A gorgeously fun and uplifting novel about living your life to the full, whatever your age. Perfect for fans of Dawn French and Fern Britton.
Or support your high street with Hive.
---

I go down to the basement where the gym is: Jade's Gym, where she brings clients for one-to-one fitness coaching. I close my eyes and remind myself that although I've lost Terry forever, the divorce gave me a four-storey semi-detached house with a huge mortgage, so that I can run my own business and Jade's, too. My salon's on the ground floor with a gravel parking space outside. The kitchen and lounge with the raised garden behind ageing French windows are on the first floor and there are three bedrooms at the top. Beauty Within was my choice of name, because it's a beauty salon within my house: 5 Albert Drive. A lovely part of Liverpool: trendy and a little bohemian at the same time. Perfect for me. Jade and I revel in the fact that we don't even have to open the front door to go to work, except to let in clients.

It hasn't always been that way. After all the dives and sweatshops I've worked in since I was eighteen, painting nails and waxing legs all hours of the day and late into the evening, pacifying fretting clients and fussy bosses, I'm grateful to have my own business, even if it's sometimes a struggle to make ends meet.

I spend ten minutes on the exercise bicycle and realise that I did drink too much last night. The wheels are spinning and so are the walls. I heave myself out of the saddle and crawl up three floors to my bedroom, shower, make myself presentable then check the time and the phone for messages. Nothing from Jade or Bonnie. It's 11.30. I have to go out. I throw some things in a shopping bag, pull on a warm coat in dusky pink and some black boots and I'm off, striding across the park. I should make it for midday.

It's glorious outside: a beautiful March morning, early spring, and the park is a flurry of flowers, purple crocuses and a blanket of bluebells. The sky is pale blue and little clouds float across like toy yachts. There are the usual Sunday dog walkers: a black-clad Goth woman with a white wolf on a lead; a couple with a brown mongrel, clearly too in love to notice the dog running in circles and lifting its leg against a tree. I push my hands deep into my pockets, feel the breeze whisk my hair and tickle my cheek, enjoying the satisfying crunch of gravel beneath my boots. I may be fifty-five and unloved, but I try to cut a stylish figure. It's important to me as a beauty therapist to look as good as I can, even if no one's interested. I keep my hair smart, a rich honey blonde, and my teeth are in good working order. I had a smile that could light up a room, once upon a time.

I turn into a row of terraces just five minutes' walk from the park. These houses have a history. Once grand, later dishevelled, they now provide cheap accommodation and a good income for private landlords. I take out my key, ring the bell three times, which is my signal, and open the door.
---

---

Judy Leigh completed an MA in Professional Writing at Falmouth University in 2015, leaving her career of 20 years as an Advanced Skills teacher of Theatre Studies. She has had several stories published in magazines, including The Feminist Wire, The Purple Breakfast Review and You is for University. She has also trained as a Reiki healer, written a vegan recipe blog and set up a series of Shakespeare Festivals to enable young people to perform the Bard's work on stage.