ShortBookandScribes #BookReview – Keep Her Close by M.J. Ford @MJFordBooks @AvonBooksUK #BlogTour
I'm so pleased to be reviewing Keep Her Close by M.J. Ford as part of the blog tour today. I really enjoyed the first Josie Masters story, Hold My Hand, so I was eager to see what happened to her next. My thanks to Sabah Khan for the place on the tour and for sending me a review copy of the book.
---
The second edge-of-your-seat thriller from M.J. Ford

When a young woman goes missing from Jesus College, Oxford, DS Josie Masters is plunged into a world of panic as fear grips the city. Along with Thames Valley Police's newest recruit, the handsome DS Pryce, Josie must act fast – and when two more students disappear from Oriel and Somerville colleges, she realises the killer is sending her a deadly message in a cruel game of cat and mouse. This time, the case is personal – but who is the perpetrator?

In a desperate race against the clock, Josie hunts for the kidnapper, and soon discovers he could be a lot closer to home than she'd ever thought…

M.J. Ford is back with a gripping new thriller, perfect for fans of Cara Hunter and T.M. Logan.
Or support your high street with Hive.
---

When I reviewed M.J. Ford's first book, Hold My Hand, I said that I hoped it wasn't the last we would see of DS Josie Masters so I'm really pleased that Keep Her Close is the second in the series featuring that very character.
Having (sort of) bounced back from what happened in book one, a new case is set to keep Jo on her toes. A young student has gone missing from her college at Oxford and Jo is called on to investigate along with new recruit to the team, Jack Pryce. But soon matters escalate as two more students disappear and it appears that it's actually a series of kidnappings.
What I like about these stories is that they are police procedurals but with a bit more oomph. For instance, there's a real twist in the tale, in fact there are two. One I couldn't have seen coming at all, relating to why the kidnappings are happening. The other I only saw just before it was revealed, and after I had pinned the crimes on somebody else entirely.
Keep Her Close is so well plotted. I loved how it all came together in a complex and unexpected fashion. And I really love the characters. Josie is a bit of a loose cannon to be honest, but a good cop. The rest of the team are excellent complementary characters and it was great to see them return from book one. I liked Jack too, and thought he was a really interesting addition to the team.
Although you can read this as a standalone, I would recommend reading book one first as you then get to read about Josie's previous case and how it's impacted on her. I'm hoping she gets a third outing. I feel sure she will, especially given that fantastic ending.
Keep Her Close is a thrilling and gripping crime novel. I really enjoyed it.
---

---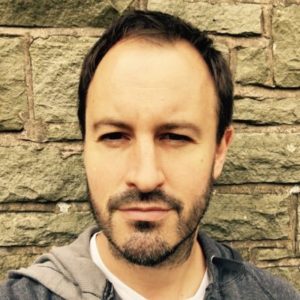 M. J. Ford is a writer and an editor at Working Partners, where he works on projects across the age groups. He loves thrillers, historical and fantasy titles. His first novel, Hold My Hand, received rave reviews in 2018, and Keep Her Close is his second thriller.
Author bio and photo taken from Amazon