Seven Day Spotlight – w/e 04/11/18
Welcome to this week's Seven Day Spotlight. Have you been to see any fireworks yet? We went on Friday night and really enjoyed the display.
When I was preparing last week's Seven Day Spotlight I knew there was something I meant to say. I remembered too late but I should have said that my blog was two years old on 25th October. Time flies, yes, but it also feels as though I've had my blog forever. Huge thanks to everyone who reads my posts, shares them on social media or likes them, to the blog tour organisers who invite me to be on their tours and to the publishers who send me books to review. I'm having a ball and love blogging.
So, what did I post on my blog this week then?
I started the week on Monday with a two book review post. The books were A Meeting of a Different Kind and The Alone Alternative by Linda MacDonald.
Tuesday's post was a guest post by Emily Kerr, one of the contributors to The Word for Freedom, a book of short stories celebrating one hundred years of women's suffrage.
Wednesday's post was a guest post by Sophie Law, author of Olga's Egg, who shared her five favourite things about being an author.
Thursday was a two post day with me sharing my review of and an extract from The Real McCoy and 149 Other Eponyms by Claire Cock-Starkey and a guest post by Tony J. Forder, author of Cold Winter Sun, about 'Getting It Done'.
Friday was another two post day with me sharing my review of She Chose Me by Tracey Emerson and a guest post by AnneMarie Brear, author of The Promise of Tomorrow, about where her ideas come from.
Finally, Saturday's post was my review of The Craftsman by Sharon Bolton, revisited for paperback publication.
---
Now, the eagle-eyed amongst you will have noticed I've been very restrained with my book acquisitions over the last couple of weeks. Normal service is resumed this week though with a much more healthy eleven books 😉
The Slow Death of Maxwell Carrick by Jan Harvey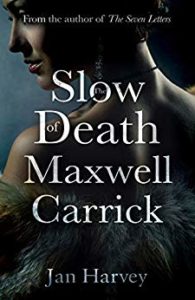 Retiring from a life in the media, journalist Martha Nelson finds herself feeling lost and struggles to adapt to her new, quieter life. When a local history group asks her to compile a book about her village, Martha stumbles across the dilapidated ruin of Lapston Manor and her curiosity is piqued. There is talk of an unexpected death, a change of ownership and a mysterious shadow of a woman called Madame Roussell. The journalist in Martha is intrigued.

As World War Two draws to a close, the residents of Lapston are visited by the mysterious and very beautiful Cécile Roussell, who has come from Paris to visit the home of her beloved 'Henri'. Henry's family and their companion, Maxwell Carrick, are in awe of her but all is not what it seems and the family is torn apart by the very visitor they welcome to their midst.

The two stories cleverly intertwine as Martha searches for the truth, but what risk will this pose to her own marriage and future happiness?
The Convalescent Corpse by Nicola Slade
A story of Family, Rationing and Inconvenient Corpses.

Life in 1918 has brought loss and grief and hardship to the three Fyttleton sisters.

Helped only by their grandmother (a failed society belle and expert poacher) and hindered by a difficult suffragette mother, as well as an unruly chicken-stealing dog and a house full of paying guests, they now have to deal with the worrying news that their late – and unlamented – father may not be dead after all.

And on top of that, there's a body in the ha-ha.
The Serial Killer's Daughter by Lesley Welsh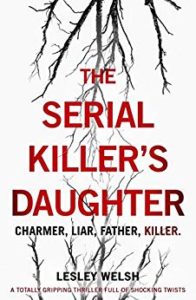 Suzanne Tyler barely knew her father. But when she's given a series of secret diaries and eight mysterious photographs of women from his possessions, she knows she won't be able to rest until she knows the truth about him.

To Suzanne's shock, one of the photos is of her friend Sophie, who died ten years ago in an unexplained and devastating fire.

But Don only met Sophie once, on an unsettling visit he paid Suzanne just days before Sophie's death… So why did he have a picture of her?

Unable to let Sophie's memory alone, Suzanne begins to dig into her father's life. What horrors is she about to unearth in his diaries? And who is it that's out there, watching her every move?
Arnesto Modesto: The World's Most Ineffectual Time Traveler by Darren Johnson
What if you could go back and do it all over again? Which aspects of your life would you keep and which would you change? Let history unfold around you naturally or help out now and again?

By sending his memories back in time, Arnesto Modesto gives himself a do-over. Of course, his much younger self may not be prepared to handle all that foreknowledge…

Encouraged by his friend Pete, Arnesto attempts to use his limited recall to do some good — and winds up stumbling through some of the biggest events of the past quarter-century.

Take it from Arnesto: Life isn't easier the second time around.

For anyone who ever wondered, "What if?"
The Coffin Path by Katherine Clements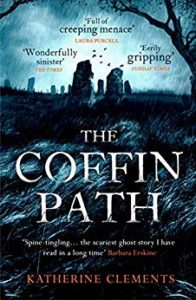 Maybe you've heard tales about Scarcross Hall, the house on the old coffin path that winds from village to moor top. They say there's something up here, something evil.

Mercy Booth isn't afraid. The moors and Scarcross are her home and lifeblood. But, beneath her certainty, small things are beginning to trouble her. Three ancient coins missing from her father's study, the shadowy figure out by the gatepost, an unshakeable sense that someone is watching.

When a stranger appears seeking work, Mercy reluctantly takes him in. As their stories entwine, this man will change everything. She just can't see it yet.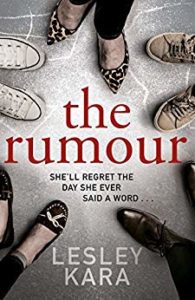 When single mum Joanna hears a rumour at the school gates, she never intends to pass it on. But one casual comment leads to another and now there's no going back . . .

Rumour has it that a notorious child killer is living under a new identity, in their sleepy little town of Flinstead-on-Sea.

Sally McGowan was just ten years old when she stabbed little Robbie Harris to death forty-eight years ago – no photos of her exist since her release as a young woman.

So who is the supposedly reformed killer who now lives among them? How dangerous can one rumour become? And how far will Joanna go to protect her loved ones from harm, when she realizes what it is she's unleashed?
Murder Undeniable by Anita Waller (no cover or link yet)
Katerina Rowe, a Deacon at the church in the sleepy village of Eyam, has a fulfilled life. She is happily married to Leon and her work is rewarding.  But everything changes when she discovers the body of a man and a badly beaten woman, Beth, in the alleyway behind her husband's chemist.

Drawn to the young woman she saved, Kat finds herself embroiled in a baffling mystery.

When Beth's house is set on fire, Kat offers the young woman sanctuary in her home and soon the pair begin investigating the murder, with some help from Beth's feisty grandmother, Doris. But neither the police, or Leon or the criminals want Kat and Beth looking into their affairs and the sleuths quickly find themselves out of their depth…

Can Kat and Beth solve the mystery and walk away unscathed?
Petals and Stones by Joanne Burn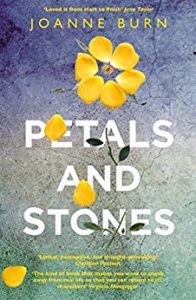 When Uma discovers her husband's infidelity just hours before his untimely death, the carefully woven threads of her life begin to unravel.

Struggling to manage the grief of those around her, she escapes to a remote cottage by the coast where she swims in the winter sea, cooks the forgotten Keralan dishes of her childhood and begins the search for her husband's lover.

It isn't long before Uma realises what she must do to pick up the tattered threads of her life. But will her choices jeopardise the only family she has left?
The Lies That Kill You by Dino Sic
Sunset.
Beach.
A man and a woman.
He's lying on the sand, bleeding. She's holding a gun, trembling.

30 DAYS EARLIER

After her mother dies from Alzheimer's, Emma moves with her husband to Montauk to build a new life. She's immediately intrigued by the manor next door and its mysterious owner, Mr. Gold. Nobody has ever seen him. Nobody even knows his first name. But he knows them.

The next day, Emma finds an invitation at her doorstep for the 4th of July party hosted by Mr. and Mrs. Gold. Her husband doesn't want to go, but she can't resist the temptation. It's the biggest mistake of her life because, after she sees something at that party, she'll get herself involved in a mystery that could destroy her and her family for good.

The day after, Gold's wife has disappeared, and he's a potential suspect. Emma believes he's innocent and wants to help him, and he trusts only her. In spite of her husband's jealous protest, she agrees to cover his case on her blog and uncover the truth. She'll find out that his wife isn't just another gone girl and that there's a dark and sick scheme in play. What she doesn't know is that someone is watching her every move, that someone has broken into her house while she was sleeping, and that someone is pulling her strings behind the curtains. Soon, she will, and it will lead to …

… that night on the beach. With a gun in her hand, she has two options—she can either pull the trigger and save her family or do the right thing and lose everything she cares about. What is she going to do?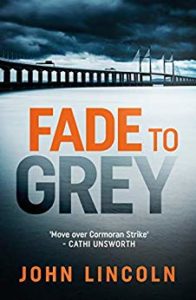 Meet Gethin Grey, crusading hero with problems of his own. His Last Resort Legals team investigates miscarriages of justice in and around Cardiff; on the side he gambles and struggles with a creaking marriage.

Izma M. was sent down for the brutal murder of Hannah Gold. In jail, he penned an acclaimed autobiography and attracted supporters convinced of his innocence; the charismatic Amelia Laverne among them.

Gethin is less convinced but he needs the money so when Amelia offers to fund an investigation to prove Izma's innocence, he takes on the case.

The stakes prove chillingly higher than Gethin ever imagined and Amelia shows herself to be a force of nature, both mesmerising and destructive.
Christmas at Emmerdale by Pamela Bell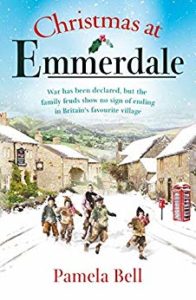 A wonderful Christmas gift for fans of ITV's Emmerdale and readers who love heartwarming and heartbreaking stories set in wartime.

August 1914, and a terrible war begins, one that will affect the lives of everyone in the village of Beckindale. For Maggie Sugden, left to run Emmerdale Farm on her own while her husband, Joe, is at the front, it will bring grief and loss but also independence and the chance to find a place to belong – and perhaps even to love again.

Christmas At Emmerdale is the first in a sweeping new saga series, exploring the lives of Emmerdale's much-loved families during the run up to the Great War.