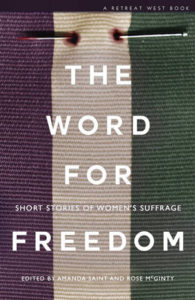 ShortBookandScribes – #BlogTour #GuestPost by Emily Kerr for The Word for Freedom, Short Stories of Women's Suffrage #RandomThingsTours
Welcome to my stop on the blog tour for The Word for Freedom, an anthology of short stories celebrating one hundred years of women's suffrage. It will be published on 1st November. My thanks to Anne Cater for the place on the tour.

A collection of 24 short stories celebrating a hundred years of women' suffrage, from both established and emerging authors, all of whom have been inspired by the suffragettes and whose stories, whether set in 1918, the current day or the future, focus on the same freedoms that those women fought for so courageously.

A clerk of works at the Palace of Westminster encounters Emily Davison in a broom cupboard; a mermaid dares to tread on land to please the man she loves; a school girl friendship makes the suffragette protests relevant to the modern day; a mother leaves her child for a tree; an online troll has to face his target; and a woman caught in modern day slavery discovers a chance for freedom in a newspaper cutting.

These stories and many more come together in a collection that doesn't shy away from the reality of a woman's world, which has injustices and inequalities alongside opportunities and hard-won freedoms, but always finds strength, bravery and hope.

Through this anthology Retreat West Books is proud to support Hestia and the UK Says No More campaign against domestic abuse and sexual violence.

Authors that have donated stories include:

Sophie Duffy, author of The Generation Game;
Angela Readman, Costa Short Story Award winner;
Anna Mazzola, author of The Story Keepers and winner of the Edgar Allen Poe award;
Isabel Costello, author of Paris, Mon Amour and host of The Literary Sofa blog;
Angela Clarke, best-selling author of the Social Media Murders series;
Karen Hamilton, author of The Perfect Girlfriend;
Helen Irene Young, author of The May Queen;
Victoria Richards, journalist and award-winning short story writer; and
Cath Bore, feminist short story writer and broadcaster.
---

Girl Power by Emily Kerr
The first album I owned was by the Spice Girls and I listened to it so many times the cassette tape went a bit funny and the lyrics became distorted. But while their rallying calls for "Girl Power" provided a background soundtrack to my formative years, my influence towards that mindset of female empowerment came from much closer to home. I was very fortunate to grow up in an environment surrounded by strong women, inspiring female role models who showed me that if I was determined and worked hard, I could achieve whatever I set my mind to.
My granny on my mum's side of the family was one of these role models. She learned how to drive in her 50s, and when I was terrified at the thought of getting behind the wheel, I thought of her determination to pass her test and gritted my teeth and got on with it. Every Sunday, she used to travel to church and sit on a bench near the back, listening to people's problems and being a source of support for them. She showed me the importance of compassion and helping others.
When my dad was just 12-years-old, his father died unexpectedly. Suddenly my grandma had to face the prospect of bringing up two young sons and a bumptious dog by herself. Despite the devastating situation, somehow, she managed to hold everything together. She went out, found a job and battled on. She was a great believer in being able to stand on your own two feet, but she also knew when to ask for help. Her example helped me to understand that it's not a weakness to reach out to others. She apparently used to joke that if she came back in another life, she'd return as someone far less capable, as it would be much less work!
Of course, no blog on female role models would be complete without mention of my mum, who has probably been one of my biggest influences. She's an English teacher, and I was lucky enough to attend the school she taught at. This could have been a challenging experience.  But, aside from meaning I had to be extra careful about adhering to the uniform policy, it enabled me to see her both as my nurturing and caring mum, and as a strong, gifted and inspirational professional woman whose talent and work ethic was something I aspired to emulate.
And she, together with my dad, gave me the greatest gift of all – a love of reading. Both my parents are big readers. In fact, they actually had to have the floor of the living room strengthened because they have so many books in there. It was therefore only natural that I would pick up the family trait. When I finished the 'age-appropriate' books at my primary school and they were reluctant for me to be able to try the next level reading material, my mum fought and won the right for me to borrow books from her senior school library. I devoured everything I could get hold of, and as I worked my way through those shelves growing up, I acquired an even greater collection of role models. I wanted to be as witty and clever as Lizzy Bennet, to have the courage and determination of Vera Brittain, and the self-reliance and fortitude of Jane Eyre.
I learned that stories are amazing things and they change lives. Words have power, the power to inspire and therefore to create change. And that's why I wanted to contribute to "The Word for Freedom" anthology celebrating 100 years of suffrage and raising money for the charity Hestia.
Thanks for such a fabulous post, Emily.
Biography:
Emily Kerr is proud to be a feminist. Her day job is as a journalist for ITV News and she spends her spare time writing fiction. Her novel "Who Does He Think He Is?" was shortlisted for the Joan Hessayon Award 2017. Her short story "Out of Office" is one of twenty-four stories in the anthology "The Word For Freedom" published by Retreat West Books in support of the charity Hestia. It is available from 1st November.
---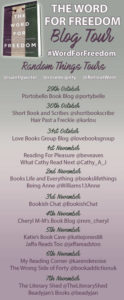 ---
Retreat West Books is an independent press publishing paperback books and ebooks.
Founder, Amanda Saint, is a novelist and short story writer. She's also a features journalist writing about environmental sustainability and climate change. So all Retreat West Books publications take advantage of digital technology advances and are print-on-demand, in order to make best use of the world's finite resources.
Retreat West Books is an arm of Amanda's creative writing business, Retreat West, through which she runs fiction writing retreats, courses and competitions and provides editorial services.
Initially started to publish the anthologies of winning stories in the Retreat West competitions, Retreat West Books is now open for submissions for short story collections, novels and memoirs. Submission info can be found here.