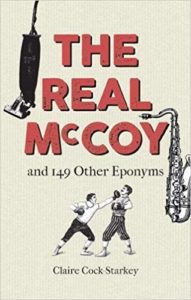 ShortBookandScribes #BookReview and #Extract from The Real McCoy and 149 Other Eponyms by Claire Cock-Starkey @nonfictioness @BodPublishing #blogtour
I was delighted when Claire Cock-Starkey asked me to be a part of the blog tour for her latest book, The Real McCoy and 149 Other Eponyms. I really enjoyed her previous two books, reviews of which you can read by clicking on the titles below.
You can read my thoughts below along with an extract from the book.
---

The English language is rich with eponyms – words that are named after an individual – some better known than others. This book features 150 of the most interesting and enlightening specimens, delving into the origins of the words and describing the fascinating people after whom they were named. Eponyms are derived from numerous sources. Some are named in honour of a style icon, inventor or explorer, such as pompadour, Kalashnikov and Cadillac. Others have their roots in Greek or Roman mythology, such as panic and tantalise. A number of eponyms, however, are far from celebratory and were created to indicate a rather less positive association – into this category can be filed boycott, Molotov cocktail and sadist. Encompassing eponyms from medicine, botany, invention, science, fashion, food and literature, this book uncovers the intriguing tales of discovery, mythology, innovation and infamy behind the eponyms we use every day. The perfect addition to any wordsmith's bookshelf.
---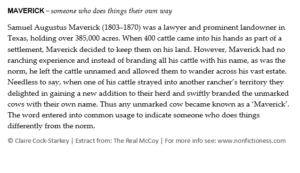 Fascinating!!
---
This is another of Claire Cock-Starkey's lovely little hardback books, crammed full of fascinating facts. This time, she has turned her attention to eponyms, words that are named after an individual.
Some of my favourite entries were The Full Monty (well, I am from Sheffield), berserk (derived from ancient Norse Berserkers), Spoonerism (you know, when you transpose initial letters of words – one of my most common ones is par cark!) and there were many more that interested me. So many of these words are ones we use in everyday life without realising that a person gave their name to it.
There's something for everyone here. This is the sort of book you can dip into when you feel like it or when you suddenly wonder how a name for something came about. The eponyms are indexed by name or by category such as Botanical/Zoological, Literary/Cultural, Medical and so on, which makes it easy to find exactly what you're looking for.
I think The Real McCoy and 149 Other Eponyms will make the perfect gift this Christmas for anyone who enjoys finding out how words originated, or you could treat yourself of course.
---

---

Claire Cock-Starkey is the author of The Book Lovers' Miscellany (2017) and A Library Miscellany (2018).