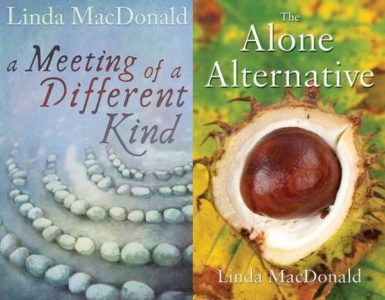 ShortBookandScribes #BookReviews – A Meeting of a Different Kind and The Alone Alternative by Linda MacDonald @LindaMac1 #BlogTour #RandomThingsTours
I'm so pleased to be taking part in the two book blog tour for A Meeting of a Different Kind and The Alone Alternative by Linda MacDonald today. My thanks to Anne Cater for the place on the tour. Both books are currently just 99p for the ebook version so snap them up whilst you can.
You can read my reviews of Linda's other books, Meeting Lydia and The Man in the Needlecord Jacket by clicking on the titles.

A Meeting of a Different Kind

When archaeologist Edward Harvey's wife Felicity inherits almost a million, she gives up her job, buys a restaurant and, as a devotee of Hugh Fernley-Whittingstall, starts turning their home into a small eco-farm. Edward is not happy, not least because she seems to be losing interest in him. Taryn is a borderline manic-depressive, a scheming minx, a seductress and user of men. Edward and Taryn don't know each other but they both know Marianne. To Edward, Marianne is a former classmate who sends him crazy emails. She is Taryn's best friend, and when Marianne meets Edward, she tells Taryn how wonderful he is and that he is not the philandering type. Taryn sees a challenge and concocts a devious plan to meet him during a series of lectures he is giving at the British Museum. When Edward and Taryn's paths cross, questions of friendship, loyalty and betrayal are played out against a backdrop of mental fragility and the destabilising effects of a large inheritance… Set in Broadclyst and Beckenham, with a chapter on the Isles of Scilly, A Meeting of a Different Kind is the stand-alone sequel to Meeting Lydia, continuing the story from the perspectives of two very different characters. Like its prequel, it will appeal to fans of adult fiction, especially those interested in the psychology of relationships.
---
Having read Meeting Lydia and The Man in the Needlecord Jacket, I was keen to go back and read the middle two books of this linked series. Don't worry if you read them out of order, like me, as they work perfectly fine as standalone books, although it is nice to follow the story from beginning to end.
In A Meeting of a Different Kind, we return to Edward and Marianne, who met up again in Meeting Lydia after many years when Marianne tracked Edward down on Friends Reunited. Edward's wife, Felicity, is having what might be termed a mid-life crisis. Her mother has recently passed away and left her a huge amount of money which Felicity is determined to use to fulfil her lifelong dream of owning a restaurant. This leaves Edward rather sidelined and his growing friendship with Marianne becomes more central to his life. But Marianne's friend, Taryn, something of a man-eater, decides that she wants a bit of Edward for herself.
This is a story of relationships and the psychology behind them, something that Linda MacDonald really excels at. It's all about feelings, the way that what other people say and do can be so crucial to how you feel about yourself and your life.
As with Meeting Lydia, I liked Edward very much and Marianne too. Taryn was a little harder to like although things do turnaround where she's concerned, and Felicity is a fairly sketchy character in that she's busy 'doing' in the background of Edward's life.
I enjoyed this book, more than Meeting Lydia which I found very philosophical in tone. A Meeting of a Different Kind seems a little less like that somehow but just as thought-provoking. Like all of MacDonald's books, it's very much character-driven but with an engaging story too.
---

The Alone Alternative

Former classmates Edward and Marianne, now fifty-five, have experienced a turbulent few years having lost contact with each other and suffered painful disruption to their home lives. Reunited again, this time through Twitter, they set about a search for personal fulfilment, but once again there are obstacles in the way – not least in the form of twice-widowed Jessica, Edward's neighbour, who threatens to destroy their pursuit of happiness and whose behaviour has alarming consequences.
The extraordinary weather conditions prompt Edward and a former colleague to resurrect an idea for a documentary series that sets to challenge consumerist lifestyles. The Isles of Scilly become a model for sustainability and a filming trip to the islands provides an idyllic backdrop to the unfolding romantic tensions.

Set in 2012, the year of the London Olympics, the action alternates between Broadclyst and Beckenham and examines the difficult issues faced in committing to a new relationship in midlife. Could being alone be a preferable alternative?
Continuing themes of psychology, relationships and environmental sustainability, The Alone Alternative is the sequel to A Meeting of a Different Kind and the third and final part of the 'Lydia' series. Written from both male and female perspectives, it also stands alone as a fascinating read for both men and women who enjoy thought-provoking fiction, keeping readers guessing until the very end.
---
The Alone Alternative is book three is a series of four related books by Linda MacDonald. The focus is slightly different in each but most of the same characters pop up somewhere in each book. After The Man in the Needlecord Jacket, The Alone Alternative is my second favourite. I think MacDonald's writing has gone up a level with each book.
Again, Marianne and Edward are central to the storyline with changes to both of their marriages leaving them potentially free to take their friendship to another level. But Edward finds that, as a newly eligible man, he catches the eye of more than one woman in his village, the most unstable of whom is Jessica, a woman his daughter refers to as a witch!
There are many things I enjoyed about this book. I loved that the setting moved for a time to the Isles of Scilly – I find books set around islands so interesting. There's also a focus on the environment and sustainability. The book is set in 2012 and since then this issue has only become more important. I also liked that the social media aspect was brought up to date with the use of Twitter (Meeting Lydia relied on Friends Reunited to bring Edward and Marianne together). Finally, I thought the relationships and psychology in this book fascinating.
This is a lovely story of second chances and of working out where you belong when everything you knew is shaken up. Linda MacDonald writes so well, focusing on the 40 and 50+ protagonists. I hope we haven't seen the last of these characters – maybe there will be a book five?
---

---

Linda MacDonald is the author of four novels: Meeting Lydia and the stand-alone sequels, A Meeting of a Different Kind, The Alone Alternative and The Man in the Needlecord Jacket. All Linda's books are contemporary adult fiction, multi-themed, but with a focus on relationship issues.
After studying psychology at Goldsmiths', Linda trained as a secondary science and biology teacher. She taught these subjects for several years before moving to a sixth-form college to teach psychology. The first two novels took ten years in writing and publishing, using snatched moments in the evenings, weekends and holidays. In 2012, she gave up teaching to focus fully on writing.
Linda was born and brought up in Cockermouth, Cumbria and now lives in Beckenham in Kent.
Follow her on Twitter