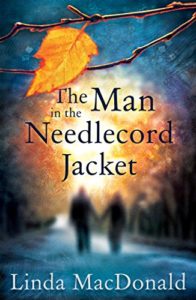 #blogtour – The Man in the Needlecord Jacket by Linda MacDonald @LindaMac1 @BrookCottageBks #bookreview #giveaway
I'm delighted to be on the blog tour for this book today which I absolutely loved reading.
Genre: Adult contemporary fiction; Domestic Noir
Release Date: 28th May 2017
Publisher: Matador – An imprint of Troubador Publishing

The Man in the Needlecord Jacket follows the story of two women who are each struggling to let go of a long-term destructive partnership. Felicity is reluctant to detach from her estranged archaeologist husband and, after being banished from the family home, she sets out to test the stability of his relationship with his new love, Marianne.

When Felicity meets Coll, a charismatic artist, she has high hopes of being distracted from her failed marriage. What she doesn't know is that he has a partner, Sarah, with whom he has planned a future. Sarah is deeply in love with Coll, but his controlling behaviour and associations with other women have always made her life difficult. When he becomes obsessed with Felicity, Sarah's world collapses and a series of events is set in motion that will challenge the integrity of all the characters involved.

The Man in the Needlecord Jacket is a thought-provoking book, written from the perspectives of Sarah and Felicity. The reader is in the privileged position of knowing what's going on for both of the women, while each of them is being kept in the dark about a very important issue.

Inspired by the work of Margaret Atwood and Fay Weldon, Linda explores the issue of mental abuse in partnerships and the grey area of an infidelity that is emotional, not physical. The book will appeal to readers interested in the psychology of relationships, as well as fans of Linda's 'Lydia' series.
The first thing about this book that attracted my attention was the title. Immediately I started to wonder who this man was in his needlecord jacket.
That man is Coll, named after the Scottish island, not short for Colin. In his 50s, he is one of those men who comes to life around a woman he feels 'gets him'. Felicity is one of those women but his poor long-suffering partner of 10 years, Sarah, doesn't seem to be anymore.
Although Coll is the character around which the story revolves, it's told from the points of view of Felicity and Sarah. It's very much a character-driven tale with little plot as such. It's a slice of life story, covering the short time after Coll meets Felicity. I liked Felicity in many ways but I found her to be quite selfish at times. She's strong and goes for what she wants (even when that means breaking up her 30 year marriage to a good man). She's a restaurateur and a mother. But I liked Sarah more for her kindness and her patience even if I did want to shake her sometimes for her seeming devotion to a man who calls her a liability! They were two quite different female characters and I liked the contrast between them.
I found this to be a fascinating read. Being a character-driven book means the characters have to deliver and they do here. I found I could imagine each one very well, how they would behave and speak. The two women do a good job of describing Coll too, essentially a weak man who thinks highly of himself and to be honest has few redeeming features.
I cared about the female characters. Sarah and Coll visit Venice and without giving anything away, I felt Sarah's emotions so strongly during their trip. I was also pleased with the ending which I thought was just right.
I was happy when I got to the end to find out that some of the characters feature in Linda MacDonald's other books. I really liked this one and it grew on me more and more as I read on. It kind of crept up on me – a quiet book which had a real impact on me. There's a lot of empathy in the writing. This is a look at the psychology of relationships, how we can hurt each other and how selfish we can be sometimes. It's a brilliant look at human nature at its best and worst. I loved it.
With thanks to the author and Netgalley for the review copy and to Brook Cottage Books for the place on the blog tour. The Man in the Needlecord Jacket is available now in ebook and paperback.
---
If you like the sound of The Man in the Needlecord Jacket then you can buy it here:
I also have a fantastic giveaway for you. I just wish I could enter it myself.
---
---

Linda MacDonald is the author of three independently published novels: Meeting Lydia and the stand-alone sequels, A Meeting of a Different Kind and The Alone Alternative. They are all contemporary adult fiction, multi-themed, but with a focus on relationship issues.
After studying psychology at Goldsmiths', Linda trained as a secondary science and biology teacher. She taught these subjects for several years before moving to a sixth-form college to teach psychology. In 2012, she gave up teaching to focus fully on writing.
Linda was born and brought up in Cockermouth, Cumbria and now lives in Beckenham, Kent.