ShortBookandScribes #BookReview – She Chose Me by Tracey Emerson @TraceyJEmerson @Legend_Press #BlogTour
I'm so pleased to be sharing my review of She Chose Me by Tracey Emerson today as part of the blog tour. My thanks to Lucy Chamberlain from Legend Press for the place on the tour and the review copy.

'Not having a child can change your life as much as having one.' 

Grace has returned to London after twenty years abroad to manage her dying mother's affairs. When she receives a blank Mother's Day card in the post, she is confused and unsettled. Who could have sent it to her and why? She isn't a mother.

Another Mother's Day card arrives. Then come the silent phone calls. Haunted by disturbing flashbacks, Grace starts to unravel. Someone is out to get her. Someone who knows what she has done. Someone who will make her face the past she has run from for so long.

Emerson creates an intricate web in this intense psychological thriller whose high energy and fast-pace will have you racing towards the climactic conclusion. Perfect for fans of The Girl Before.
---
'Not having a child can change your life as much as having one.' 
I was intrigued straightaway by this tagline, especially when I read further into the blurb and the whole idea of these Mother's Day cards being sent to someone who isn't a mother. What's that all about?
Well, Grace is the one receiving those cards. She's just returned to London from teaching English in Singapore. The only reason for her return is her mother, who is suffering from dementia and is now very ill. Other than that, Grace seems like a free spirit, one who has sought out a life away from home, the reasons for which become clear as the story progresses. There's another main character, the person sending the cards, and that person is really very disturbed. I can't say anything about who they are or why they are sending the cards but let's just say it all came together nicely and everything was not what it seemed!
I would advise taking note of the chapter headings as the book begins. I didn't, and regretted it as I became a little confused. Both strands of the story are told in the first person without defining who is talking but it becomes quite obvious (especially if you pay more attention than I did!). I do love a book that challenges me in this way and so I really enjoyed the way it unfolded bit by bit and that I had to think about who was telling me which bits of the story.
There are some sinister events in this novel, not only the cards but Grace is spied on and monitored. You know when you sometimes get that feeling you are being watched? Grace has quite a bit of that going on. I thought she was a decent person, someone whose past had had an effect on the rest of her life. The other main character is really interesting and completely unstable but they certainly made for fascinating reading.
She Chose Me is a fast-paced psychological thriller that drew me in and kept me turning the pages, faster and faster as I raced towards the conclusion. It explores strong themes of loss, of being let down and abandoned, and I thought it was very well-plotted.
---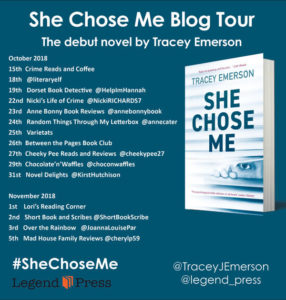 ---

Before writing fiction, Tracey worked in theatre and community arts. As well as acting, she ran drama workshops in hospitals, focusing on adults with mental health issues. She has a PhD in Creative Writing from The University of Edinburgh and works as a literary consultant and writing tutor. She is also the Creative Director of The Bridge Awards, a philanthropic organisation that provides micro-funding for the arts. She Chose Me is Tracey's first novel.