ShortBookandScribes #BlogBlitz #GuestPost by Tony J. Forder, Author of Cold Winter Sun @TonyJForder @Bloodhoundbook
Welcome to my stop on the blog blitz for Cold Winter Sun by Tony J. Forder. I have a guest post by Tony about 'Getting it Done' for you today. I'd like to thank Emma Welton from Bloodhound for the place on the blitz.

A missing man. A determined hunter. A deadly case.

When Mike Lynch is contacted by his ex-wife about the missing nephew of her new husband, he offers to help find the young man with the help of his friend Terry Cochran.

Arriving in LA to try and track down the young man, the pair are immediately torn away when the missing man's car shows up, abandoned on the side of a deserted road in New Mexico.

When two fake police officers cross their path, Terry and Mike know there is more to the case than meets the eye, and soon they find themselves asking exactly who it is they are really looking for…
---

GETTING IT DONE by TONY J FORDER
Writing is never the hard part for me. Getting things written is a different matter entirely. Or at least, it used to be.
When I was employed in a full-time job I would leave the house at 6.30am and get home around twelve hours later. Often I was not actually finished working, so what with life and work getting in the way, books had to be written during snatched moments, often late at night. I wrote my first two books that way, like most people do at my end of the literary scale, fitting it in around work and family commitments.
It's a tough way to write a book; not the writing itself, exactly, but keeping it all in your head, maintaining the focus on characters and scenes, all the while chipping away at the story you are trying to tell to the best of your ability. But it's how part-time writers have to do it, and there are no short cuts. I started way more books than I ever finished, because I had to focus on the strongest possible storyline and characters. But then, they never go away unless you delete them.
Having been made redundant and started my own business, I managed to set aside certain days for writing. This opened up a whole new world to me. Being able to spend 6-8 hours a day focused only on my work in progress at the time enabled me to write at a faster pace than I had ever previously enjoyed. Of course, having your own business allows you to work that way in theory mainly. In practice, it never quite turns out like that. I worked in IT, so there were always e-mails coming in, phone calls for support or advice, many of which meant I had to remote across to the client's site in order to get the job done. That's without the physical appearances on site for meetings and to carry out those jobs which did not lend themselves to remote connectivity.
Nevertheless, I was getting some serious writing done, and despite the many intrusions from my other job I was also able to keep my focus on each WIP, as well as the editing from the previous piece of work. It wasn't quite the Nirvana I had been looking for, but it was pretty close.
As I write I am less than a month into my full-time writing career. At some point earlier this year I decided I'd had enough of the IT world and running that business. My largest contract was coming to an end in August, and instead of putting myself out there to gain another to fill the gap, I took the plunge and dropped the whole thing altogether. Only time will tell whether I can make a success out of writing for a living. The more I write the better chance I have, and the more hours I can devote to writing the more I should be able to write. Life is rarely like that, however. It doesn't keep on giving, and there have to be tougher times ahead. Maybe the ideas will stop coming, perhaps they will continue to flow but I won't be able to get them published. Who knows what lies in front of us?
The main thing is I have the time now. Time to do something every day that I absolutely love doing. It's late in the day in terms of my time on this planet, but I feel so fortunate. Some people never get to experience what I am doing right now, they never get to see their hard work published, never have a best-selling series, and never reach the point where, when asked what they do for a living, they can honestly say: I am an author.
It's no longer a hobby. It's not even a part-time occupation. It is my occupation. And right now I wouldn't swap it for anything.
Thank you, Tony. I wish you all the best as a full time author!
---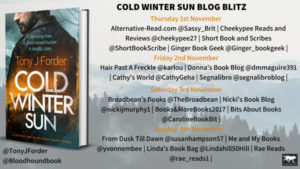 ---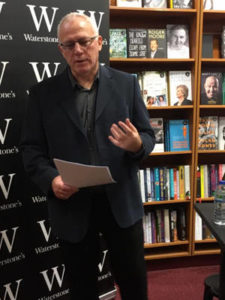 Tony J Forder is the author of the critically acclaimed, best-selling crime thriller series featuring detectives Jimmy Bliss and Penny Chandler. The first three books, Bad to the Bone, The Scent of Guilt, and If Fear Wins will be joined by a fouth in the series in 2019.
Tony's dark, psychological crime thriller, Degrees of Darkness, featuring ex-detective Frank Rogers, was also published by Bloodhound Books. This is a stand-alone novel. Another book that was written as a stand-alone was Scream Blue Murder. This was published in November 2017, and received praise from many, including fellow authors Mason Cross, Matt Hilton and Anita Waller. Before it had even been published, Tony had decided to write a sequel, and Cold Winter Sun will be published in November 2018.
Tony lives with his wife in Peterborough, UK, and is now a full-time author.
Author Links: