Seven Day Spotlight – w/e 04/02/18
Welcome to another Seven Day Spotlight post. This week on my blog:
I reviewed Miss Boston and Miss Hargreaves by Rachel Malik, which is a tender love story.
I also reviewed Tunes on a Penny Whistle and Tuppenny Rice & Treacle by Doris E. Coates. The former is a memoir of a Derbyshire childhood and the latter is a book of recipes, household tips and a look at the author's grandmothers' household accounts. Fascinating!
I shared an extract from brand new psychological thriller, Hiding by Jenny Morton Potts.
Ella Harper, author of If I Fall, wrote a guest post about where she finds her inspiration from.
I reviewed Here Come the Trolls and Day of the Trolls, written by Ron Butlin and illustrated by James Hutcheson. These books are lots of fun for kids.
I reviewed After Leaving the Village by Helen Matthews, which I found enlightening and thrilling.
I reviewed Rocky Rocks and the Colourful Socks by Seniha Slowinski and illustrated by Nick Roberts. This book is great for kids to shout out when they spot the colours of the socks.
And finally, I had a guest post from Daisy White, author of Before I Found You, about writing a period mystery series.
---
And now to additions to my TBR pile this week:
It's One of Ours by Joan M. Moules
Anna and Joe Putts daughter was born on September 3rd 1939 as the first sirens wailed throughout London. Eight months later Joe was in the army and like so many other young wives and mothers Anna concentrated all her love and attention on her child. A traumatic experience on the one occasion when she did go out for her own pleasure had repercussions she could never have imagined…
Let Me Lie by Clare Mackintosh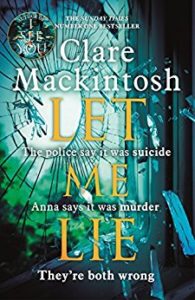 The police say it was suicide.
Anna says it was murder.
They're both wrong.

One year ago, Caroline Johnson chose to end her life brutally: a shocking suicide planned to match that of her husband just months before. Their daughter, Anna, has struggled to come to terms with their loss ever since.
Now with a young baby of her own, Anna misses her mother more than ever and starts to ask questions about her parents' deaths. But by digging up the past, is she putting her future in danger? Sometimes it's safer to let things lie . . .
A House Full of Secrets by Zoë Miller
All she sees is the perfect man – but what is he hiding?

An invitation to visit Niall's childhood home is too good an opportunity for Vikki to pass up. This is the chance she's been waiting for to get closer to her friend, and to meet the family he's always been so cryptic about.

But when Vikki arrives at the beautiful but remote Lynes Glen on Ireland's west coast, and finally meets Niall's estranged brother Alex and his overbearing sister Lainey, she realises that this reunion will be far from heart-warming.

As Vikki fails to convince any of them that she saw a mysterious woman at the lake – off-limits since a tragic accident – strange and sinister incidents begin to happen at the Blake family home. What secrets are they keeping? And why exactly did Niall ask Vikki to join him for the weekend?
The Last of the Greenwoods by Clare Morrall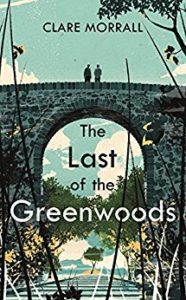 In a field outside Bromsgrove, two elderly brothers live in adjoining railway carriages. No one visits and they never speak to each other. Until the day Zohra Dasgupta, a young postwoman, delivers an extraordinary letter – from a woman claiming to be the sister they thought had been murdered fifty years earlier.

So begins an intriguing tale: is this woman an impostor? If she's not, what did happen all those years ago? And why are the brothers such recluses? Then there's Zohra. Once a bright, outgoing teenager, the only friend she will see from her schooldays is laidback Crispin, who has roped her in to the restoration of an old railway line on his father's land. For which, as it happens, they need some carriages . . .

With wry humour and a cast of characters as delightful as they are damaged, Clare Morrall tells an engrossing story of past misdeeds and present reckoning, which shows that for all the wrong turnings we might take, sometimes it is possible to retrace our steps.
The Man Who Didn't Call by Rosie Walsh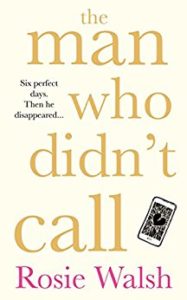 If you've ever found yourself waiting for a call that didn't come, The Man Who Didn't Call by Rosie Walsh is the book for you.

Imagine you meet a man, spend six glorious days together, and fall in love. And it's mutual: you've never been so certain of anything.

So when he leaves for a long-booked holiday and promises to call from the airport, you have no cause to doubt him.
But he doesn't call.

Your friends tell you to forget him, but you know they're wrong: something must have happened; there must be a reason for his silence.

What do you do when you finally discover you're right? That there is a reason — and that reason is the one thing you didn't share with each other?
A Country Escape by Katie Fforde
Fran has always wanted to be a farmer. And now it looks as if her childhood dream is about to come true.

She has just moved in to a beautiful but very run-down farm in the Cotswolds, currently owned by an old aunt who has told Fran that if she manages to turn the place around in a year, the farm will be hers.

But Fran knows nothing about farming. She might even be afraid of cows.

She's going to need a lot of help from her best friend Issi, and also from her wealthy and very eligible neighbour – who might just have his own reasons for being so supportive.

Is it the farm he is interested in? Or Fran herself?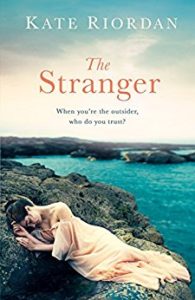 When you're the outsider, who do you trust?

Cornwall, 1940.

For decades, Penhallow Hall has stood frozen in time, protecting the secrets of its isolated inhabitants. But the far corners of England are no shelter from the war, and Penhallow must finally open its doors to strangers.

Three newcomers arrive, each looking to escape their past. They adjust easily to the routine – nightly blackouts, the threat of invasion – but tensions mount and secrets are forced into the open. For one of them is not there by choice. And then, in the hushed hours of deepest night, a young woman is taken by the sea.

Was it simply a tragic accident? Or should the inhabitants of Penhallow have been more careful about whom they invited in?
Where the Missing Go by Emma Rowley
MY NAME IS KATE.

I volunteer at a missing persons helpline – young people who have run away from home call me and I pass on messages to their loved ones, no questions asked.

I don't get many phone calls, and those I do are usually short and vague, or pranks.

But today a girl named Sophie called.

I'm supposed to contact her parents to let them know their child is safe.

The problem is, Sophie isn't safe.

AND SOPHIE IS MY DAUGHTER.
Late one night a man walks into the luxurious home of disgraced banker Harry McNamara and his wife Julie. The man launches an unspeakably brutal attack on Harry as a horror-struck Juliewatches, frozen by fear. It looks like Harry's many sins – corruption, greed, betrayal – have finally caught up with him.

An hour later the intruder, JP Carney, hands himself in, confessing to the assault. The police have a victim, a suspect in custody and an eye-witness account, but Julie remains troubled.

Has Carney's surrender really been driven by a guilty conscience or is this confession the first calculated move in a deadly game?
Christmas at the Comfort Food Café by Debbie Johnson (this was a competition win)
Becca Fletcher has always hated Christmas but she has her reasons for being Little Miss Grinch. Now, though, she can't avoid her version of ho-ho-hell – because she's travelling to the Comfort Food Cafe to spend the festive season with her sister Laura and her family. She's expecting mulled wine, 24-hour Christmas movie marathons and all kinds of very merry torture.

Little does Becca know that the Comfort Food Cafe is like no other place on earth. Perched on a snow-covered hill, it's a place full of friendship where broken hearts can heal, new love can blossom and where Becca's Christmas miracle really could happen – if only she can let it…
Wartime Brides and Wedding Cakes by Amy Miller
January 1941: As Charlie Barton tiptoes silently out of the house one cold winter morning to go off and fight for his country, his wife Audrey is left to run the family bakery on her own.

Times are tougher than ever, but at the Barton Bakery in Bournemouth, Audrey is determined as always to serve the town with love, loaves and cakes, even as the town is reeling from the struggles of the Blitz.

Audrey's brother William has returned from battle with serious wounds. His fiancé Elsie is waiting for wedding bells, but William is a changed man, and will her hopes be in vain?

Bakery helper Maggie has her heart set on dashing officer George. But will George still want to marry her when he discovers the truth about her family?

And Lily, Audrey's stepsister, is struggling to raise her illegitimate baby and facing judgement from many in the town. The man who broke her heart returns with an offer, and Lily faces a hard decision about where her future lies.

When disaster strikes the bakery, Audrey fears that everything she has worked for may be ruined. With her shop threatened and her family in turmoil, can she fight to save everything she holds dear?

Wartime Brides and Wedding Cakes is a romantic and heart-warming tale of cakes and confetti, perfect for fans of Sheila Newberry, Nadine Dorries and Ellie Dean.
Beautiful Liars by Isabel Ashdown (pre-order)
Eighteen years ago Martha said goodbye to best friend Juliet on a moonlit London towpath.
The next morning Juliet's bike was found abandoned at the waterside.
She was never seen again.

Nearly two decades later Martha is a TV celebrity, preparing to host a new crime show… and the first case will be that of missing student Juliet Sherman. After all these years Martha must reach out to old friends and try to piece together the final moments of Juliet's life.

But what happens when your perfect friends turn out to be perfect strangers…?