#bookreview – Tunes on a Penny Whistle and Tuppenny Rice & Treacle by Doris E. Coates @Authoright #blogtour
I'm delighted to be taking part in the blog tour for these two lovely books. Thank you to Rachel Gilbey from Authoright for the place on the tour and the review copies.
Here's what the books are about:
Tunes on a Penny Whistle: A Derbyshire Childhood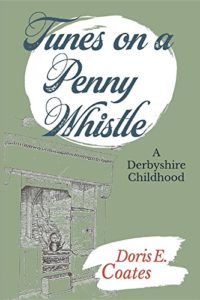 The early 1900s were a period of great hardship for many working-class families, particularly in rural areas. However, they were also times of pride and self-sufficiency, with fun and laughter derived from simple pleasures as well as mutual support and courage when poverty could have become unbearable.
This book is a personal history of a childhood in the village of Eyam – known as the Plague Village – in the Peak District of Derbyshire. Doris recalls how her mother confronted tough living conditions without labour-saving devices and often with little or no money.
She remembers, too, her father, who fought for the right for union representation, worked for self-help groups, and organised political meetings and village entertainments. He was a talented self-taught musician, producing a wide range of music on his Canadian organ and penny whistle. His fighting spirit made him a remarkable and influential character within the village community.
Both humourous and shocking, this description of domestic and community life at the beginning of the twentieth century is illustrated with many contemporary photographs, documents, and line drawings by George Coates, the author's husband.
Purchase from Amazon UK
Tuppenny Rice and Treacle: Cottage Housekeeping 1900-1920 
Feeding a family on a limited budget is always a challenge. Yet even with a budget as low as ten shillings (50p) a week in the early part of the twentieth century, it is remarkable how interesting and varied the menu could be.
This delightful book draws on recipes compiled by Doris's mother in Derbyshire and mother-in-law in Cumberland, and contains detailed records of weekly expenditure.
It includes numerous recipes for nutritious and filling meals for working men and growing families, taking full advantage of what was available – hearty meat dishes, with lots of root vegetables, puddings and dumplings to fill them out, cakes and buns, sweets and jams, and beverages to go with them (some highly alcoholic!). The recipes work just as well now as then.
It is also full of household and cleaning hints and products, illustrating immense pride in the home, as well as medicines, lotions and potions that would 'kill or cure'.
Purchase from Amazon UK
---
Tunes on a Penny Whistle
Being from Sheffield, when I was a lass I often went to Derbyshire with my elderly relatives in the school holidays. I remember visiting Eyam many years ago, and I visited it again a few years ago. It's best known for being the plague village where, in 1665, the villagers chose to isolate themselves to avoid spreading the infection.
In Tunes on a Penny Whistle, Doris E. Coates shares her tales from a Derbyshire childhood. The overriding theme throughout it is one of poverty, but also one of making do, making the best of things. Doris's parents, Harry and Maggie, are fascinating and strong people to read about. Her father worked in a shoe factory and the hours and wages were appalling. It's a stark reminder of how lucky we are these days to have minimum wages, rights for workers, and unemployment and sick benefits.
I particularly enjoyed hearing about how Doris herself strove to better herself and became a teacher against the odds.
This is such an interesting memoir covering the first 30 or so years of the 20th century and provides an illuminating look at life in a small Derbyshire village. I think it was great that the author was able to preserve a bit of the past by writing it all down.
Tuppenny Rice & Treacle
Tuppenny Rice & Treacle is a snapshot of cottage housekeeping between 1900-1920. Taking a look at both her mother and her mother-in-law's notebooks and recipe books, Doris E. Coates compiled this fascinating social history.
Richard L. Coates, in the letter accompanying the books, suggested I might like to try out The Real Bakewell Pudding recipe. I haven't done so yet but I may well do. Living relatively close to Bakewell, it's somewhere I have visited many times and I'm well aware of the Bakewell tart being considered inferior to the Bakewell Pudding. Whilst I may try making the pudding, or perhaps the Derbyshire Parkin, I don't think I will be trying the Sheep's Head Pie!
One recipe which caught my eye was the Bible Cake which is a 'puzzle recipe' using Bible verses as clues to the ingredients. Thankfully, if you did want to make it and aren't au fait with the Bible, the solution to the puzzle is provided.
What's nice about this book is that there are pictures of the household accounts, invoices and notebooks along with images of some of the dishes you can make from the recipes. There are also a number of household tips and treatments for various ailments.
This is such an intriguing and appealing book and a reminder of how much our food tastes have changed. I love that the author managed to record so much of her family history in this way.
---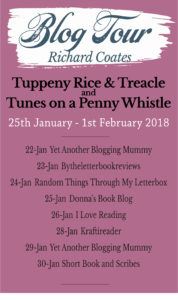 ---

Born in Eyam in the Peak District of Derbyshire, Doris E. Coates achieved a successful and varied career as a teacher in both Derbyshire and later in Norfolk. Along with her husband George, she was an active member of her community promoting local groups, enjoyed singing in the local choir and, after retirement, turned her talents to writing. Her son, Richard Coates, now based in Bath enjoyed a happy childhood and grew up appreciating the importance of a strong education. After gaining a scholarship at Oxford University he went on to read Politics, Philosophy and Economics. Later as a management consultant he worked for international companies including Audi, British Airways and Mars in both the UK and oversees and continues to sit on the board of Davos Consultancy. Now retired, and in memory of his mother, Richard has decided to republish her books with fascinating new additions after researching further into his family history.